Minnesota Twins 2018-2019 Offseason Trade Partner Profile: Texas Rangers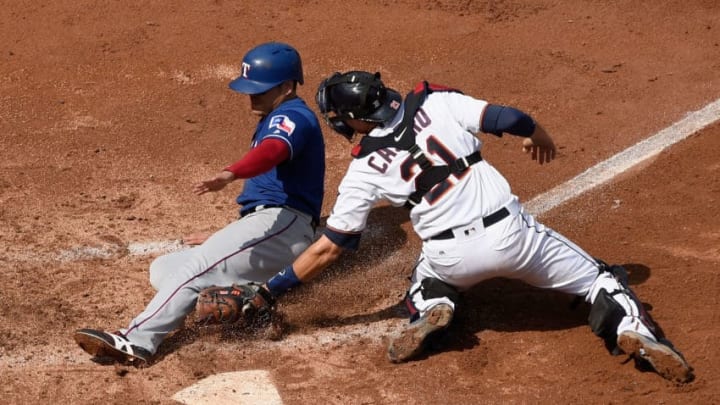 MINNEAPOLIS, MN - AUGUST 06: Shin-Soo Choo /
The Minnesota Twins 2018-2019 offseason is here. Here we explore who could be their trade partners as they look to return to the playoffs.
With the Minnesota Twins looking to re-tool their roster this offseason, there are many moves to be made. While the Twins have filled a few positions already there are still a few holes left and they could be filled via trade or free agency as there is still plenty of good players available.
We have already explored possibilities with the Arizona Diamondbacks, Atlanta Braves, Baltimore Orioles, Boston Red Sox, Chicago Cubs, Cincinnati Reds, Cleveland Indians, Colorado Rockies, Detroit Tigers, Kansas City Royals, Houston Astros, Los Angeles Angels, Los Angeles Dodgers, Miami Marlins, Milwaukee Brewers, New York Mets, New York Yankees, Oakland Athletics, Philadelphia Phillies, PIttsburgh Pirates, San Diego Padres, Seattle Mariners, San Francisco Giants, St. Louis Cardinals, and the Tampa Bay Rays. Next up is the Texas Rangers.
For a while, it appeared the Twins were considering not trying to contend this season and play for 2020 but with the signing of Nelson Cruz I think it signifies a move towards going for the AL Central crown.
The Rangers are finishing up a small rebuild and are entering the contending phase with some of their moves this offseason.  With both teams trying to contend they don't match up very well in a trade but there is always a move to be made.
Trade Proposal #1
Twins trade C Jason Castro to the Rangers for C/1B Samuel Huff.
The Rangers need a backup catcher and the Twins could either sign a replacement (Yasmani Grandal anyone?) or roll with Mitch Garver and Willians Astudillo. This move would be mainly to clear room for an upgrade at the position and to acquire another catching prospect in Huff.
Trade Proposal #2
Twins trade LHP Tyler Jay and RHP Kohl Stewart to the Rangers for LHP Yohander Mendez.
Mendez was once a top ten prospect in the Rangers system but a rough couple of seasons has seen his prospect stock tumble. He has been bothered by control issues and favoring one pitch over his others, but those issues can be fixed.
This type of move would be a change of scenery idea that could give the Twins another good pitching prospect which the Twins seem to be running short on. The Twins would be trading a couple of their own seemingly bust prospects to give them a fresh start while they have a little trade value.