Minnesota Twins 2018-2019 Offseason Trade Partner Profile: Philadelphia Phillies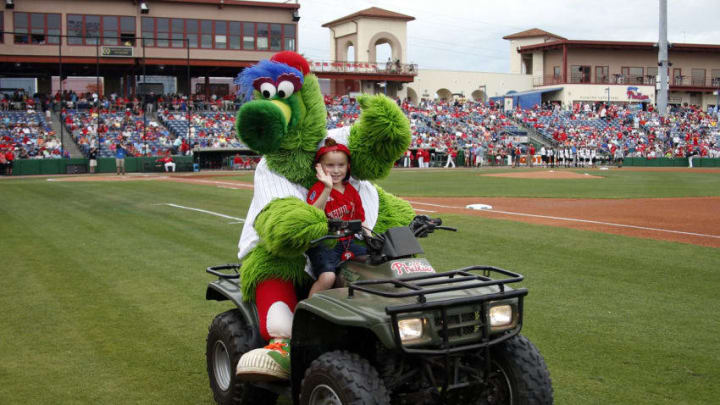 CLEARWATER, FL - MARCH 12: The Phillie Phanatic rides a young fan around on a 4 wheeler before a spring training game between the Philadelphia Phillies and the Boston Red Sox at Spectrum Field on March 12, 2017 in Clearwater, Florida. (Photo by Justin K. Aller/Getty Images) /
The Minnesota Twins 2018-2019 offseason is here. Here we explore who could be their trade partners as they look to return to the playoffs.
The Minnesota Twins need to make some moves with the offseason now upon us. Free agents will attract a lot of the attention over the next several weeks as there are several big name free agents potentially looking for a new team and new big and shiny deal.
The Twins should very much be able to be in the conversation with many free agent names, but what will be just as if not more important for the Twins is the trade market. The Twins front office has pointed to the Twins minor league assets as a strength to help them acquire some additions to their roster. We will attempt to work through each team in baseball and find some trades that work for both sides.
We have already explored possibilities with the Arizona Diamondbacks, Atlanta Braves, Baltimore Orioles, Boston Red Sox, Chicago Cubs, Cincinnati Reds, Cleveland Indians, Colorado Rockies, Detroit Tigers, Kansas City Royals, Houston Astros, Los Angeles Angels, Los Angeles Dodgers, Miami Marlins, Milwaukee Brewers, New York Mets, and New York Yankees. Next up is the Philadelphia Phillies.
Phillies 2018
The Phillies were the surprise of the 2017-2018 offseason as they signed Carlos Santana, Jake Arrieta, Tommy Hunter, and Pat Neshek as free agents. They were almost able to catch lightning in a bottle a season early and push for the NL East but in the end would finish 80-82 and third in the division.
Santana disappointed after receiving his big contract. While he had a decent OBP he ultimately ended up slashing .229/.353/.414. While trying to play a bit out of position, Rhys Hoskins began to show promise for the Phillies as he hit .246/.354/.496 and a .850 OPS with 34 home runs. Maikel Franco also had a pretty good year at the plate hitting .270/.314/.467 with 22 home runs.
Aaron Nola looks to be the pitcher that will anchor the Phillies rotation moving forward. In 2018 he was able to log 212.1 innings with a 2.37 ERA and 9.5 K/9. Arrieta helped calm the worries about his contract as he tossed 172.2 innings with a 3.96 ERA.
Possible Trade Interest
Phillies may want: The Phillies are looking to capitalize on some bold moves last offseason and this offseason already. Bullpen is a place where they could still be looking for help and really anything that would be an upgrade over what they currently have.
Twins may want: Carlos Santana, J.P. Crawford…oh wait they aren't Phillies any longer. This was supposed to be an easy trade match but it has become trickier as the Phillies made moves this offseason.
 Trade Proposals
Trade Proposal #1: LHP Taylor Rogers for LHP Ranger Suarez
Do I see the Twins trading Taylor Rogers? Not really, but the Phillies are looking to bolster their bullpen. Even specifically they may be looking for left-handed relievers and have been poking around the likes of Mike Minor. Rogers has quietly become one of the better left-handed relievers in baseball and is entering his first season of arbitration with team control through 2022.
Rogers emergence and the amount of control is the reason Ranger Suarez ends up on the other end of this deal. The Twins have no reason really to move Rogers so the return will need to be pretty good. Suarez is a lefty with 90-95 mph velocity on his fastball and good curveball that is graded at 60 by MLB.com. This may work as a 1-for-1 but the Twins may also want to ask for a flier type prospect to be added into the mix.
Trade Proposal #2: RP Pat Neshek for OF Zack Granite and OF Gabriel Maciel
This trade proposal probably only works if the Phillies are still looking to move some salary in order to use it elsewhere. After moving Santana that may not be the case any longer. Pat Neshek would add to the Twins roster another solid veteran bullpen arm. At 38 Neshek still can contribute at a high level and is under contract for two more seasons. And of course who doesn't want to see Neshek come home.
In the return, the Phillies get Zack Granite who can play all three positions and figure into the 4th outfielder mix. Maciel is a speedy outfield prospect that the Phillies could add to their farm system and try to develop into the eventual center fielder and lead off hitter he looks like he could become.