Minnesota Twins: How my Dad made me a Twins Fan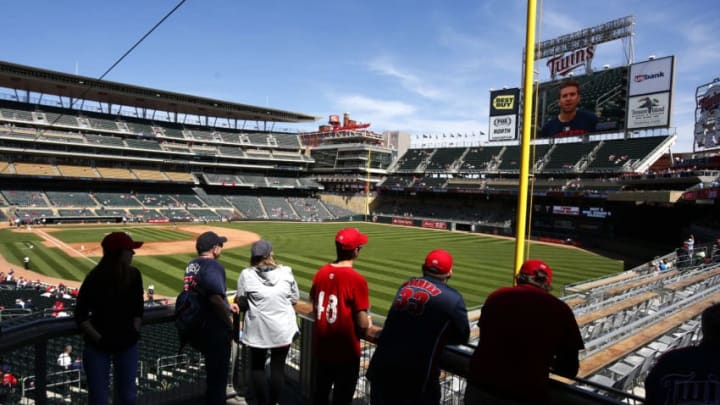 MINNEAPOLIS, MN - APRIL 22: Minnesota Twins fans take in the stadium view and the pleasant weather before a game between the Detroit Tigers and the Minnesota Twins on April 22, 2017 at Target Field in Minneapolis, Minnesota. Photo by Andy King/Getty Images) /
The Minnesota Twins bonded my dad and I from my earliest memories. After losing him to cancer last November, Father's Day has a new meaning.
Minnesota Twins fans and any other real baseball fan that I know can attribute their fandom to someone. For a lot of us, it's our dad. My dad was my hero. He was my best friend. I came along later in his life, after my siblings were grown and gone and we had a special bond. Mostly, we bonded over the Twins.
My dad was born on a farm in south central South Dakota in 1935. The family didn't have a TV, so they listened to radio shows. My dad would tell me stories about coming in from planting crops to listen to the news. When he was older, he got a radio to listen to while he was on the tractor. After high school, he joined the Army and spent 2 years in Kansas at Fort Riley. After he left the Army, he met and married my mom and moved back to his home town. By then, Minneapolis had been granted an expansion team.
My dad took a job at the Post Office in his home town and listened to the games on the radio. Odds are good he watched them at home, too, but I wasn't around yet to know. He and my mom raised 3 kids before moving to the town I was born in almost 20 years later. By then, the Twins had moved to the Metrodome. I remember when I was 5 or 6, we got cable. My dad and I were excited because we got the Twins. But, our cable package also had channels to get the White Sox, the Cubs and the Braves! We had SO MUCH baseball!!
Learning the Ropes Early
I grew up in Western South Dakota, right at the edge of the Black Hills. If that sounds like paradise, that's because it is. It is not a sports mecca. We are 6 hours from Denver and 12 hours from Minneapolis, so television was our best bet.
More from Puckett's Pond
Every day, my dad read the paper cover to cover. He did this until a week before he died at 82 years young. At night, we would turn on ESPN and wait for SportsCenter. This was back when Stuart Scott was cooler than the other side of the pillow. It was also before Keith Olbermann talked about politics. In those days, ESPN was one channel and SportsCenter came on back to back. There was no DVR and no internet. If you wanted to see how your team did and catch the highlights, you had to pay attention. We would calculate batting averages after we saw the box scores. By the time I was 10, I could tell you every stat of the top 5 players in the league.
I remember getting to stay up late the night the Twins won the '87 World Series. I cried because that meant baseball was over. When they won the '91 Series, I was convinced they would win it again the next season. Wishful thinking, of course, but that's how fans are.
A Love that Never Faded
As I got older, baseball was still the thing that brought us together. My dad loved all sports, but none like he loved baseball. In his older years, he discovered the Little League and College Softball World Series'. He would convince one of us to print off brackets for both of them and then hunker in for a marathon of sports watching. I spent many lunch hours at his dining room table looking up scores or watching games with him. In fact, one of the last things I got to do with him before they found the cancer was watch a World Series game with him. I have his brackets. His handwriting is so neat and deliberate. Those were a labor of love for him and I just can't bring myself to get rid of them.
My dad was 80 before he saw his beloved Twins play in person. My nephew gave him game tickets for his birthday and my sister took him. I'll always regret not making the drive to be there myself, but his smile in the pictures she sent says it all. He told me stories about that game until his last days.
Next: Finding a trade partner for Brian Dozier
This Father's Day I won't get to sit with my dad and watch a game. I didn't print out brackets for the College World Series. I'll take my girls to visit their papa's grave instead. If you're one of the lucky ones reading this who have your dad in your life, call him. Do something with him. It doesn't have to be baseball, just make a memory. Because when memories are all you have, they'll suddenly be very important. To all you dads, have an amazing Father's Day.