Minnesota Twins Opening Day Countdown: 10, Earl Battey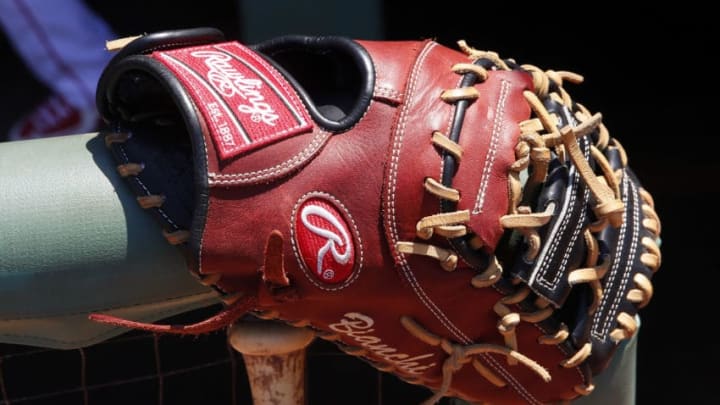 BOSTON, MA - June 4: A Rawlings baseball glove is seen at the Minnesota Twins dugout before the game between the Boston Red Sox and the Minnesota Twins at Fenway Park on June 4, 2015 in Boston, Massachusetts. (Photo by Winslow Townson/Getty Images) /
The Minnesota Twins are just 10 days away from Opening Day in Baltimore. As we near that day, here is more Twins history related to that number.
The Minnesota Twins are preparing for a 2018 season with expectation after making the playoffs in 2017 as a Wild Card team. We will highlight numbers from team history that represent the number of days until Opening Day on March 29th in Baltimore.
Over the last several stops in our countdown, we have been hanging around players that were prominent in the 80's and 90's. Today we get to take a step back further in time to the start of the Twins. We do stick with a familiar position as we take a look at catcher and number 10, Earl Battey.
Battey was born January 5, 1935 in Los Angeles, CA. The catcher would get his start in major league baseball with the Chicago White Sox who he signed with prior to the 1953 season. It was September 10, 1955, when Battey would make his major league debut as the White Sox faced the New York Yankees. In that game, Battey would pinch hit for pitcher Al Papai and strikeout in his only at-bat in a game the White Sox would go on to win 9-8 in 10 innings.
More from Minnesota Twins News
Thankfully, that strikeout would not define Battey's career and he would go on to be a successful catcher. He would remain in Chicago through the 1959 season, until he was traded April 4, 1960, with Don Mincher to the Washington Senators for Roy Sievers. In his first season with the Senators, Battey would hit .270/.346/.427, 15 home runs, and 24 doubles and win the Gold Glove for his position. That Gold Glove was the start of three consecutive for the catcher who would be on the move once again.
This time it wasn't because Battey was traded, but that his whole team was being moved to become the inaugural Minnesota Twins. As Battey and the Twins started their adventures in Minnesota, Battey began to gain recognition as one of the top backstops in the game. In 1962 he would be selected to his first All-Star Game. Then in 1963 would have possibly his best season in professional baseball as he hit .285/.369/.476 and added 26 home runs and 17 doubles.
Battey would go on to be a major contributor to the club that faced the Los Angeles Dodgers in the 1965 World Series, before retiring with the club following the 1967 season. In all the catcher would receive three Gold Gloves and was selected as an All-Star five times. All but one of the awards and honors came as a member of the Twins.
Next: Why Erick Aybar should make the Opening Day roster
Even as Battey retired from baseball he continued to move forward accomplishing amazing things with his life. He held true what he promised his mother and obtained his college degree. From there he spent his years as a positive influence in the lives of young people in a variety of roles. That makes it an honor to remember on our countdown with 10 days until Opening Day, Earl Battey.