Minnesota Twins: A Twins Homage to the Turkey of the Year Award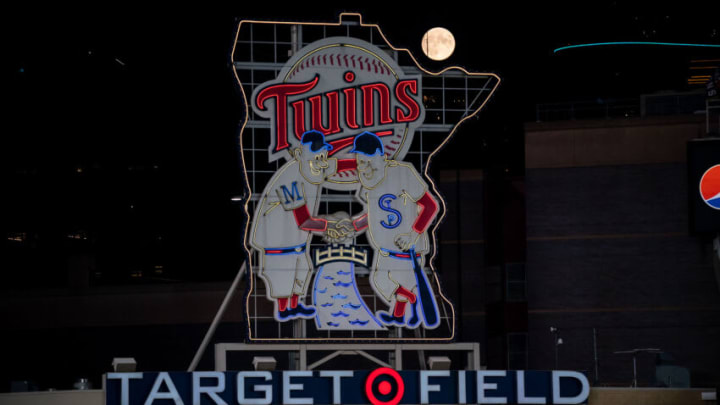 A full moon rises over the Minnesota Twins logo at Target Field. (Brad Rempel-USA TODAY Sports) /
Imitation is one of the most sincere forms of flattery, so with that in mind, I'd like to attempt to honor legendary Star Tribune columnist Patrick Reusse and his annual Turkey of the Year Award. While his TOTY award went to Herschel Walker (congrats to Walker on your 2022 victory), I would like to attempt the to pay homage and hand out a Minnesota Twins 2022 Turkey of the Year.
Who is the Minnesota Twins 2022 Turkey of the Year?
Top 5 Candidates:
No. 5-Byron Buxton: Oh how we love to occasionally watch thee. Byron is an eternal fan favorite and extremely likable. Even with a the unfortunate "load management" game schedule we saw last season, Buck was able to make it to make an All-Star team.
He then proceeded to hit a home run in that game and effectively damage himself enough to go on the injured list once again for a majority of the second half of the season. That's a tough look for the center fielder.
No. 4-Miguel Sano: Big swings, big misses, and sometime frequent home runs. Since we saw Miguel Sano peak at the 2017 Home Run Derby, it's been a bipolar journey on and off the field, with 2022 serving as fitting culmination of his Twins tenure. Perhaps the sky pilot can find a new home to soar.
No. 3-Derek Falvey and Thad Levine: The saviors of modern analytics. The brain trust duo that was brought in to build the best team a computer and a mediocre pay roll can buy simply didn't put together a team to compete.
No. 2-Emillo Pagan: It's hard to even write about Emillo Pagan, as we saw him trotted out in high-leverage situation week in and weak out (pun intended) only to get hit hard. He'll likely be back for 2023, so we'll see if the encore is an improvement.
No. 1-Carlos Correa: He came, he saw mediocrity, and left for more money. Yes, he gave the Twins a very productive year for a $35 milllion price tag, but even though it may not be justified, it feels like a bit of a fleecing.
Our Minnesota Twins 2022 Turkey of the Year:
Without a doubt, the Twins front office, which Thad Levine and Derek Falvey must fall on the sword for, have been awarded the Minnesota Twins 2022 Turkey of the Year. A perennially underfunded roster that teases Twins fans with just enough talent to keep us interested, but never enough to seriously compete, keeps us spending our time and money.
From relying on geriatric back end starters, mediocre bats up and down the lineup, and a refusal to keep more than 2-3 "superstars" around, we've been snookered for 31 years now. It's a bit of attrition at this point.
1991 is a generation ago, one that the current 20-30 year old fan base has no memory of (other than stories passed down from those of us that remember). This is all in fun and frustration, but I hope you all have or had a Happy Thanksgiving! Here's to you Patrick Reusse as well. I hope I did you justice.