Minnesota Twins Spring Training Countdown: 8, Twins retired numbers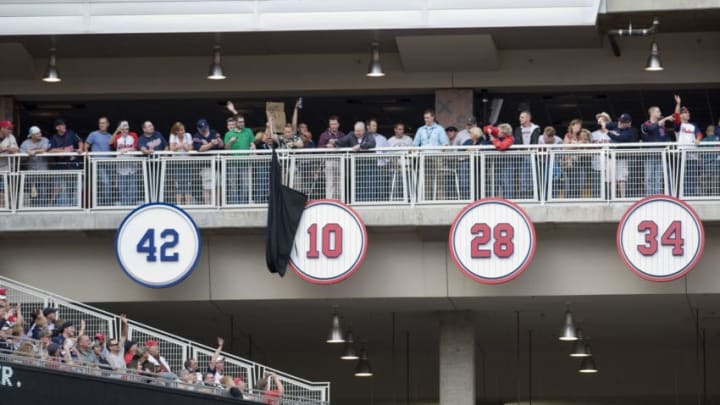 MINNEAPOLIS, MN - SEPTEMBER 8: The number 10 of former manager Tom Kelly of the Minnesota Twins is unveiled among the other retired numbers before a game at Target Field against the Cleveland Indians on September 8, 2012 in Minneapolis, Minnesota. (Photo by Marilyn Indahl/Getty Images) /
The Minnesota Twins are just 8 days away from spring training. As we celebrate the end of the blustery temps and the return of the game we love, let's look at team history surrounding that number.
The Minnesota Twins are preparing for a 2018 season with expectations after making the playoffs in 2017 as a Wild Card. We will have bring out numbers from team history that represent the number of days until spring training from now until pitchers and catchers report on February 13th.
They used to hang up in the upper deck of the Metrodome on a large banner. Now they've grown in the new Target Field, and likely we're watching another that will be added to their midst on the field right now. For the #8 today, we'll recount the 8 retired numbers the Minnesota Twins currently have.
The honorees
The eight jerseys currently retired from further use all make perfect sense – seven are former Twins, and one was retired across MLB.
The first number to "head to the rafters" was that of Harmon Killebrew, whose #3 was retired in 1975. Killebrew came to the Twins with the Senators when they moved to town, having already made his first All Star team in 1959. In his 14 seasons in Minnesota, he would hit .260/.383/.518 with 475 home runs, walking more than he struck out (1,321 walks to 1,314 strikeouts).
Rod Carew became the second Minnesota Twins player to have his number retired in 1987, when his #29 was taken out of circulation. Carew opened his Twins career 20 years prior with a rookie of the year performance in 1967 and building from there, winning 7 batting titles as a Twin, and finishing his Twins career with a .334 batting average over a dozen seasons in the uniform.
Cuban Tony Oliva sprang on the scene with a rookie of the year performance in 1964, winning the batting title. Oliva was regarded as one of the elite pure hitters of his time, but injuries cut his career much too short, leaving his numbers such that he likely will struggle to get into Cooperstown, in spite of a .304 career average. His #6 hasn't been worn since 1991.
Local boy Kent Hrbek grew up in the shadow of old Metropolitan Stadium in Bloomington and played his entire major league career in a Twins uniform. He retired in 1994 and had his number 14 retired the season after, with a career line of .282/.367/.481 with 293 home runs as a Twin.
The year 1997 saw two numbers added to the list of those no longer available for choice to players joining the team. Kirby Puckett's #34 was retired a year after he was forced to retire due to glaucoma costing his eyesight in his right eye. He finished his Twins career with a .318/.360/.477 line over his career.
More from Puckett's Pond
The other number retired in 1997 was retired on April 15th, when Major League Baseball retired Jackie Robinson's #42 across all of baseball. Robinson had broken the color barrier in "white" baseball 50 years prior in 1947 when he played his first game for the Brooklyn Dodgers on his way to a .297/.383/.427 rookie year with 12 home runs and 29 stolen bases. Robinson's fight as a trailblazer was more than worthy of the recognition throughout the game.
The Minnesota Twins did not retire another number for 14 seasons, until after Target Field opened. The first number to be retired in the new ballpark was Bert Blyleven's #28. Blyleven cracked the Twins rotation as a teenager and was the team's ace early in the 1970s and then returned to help lead the team to their first World Series in 1987. Over 11 seasons with the Twins, he won 149 games with a 3.28 ERA, striking out 2,035 hitters over 2,566 2/3 innings.
The most recent number retired was that of former manager Tom Kelly, whose #10 was retired in 2012. Kelly took over managerial duties in 1986, and he resigned as the team's leader after the 2001 season. He led the Twins to their first two World Series championships and holds the mark for the most wins by a manager in Minnesota Twins history.
Next: Who next goes into the Twins team HOF?
For 8 days to spring training, we remember the 8 Minnesota Twins that have had their numbers forever removed from circulation.
Come soon, spring!!