Minnesota Twins: Ahead of the curve when it comes to safety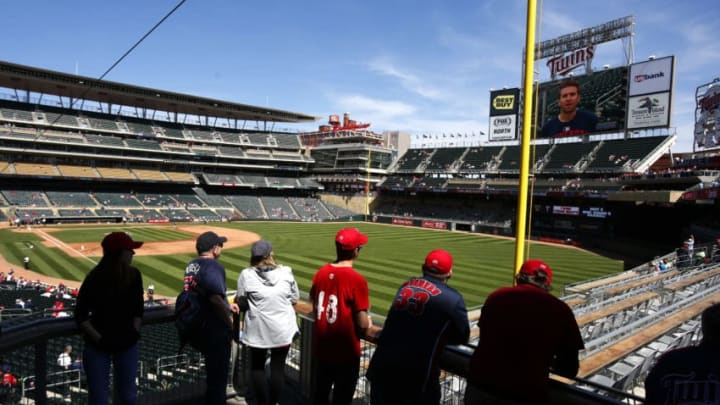 MINNEAPOLIS, MN - APRIL 22: Minnesota Twins fans take in the stadium view and the pleasant weather before a game between the Detroit Tigers and the Minnesota Twins on April 22, 2017 at Target Field in Minneapolis, Minnesota. Photo by Andy King/Getty Images) /
The Minnesota Twins and all 30 major league will now be required to expand safety netting in their stadiums in a move that should be celebrated.
The Minnesota Twins have taken pride in having an excellent facility to call home ever since Target Field opened its doors. It started with the Pentair rainwater system that recycles rainwater so it can be used for such tasks such as watering the field and cleaning the bleachers. The Twins have also been in the lead when it comes to fan safety and protective netting.
It was recently announced that all 30 major league baseball clubs have agreed to extend their netting as far up the foul lines as past the player dugouts, As noted in an article by Rhett Bollinger at MLB.com, the Twins have had some of the most extensive safety netting in the league due to the distance between home plate and the stands at Target Field being one of the closest in the all of Major League Baseball. And it was at the beginning of December that the Twins already announced that they would be extending their netting to this newly agreed upon standard in advance of this recent decision.
There have been plenty of instances over the years to give reason to this push of extended netting. It hit close to home at the end of September this past season as a line drive foul ball during a Twins and New York Yankees game at Yankee stadium struck a young girl in the stands. That 105 mph foul may have been the last in a line of incidents giving precedent to this change this offseason for all 30 major league clubs.
More from Minnesota Twins News
If everyone wasn't already convinced that fan safety was important and that those of us who pay to sit in the bleachers would be able to enjoy the game just the same with netting in front of us. The worry on the face of all the players after that foul ball flew into the stands hopefully was enough. This is something players have wanted for some time so that they wouldn't be where Todd Frazier was that day, knowing it was a ball off his bat that injured someone.
Twins second baseman Brian Dozier called for mandatory netting after that incident in September.
Then there were some of Frazier's thoughts as he stood at home plate:
For more of those player reactions, go check out this article from CBS Sports.
Next: Twins may be playing by new rules with Commissioners pace of play demands
This move is long overdue. It protects fans from a ball that travels at a speed that even these professional athletes at times struggle to react to. It also gives players some peace of mind that as they go about their job trying to hit baseballs and entertain fans that they won't severely injure and maybe change the life of one of those fans in the process. Good Job MLB!