Minnesota Twins: An in person look at the Chattanooga Lookouts and Stephen Gonsalves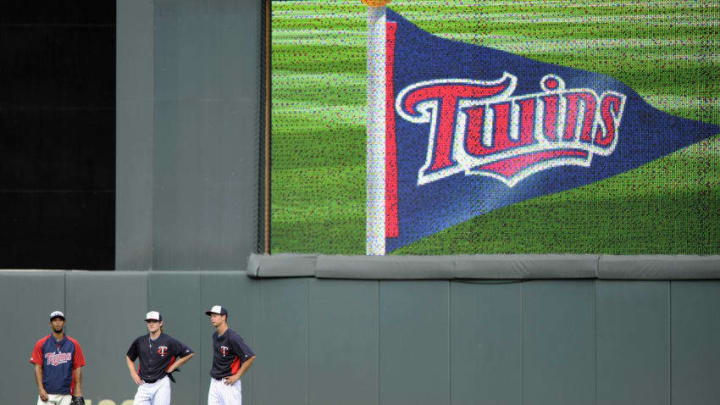 MINNEAPOLIS, MN - JUNE 19: Aaron Hicks /
A fan's perspective on visiting Minnesota Twin's AA affiliate Chattanooga Lookouts and a memorable performance by Stephen Gonsalves.
As a Minnesota Twins fan, I have always enjoyed tracking prospects through the minor leagues. There is something in my inner makeup that loves to watch the process, the struggle, and the transformation that it takes to succeed in baseball.
Recently I found myself leading a group of high school students to Chattanooga, TN. Initially, I thought about how difficult it was going to be to be in the town of the Twins AA affiliate but not actually be able to attend a game. Our schedule was so full I did not see any way a baseball game would be squeezed into it.
On Tuesday, July 25th, I found some time and was able to attend a game with some of my students. The game happened to feature prospect starter, Stephen Gonsalves. Even though we only had roughly 90 minutes to spare, I was certain the $7 for general admission would be well worth our time and money.
More from Minnesota Twins News
AT&T Field in Chattanooga proved to be a great place to take in a baseball game. Parking was easy and once in the stadium, you get to take in the skyline that overlooks the Tennessee River.
Once the game began, Gonsalves did not disappoint as he took the mound against the Birmingham Barons (Chicago White Sox affiliate). In the top of the 1st, Gonsalves popped up the first batter he faced and struck out the next two for a very impressive inning. His 2nd inning also was quick and clean as he pitched his second consecutive 3 up and 3 down inning.
About that time I decided to get the most of my time at the park. I went to check out the concourse and grab something out of the team store. As I was picking out my Chattanooga Lookouts hat, I missed the only Lookout run that would score in the 3 1/2 innings we were able to stay for. It happened to be an Andy Wilkins home run. His 8th on the season.
With a 1-0 lead, Gonsalves took the mound for the 3rd inning which was much like the other two. 3 batters up, 3 batters out and back in the dugout. The Lookouts followed suit in their half of the third, setting the stage for the inning I found most impressive for Gonsalves that night.
As the 4th began, the Lookouts still held the lead 1-0. Gonsalves started the inning off with a strike out. Then allowed a single, followed by a double which scored the runner on first, tying the game 1-1. I bet you are asking, "How was this Gonsalves' most impressive inning?" We will get there.
Top of the 4th, 1 out, tie game, and a runner on second. That runner steals 3rd base. My initial thoughts were that the game would be at least 2-1 by the time the Lookouts came up to bat again. This is where I was impressed. Gonsalves left that runner stranded on 3rd for the rest of the inning.
The top of the 4th finished out walk, strikeout, walk, and one more strikeout to end the inning. That inning was a situation where a pitcher could have easily unraveled (and many have). It would have been easy for Gonsalves to reach back and try to throw some pitch he really didn't have. Instead, he showed poise and kept the game tied allowing his team to get to the next inning in a tie game.
It was after that half inning that my time had run out. Gonsalves would go on to pitch 5.2 innings, allowing 2 earned runs overall while striking out 6 batters. The Lookouts would go on a bit of an offensive explosion winning the game 9-4. Wilkins headlined the night going 3 for 4 with that home run mentioned earlier. Nick Gordon and LaMonte Wade would also pick up some RBIs of their own.
As I left that night, just shy of a week from the trade deadline, I thought to myself that Gonsalves doesn't look that far from the majors. If a trade had opened a spot in the rotation he looked ready to be given a chance. He may not have the stuff that Lookouts' teammate Fernando Romero has, but he pitches well enough to be a potentially solid rotation arm.
When the news came out this past weekend that he was promoted to AAA Rochester, it came as no surprise. Especially after seeing his outing July 25th. It will be exciting to see how this young pitcher will perform at the next level.
Next: Minnesota Twins shake up Front Office
If you ever have the opportunity to attend a minor league game I encourage you to do so, even if it isn't "your team's" affiliate. One of my favorite minor league baseball memories was watching Anthony Rizzo play with the Iowa Cubs. I don't remember any specific play, but it was clear Rizzo was ready for the majors and looked like a man among boys. I now hope Gonzalves is added to that list of successful MLB players I once saw in the minors.