The best Minnesota Twins player to wear each number: No. 26-50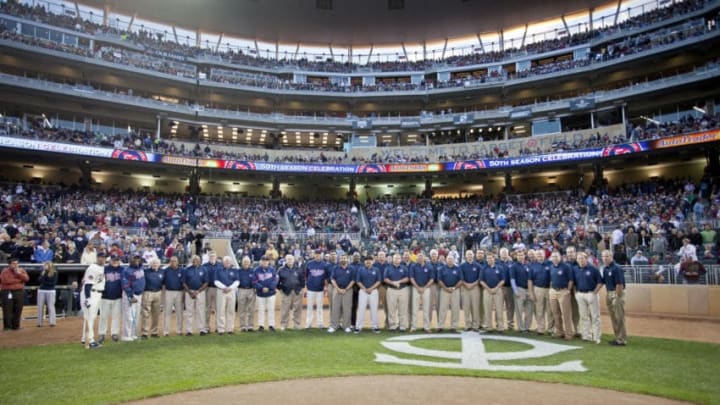 Members of the Minnesota Twins top 50 Twins from the team's 50 years pose for a photo. (Photo by Bruce Kluckhohn/Getty Images) /
Members of the Minnesota Twins top 50 Twins (Photo by Bruce Kluckhohn/Getty Images) /
Puckett's Pond continues to take a look back at the best Minnesota Twins and Washington Senators to wear each jersey number with numbers 26-50.
With Jackie Robinson Day being Wednesday, we wanted to take a look at the top player to wear each number in Minnesota Twins history. Yesterday we took a look at the top players to wear the numbers 1-25, and today we continue with a look at numbers 26-50. We went over the rules yesterday, so let's jump right into it.
No. 26: Minnesota Twins' Max Kepler (2016-2019)
This is a close one with Hall of Famer Early Wynn and A.J. Pierzynski also wearing the number 26. Max Kepler gets the nod here as Wynn wasn't very good with the Senators and Kepler has been better with the team and more important to success than Pierzynski. Kepler also has the benefit of more years as a Twin in his future.
No. 27: Minnesota Twins' David Ortiz (1997-2002)
Several Twins and Senators stars including Camilo Pascual (No. 26), Ossie Bluege (No. 34), and Justin Morneau (No. 22) wore this number for a time, but no player wore the number for longer or was more successful than David Ortiz. Over Ortiz's six seasons, fifty-eight homers, and .266 BA are the best stats for a weak number.
No. 28: Minnesota Twins' Bert Blyleven (1970-1976, 1985-1988)
Hall of Famer Bert Blyleven (No. 6) only had competition for No. 28 from Pedro Ramos and Jesse Crain, so this was an easy one. The Twins retired Blyleven's number in 2011, a fitting honor for the player who is fifth all-time in strikeouts.
No. 29: Minnesota Twins' Rod Carew (1967-1978)
Only four players have worn this number for multiple years, and as the last player to wear it Rod Carew (No. 2) is easily the best. The Twins retired Carew's number in 1987, and the greatest hitter in Twins history makes this an easy call.
No. 30: Minnesota Twins' Dave Goltz (1972-1979)
No. 30 only had two players worthy of consideration: Dave Goltz and Scott Baker. Both were above average pitchers for the Twins, but Goltz is the pick as he won more games, had a better ERA, and had a higher WAR. Baker was a good pitcher, but Goltz was better.
No. 31: Minnesota Twins' Jim Perry (1963-1972)
Jim Perry (No. 30) easily beats out the relatively weak competition for the spot here, as the 1970 Cy Young Winner was a star for the Twins in the late sixties and early seventies. Perry was an ace and fun to watch, while no other player on the list was worth a mention.
No. 32: Minnesota Twins' Dan Gladden (1987-1991)
Some great players have worn the number 32 jersey for the Twins, including Dan Gladden (No. 38), Hall of Famer Dave Winfield, All-Stars Dean Chance, Gary Ward, and LaTroy Hawkins. Despite Winfield, Chance and Ward being better overall players, Gladden gets the call here for his playoff heroics.
No. 33: Minnesota Twins' Justin Morneau (2006-2013)
Mudcat Grant and J.C. Romero deserve mentions here for being very good players to wear the jersey, but this jersey belongs to Justin Mourneau (No. 22). Morneau wore No. 33 for longer than anyone and was an excellent MVP in 2006. Concussions cut his greatness a little short, but nobody was better in 33.
No. 34: Minnesota Twins' Kirby Puckett (1984-1995)
No. 34 belongs to Kirby Puckett. The most famous jersey in Twins history. No other consideration made. The Hall of Famer had his jersey retired shortly after he was forced to leave baseball due to glaucoma. No player better.
No. 35: Washington Senators' Walt Masterson (1945-1949)
One of the less popular numbers in team history, only one player wore the number for more than five seasons: Walt Masterson. Masterson was never a great pitcher, but he did make two All-Star appearances, and that's enough to land him on this list.
No. 36: Minnesota Twins' Jim Kaat (1960-1973)
Joe Nathan (No. 21) and Kevin Tapani are both Twins greats to wear this number, but Jim Kaat is the clear choice (No. 19). Kaat, a twelve-time Gold Glove winner with the Twins and two-time All-Star was a dominant pitcher and is ranked as our fifth best pitcher in team history.
No. 37: Minnesota Twins Scott Stahoviak (1993-1998)
At this point in the list, we're reaching the part of the list where the player who wore the jersey the longest tops the list. In this case, Scott Stahoviak is the only player to wear the jersey more than three years, making him the easy call.
No. 38: Minnesota Twins' Rick Aguilera (1990-1999)
The second best closer in Twins history, Rick Aguilera easily beats out Hall of Famer Steve Carlton for the spot at 38, as his stellar career with the Twins include the teams second World Series title and he sits second in team history in saves.
No. 39: Minnesota Twins' Juan Rincon (2001-2008)
Juan Rincon was a very solid reliever for the Twins for a long stretch of time in the 2000s, putting up slightly better numbers than Ron Davis, his only competition for number 39. Rincon posted four seasons with 70 or more innings and an ERA under 3.70.
No. 40: Minnesota Twins' Marty Cordova (1995-1999)
No. 40 was a true toss-up, with it coming down to 1995 Rookie of the Year Marty Cordova and key 1987 reliever Juan Berenguer. As good as Berenguer was for his four seasons in Minnesota, Cordova was excellent in 1995 and his 1996 stat line of .309 BA, 16 HR, 111 RBI and 11 steals is one of the best in team history, giving him the edge here.
No. 41: Minnesota Twins' Jeff Reardon (1987-1989)
No. 41 is easy, as Jeff Reardon faced no real opposition from anyone else to wear the jersey. Reardon was a dominant closer for his three seasons in Minnesota, and his performance on the run to the 1987 World Series was excellent.
More from Puckett's Pond
No. 42: Minnesota Twins' Mike Jackson (2002)
Very few players wore Jackie Robinson's number, even before it was retired, including for the Twins. We break down the top three players to wear it here. Mike Jackson was the easy call.
No. 43: Minnesota Twins' Josmil Pinto (2013-2014)
The number 43 is a cursed number for the Twins, with no player being successful while wearing the number. Lewis Thorpe, Addison Reed, and Mitch Garver have worn the number the past three years and all struggled mightily. Josmil Pinto, a back-up catcher (who lasted two seasons), was the most successful to wear it, hitting .257, 11 HR, and 30 RBI in 78 games.
No. 44: Minnesota Twins' Kyle Gibson (2013-2019)
No player wore the No. 44 longer than Kyle Gibson, and though he may have left on a down note, Gibby is easily the best to wear the number. Gibson won 67 games with the team and earned 845 strikeouts, far better stats than anyone else to put on the jersey.
No. 45: Minnesota Twins' Phil Hughes (2014-2018)
Phil Hughes may not have been the pitcher Twins fans hoped for when he was signed to a massive contract in 2014, but he was very good that first year and his 5.7 K-BB ratio is absolutely excellent. He beats out the lesser players for this spot for that ratio alone.
No. 46: Minnesota Twins' Bob Wells (1999-2002)
Only 11 players have worn No. 46 for the Twins, and only reliever Bob Wells wore the jersey for more than two years. Wells led the league in games pitched in 1999 with 77. He also won eight games that season, helping him lay claim to this number.
No. 47: Minnesota Twins' Jack Morris (1991)
Finally a challenge! Fransisco Liriano and Corey Koskie (No. 43) both wore number 47 for the Twins, each wearing the jersey for seven years of solid play. But do their seven years of solid play top Jack Morris' one year of dominance?
For this experiment, yes. Morris won 18 games and was an All-Star before going on one of the most dominant playoff runs ever and pitching the single greatest postseason performance in modern pitching history. We'll give Morris this one.
No. 48: Minnesota Twins' Torii Hunter (1997-2007, 2015)
Carl Pavano and Mike Smithson did enough to earn a mention here, but number 48 belongs to Torii Hunter. The Twins Hall of Famer and franchise icon has a shot at the Hall of Fame mostly for his work in Minnesota. Not time to over think.
No. 49: Minnesota Twins' Allan Anderson (1986-1991)
The ERA-Title winner from 1988, Allan Anderson didn't have much competition for this one, as Kyle Lohse is the only other player worth mentioning. Anderson put up over 15 wins twice, and was a solid pitcher in between the team's two World Series titles in 1987 and 1991.
No. 50: Minnesota Twins' Matt Lawton (1995-2001)
Only three players wore this number before Matt Lawton, but none of the players before him or after him were worth even mentioning here. Lawton, a one-time All-Star was a solid outfielder for the Twins before he was traded for Rick Reed. Without much competition, Lawton takes this one easily.