Minnesota Twins: All-Time Washington Senators Lineup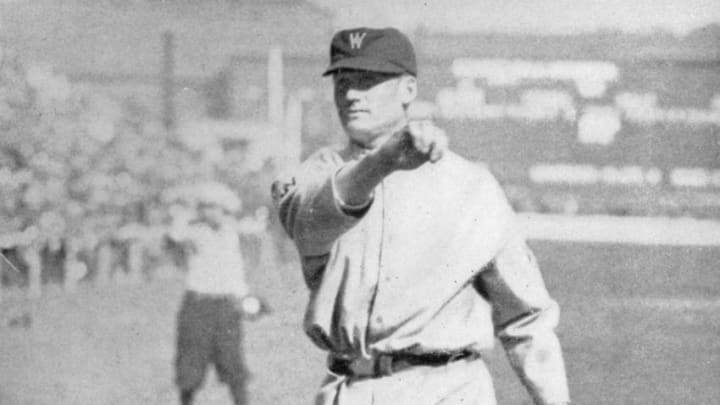 WASHINGTON - 1924. Walter Johnson of the Washington Senators warms up in Griffith Stadium before a game in 1924. (Photo by Mark Rucker/Transcendental Graphics, Getty Images) /
Washington Senators' Walter Johnson (Photo by Mark Rucker/Transcendental Graphics, Getty Images)(Minnesota Twins) /
With the top five lists all wrapped up, we take a look at the Minnesota Twins starting nine before they came to Minnesota.
With all eleven of the top five lists finished up, we put together an all-time lineup of the best players from the Washington Senators and the Minnesota Twins, with the Twins lineup found here. We went over each ranking and put together a lineup that would be tough to beat.
The Senators lineup is a true powerhouse, with six players who were inducted into the Hall of Fame. To create this list, we took the best Senator from each one of our lists and put together a lineup, adding one more player as the designated hitter. With that in mind, let's get started.
Starting Pitcher: Walter "The Big Train" Johnson (1907-1927)
We'll start with the easiest call on the list: Walter Johnson. The Big Train was the best pitcher in the league during hist time with the Senators and several sites list him as the best pitcher of all time. Not a tough call.
Relief Pitcher: Frederick "Firpo" Marberry (1923-1932, 1936)
No other pitcher in Washington had more saves than Firpo Marberry. Marberry racked up ninety-four saves at a time when no one else was making saves. He finished his career with more saves than anyone else, and was an expert swingman who helped the team win a World Series. Easy call.
Catcher: Muddy Ruel (1923-1930)
Ruel didn't have a lot of competition for this spot, with Patsy Gharrity and Hall of Famer Rick Ferrell as his only opponents. Ruel gets the nod here because neither one were excellent during their time in Washington, while Ruel played a key role in helping the Senators win the 1924 World Series, scoring the series-winning run in game seven.
First Base: Joe Judge (1915-1932)
With one of the highest WAR ratings in team history, Judge makes it an easy call at first. The Senators had some solid first basemen, including Mickey Vernon and Joe Kuhel, but neither helped the Senators win two pennants and one World Series. Judge did.
Second Base: Buddy Myer (1925-1927, 1929-1941)
Buddy Myer was a true star for the Senators, being named an All-Star twice and helping lead them to two American League pennants. This gives him the edge over Bucky Harris who made the Hall of Fame as a manager but was just a solid player.
Shortstop: Joe Cronin (1928-1934)
Another easy decision, Joe Cronin had the best numbers of any shortstop in franchise history. With only defensive specialist George McBride and one-time MVP Roger Peckinpaugh as his competitors, the Hall of Famer is the choice here.
Third Base: Harmon "Killer" Killebrew (1954-1974)
The only player on both this list and the Minnesota Twins list, Harmon Killebrew was no easy call. The question became which is better: seven years of Killebrew vs. Ossie Bluege (18 seasons) vs. Eddie "The Walkingman" Yost (14 Seasons). The Hall of Fame Killer won out.
Left Field: Goose Goslin (1921-1930, 1933, 1938)
The toughest decision on this list, Hall of Famer Goose Goslin had to beat out Hall of Famer Heinie Manush. Goslin is the choice because he helped the team win three AL Pennants (more than any player in franchise history). We'll get to Manush later.
Center Field: Clyde "Deerfoot" Milan (1907-1922)
No player in team history stole more bases than Deerfoot Milan's 495, and he ranks fortieth all time in league history. The only other player in the race, Stan Spence, wasn't even in the top five centerfielders. It's good to have some speed on the team.
Right Field: Sam Rice (1915-1933)
The right field decision was a simple one. Sam Rice is a Hall of Famer and has a career WAR of 52.9, setting him higher than any other outfielder in franchise history. He easily tops Buddy Lewis as the teams right fielder.
Designated Hitter: Heinie Manush (1930-1935)
The runner-up for the left field spot, Heinie Manush was a Hall of Famer. Manush hit .328 and 491 RBI over just five seasons, giving him the edge over Bluege and the Walking Man Yost, giving the lineup one more Hall of Famer.
In case you missed them, take a look at the Top Five Franchise History Lists: