MLB The Show 20 Ratings for the Minnesota Twins Lineup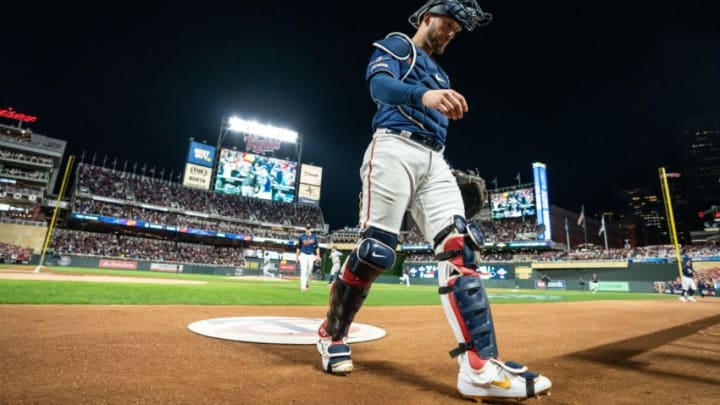 MINNEAPOLIS, MN - OCTOBER 07: Mitch Garver #18 of the Minnesota Twins looks on against the New York Yankees on October 7, 2019 in game three of the American League Division Series at the Target Field in Minneapolis, Minnesota. (Photo by Brace Hemmelgarn/Minnesota Twins/Getty Images) /
Minnesota Twins' Mitch Garver (Photo by Brace Hemmelgarn/Minnesota Twins/Getty Images) /
"MLB The Show 20" released earlier this month, so Puckett's Pond took a look at how the Minnesota Twins' lineup shakes out
With the real-world Minnesota Twins not playing due to the suspended season, thousands of Twins fans are being forced to look elsewhere for their baseball fix. MLB The Show 20 is the newest baseball video game on the market, so Puckett's Pond took a deeper look at how the Twins players rated in the game.
Yesterday we looked at the team's starting rotation and their relievers, so today we'll look into the team's lineup as well as their top bench players, team MVP, and decide who got a realistic rating and who didn't. With that being said, let's get started.
Minnesota Twins Key Batter Rankings
Minnesota Twins Team MVP: Josh Donaldson, 89 OVR
The former MVP had a stellar season last year, and his new rating reflects that. Donaldson hit 37 homers to match with 94 RBI and the game rewarded him with an eight point jump from the end of last season. His 89 OVR makes him the best player in the new season lineup.
Minnesota Twins Biggest Surprise: Alex Avila, 81 OVR
Alex Avila was the Twins less-exciting signing to take over as the backup catcher. He hit .207 last season and only played in 63 games, but was somehow ranked higher Jorge Polanco, MArwin Gonzalez, and every Twins reliever (Rogers excluded). Weird.
Minnesota Twins Biggest Disappointment: Jorge Polanco, 78 OVR
Jorge Polanco was the starting shortstop for the A.L. All-Star team in 2019 during a season where he hit 22 homers and worked his way to a .295 batting average. Polanco's grade somehow went down two points from last season, something that will surely be improved when the season begins.
Minnesota Twins Lineup:
The developers of the game seem to be hesitant to give the Twins the upgrades they deserve after the team's breakout season. That's fine for now, because most of the players are way better than they were at the end of last year. Here are their ratings at the beginning of 2019:
Mitch Garver: 66 OVR
Sano: 71 OVR
Arraez: 66 OVR
Polanco: 72 OVR
Donaldson: 82 OVR
Rosario: 81 OVR
Buxton: 74 OVR
Kepler: 73 OVR
Cruz: 80 OVR
Hopefully those ratings continue to get better as the team plays in 2020, improving to more realistic overalls. Either way, the Twins have one of the best lineups in the game after a season where they set the record for most home runs in a season.
More from Puckett's Pond
Minnesota Twins Bench:
The Twins bench looks about right, with the exception of Avila's stunning grade. Marwin Gonzalez and Jake Cave could be slightly higher, but they did a pretty good job!
The Twins look to be one of the best offense teams in the game, just like in the real world. What do you think of the team's ratings? Let us know in the comments below!