The Minnesota Twins need to shut several players down for the season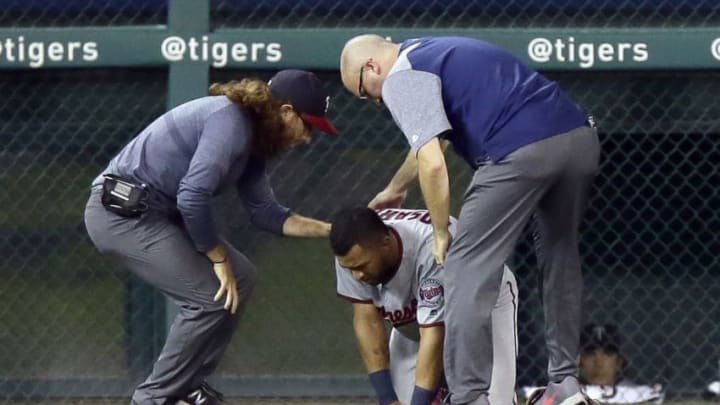 DETROIT, MI - SEPTEMBER 17: Eddie Rosario #20 of the Minnesota Twins is assisted by trainers after injuring his lower right leg while fielding a ball hit by Jim Adduci of the Detroit Tigers during the fourth inning at Comerica Park on September 17, 2018 in Detroit, Michigan. (Photo by Duane Burleson/Getty Images) /
HOUSTON, TX – SEPTEMBER 04: Miguel Sano #22 of the Minnesota Twins lays in pain at second base after jamming his leg into the base in the second inning against the Houston Astros at Minute Maid Park on September 4, 2018 in Houston, Texas. (Photo by Bob Levey/Getty Images) /
Miguel Sano
Sano has had a season full of ups and downs, right from the very start. He was recalled from the minors on July 28th, and while his performance since then has left a bit to be desired, at least he was finally back with the team and looking healthy. Until-
Incredibly, Sano escaped the situation with only a bruise despite looking like something much, much worse. He did, however, miss two weeks before returning to the lineup on September 18th, so it must have been quite the bruise. This is a slightly different situation than that of Rosario, Garver, or Austin, since Sano has been out for 2 full weeks while he heals up. He may truly be ready to go and we shouldn't be worried about his health at this point. But maybe the Minnesota Twins are allowing him to return before he's 100% like they did with Rosario. If that's the case, again- Twins, why? We've been over this already, but the Twins don't seem to get it yet. There's just over a week left in the season, we have absolutely nothing on the line, there's not much left for Sano to gain from playing at this point (he continues to be lost at the plate, going 0-4 with 4 strikeouts in his return, dropping his season batting average under .200), and it's already been a trying season for him. All I can do is cross my fingers and hope he really is ready to play and won't re-aggravate anything before the season ends.
In summary, the Twins have looked quite foolish lately with some of their decisions to allow their injured players to play. There's simply no reason to risk anything at this point. Rosario, Garver, Austin, and Sano are all guys that will play a big role with this team for the next few seasons, and while perhaps there isn't any big risk of injuries that could threaten their health for 2019 and beyond, there's simply no point in taking the chance of letting any of them suffer even another minor injury before 2018 concludes. We've already seen it happen with Rosario- I hope not to see it happen to anyone else.
More from Puckett's Pond
Again, this all comes after the Twins claiming that Buxton was not recalled in part due to his lingering wrist injury, while downplaying the service time aspect of the ordeal. Minnesota Twins, listen up here- The entire world saw right through these claims. We know. You didn't break any rules, and it is what it is. But we know. If you're going to pretend like you're so concerned about Buxton potentially re-injuring himself, then why did Rosario play in several games after suffering an injury, clearly nowhere near 100% health, before aggravating the injury further? Why have you not gone ahead and shut down Mitch Garver for the year after learning he is concussed? Why has Tyler Austin been playing through back soreness and continues to play after a scary flip over a wall? And why are we risking Miguel Sano re-injuring himself with less than a week and a half left in the year?
All of this is simply not smart and does not look good. There's absolutely nothing to gain from allowing these 4 players to play more this year, and the Twins are only making a bigger embarrassment of themselves with the Byron Buxton situation. All we can do is hope that the last several days of the season come and go without any more injuries. There's no reason we should have to be concerned about this, yet here we are.
UPDATE
Mike Berardino reports that both Rosario and Garver have been sent back to Minnesota, stating both of their seasons are likely over-