The Minnesota Twins need more from Max Kepler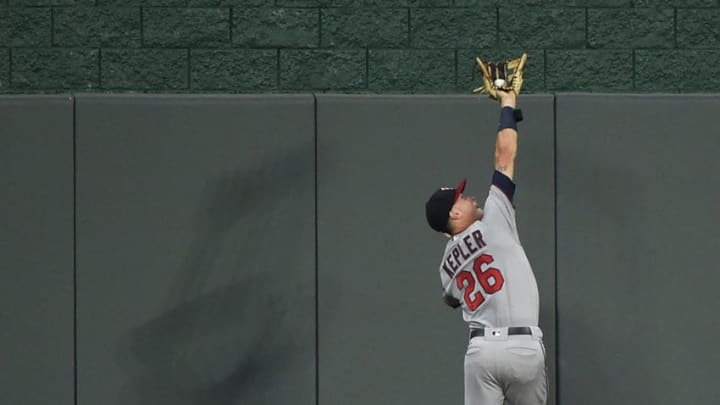 KANSAS CITY, MO - JULY 20: Max Kepler #26 of the Minnesota Twins catches a ball hit by Rosell Herrera #7 of the Kansas City Royals in the fourth inning at Kauffman Stadium on July 20, 2018 in Kansas City, Missouri. (Photo by Ed Zurga/Getty Images) /
The future of the Minnesota Twins is as bright as any team in MLB. However, for this team to reach its goals they need every player on the roster to reach his potential.
Although he's yet to show it, Minnesota Twins right fielder Max Kepler has the potential to be more than just your average MLB outfielder. Kepler has been largely disappointing to this point of his career. However, he's still young and has time to change his narrative.
The Berlin, Germany native signed with Minnesota as a 16-year-old. He was one of the more highly touted prospects to come out of Germany and generated a lot of interest from MLB teams.
Kepler was solid during his first season of professional baseball. He hit .286 with a .346 on-base percentage while playing in 37 games in Rookie ball during the 2010 season. Kepler spent three seasons playing in Rookie ball before breaking out during the 2012 season. He hit .297 with 10 home runs and a .387 on-base percentage during his final season in the Rookie League.
As he moved through the system, Kepler continued to rise up the Minnesota Twins prospect rankings. He broke out in a big way hitting .318 during the 2015 season. He also amassed 56 extra-base hits and 71 runs batted in with a .410 on-base percentage.
More from Puckett's Pond
His on-base skills mixed with his power potential had Twins fans excited over the arrival of "Mighty" Max Kepler. Unfortunately, Twins fans have had to settle for "Mediocre" Max Kepler since he debuted during the 2016 season.
Looking at his MLB career
Kepler hasn't yet failed expectations in the Twin Cities. Rather it's taking him longer than anticipated to tap into his immense potential. He has been less than spectacular during his MLB career but has shown glimpses of becoming the player scouts thought he could become.
Kepler played in only three games and had seven plate appearances during his first taste of the big leagues in 2015. So, we're not going to focus on that season at all. 2016 is the season Kepler hit the ground running for Minnesota but he has yet to show much to be excited about.
The 25-year-old has 49 home runs while playing in 363 games during his young career. He sports a .312 career on-base percentage, which isn't bad considering he has a .236 career batting average. Although Kepler has yet to reach his offensive ceiling, he has provided a ton of value defensively.
Kepler has a strong arm and is athletic enough to play all three outfield positions. That has come in especially handy during this season. With Byron Buxton missing the majority of the season due to injuries and poor performance, Kepler has had to fill the void defensively in center field.
Minnesota needs more than "Mediocre" Max Kepler in order to be a serious contender in the American League in the future. They'll need Kepler, and everyone else in the clubhouse, to be more than just average MLB players.