Minnesota Twins Offseason Trade Target Profile: Pittsburgh Pirates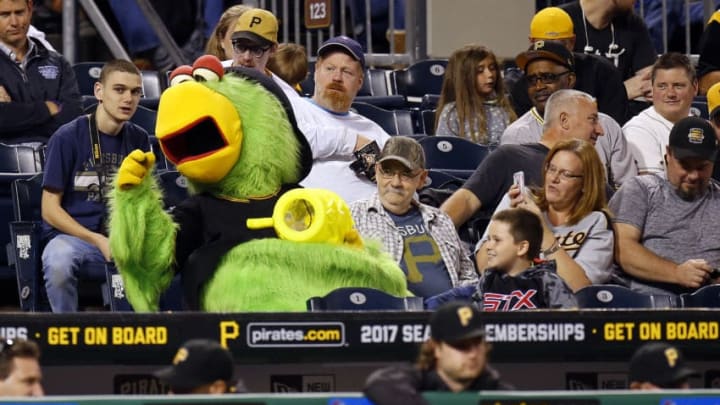 PITTSBURGH, PA - SEPTEMBER 26: The Pirates Parrot sits with fans during the game against the Chicago Cubs at PNC Park on September 26, 2016 in Pittsburgh, Pennsylvania. (Photo by Justin K. Aller/Getty Images) /
The 2017-2018 offseason is here for the Minnesota Twins. Who could be their trade partners this offseason?
Now that the Minnesota Twins have entered the offseason, they are looking to improve the roster through trades and through free agent signings. In this series, we'll look at how the Twins match up with teams in trade scenarios.
We will first cover the team's 2017 and what they may be looking for this offseason and then look at whether the Twins could be a good fit for a possible trade this offseason. If there's a fit, we'll try to put together a feasible trade that would work for both sides. We will go alphabetically through the league, and today we will look at a team possibly with an eye toward a rebuild, the Pittsburgh Pirates!
Pirates 2017
Pittsburgh enjoyed a three-year run at the playoffs. After dropping off in 2016 to miss the playoffs, the Pirates took another step back in 2017, with a 75-87 record, finishing 4th in the National League Central.
The Pirates find themselves in a difficult spot with a young roster that could lead to trading off a few pieces this offseason to acquire a host of major league ready players to make a quick re-load sort of move with players that will hit the free agent market in the next year or two.
Andrew McCutchen rebounded from a rough 2016 with a strong 2017, hitting .279/.363/.486 with 28 home runs and 11 stolen bases. Josh Bell put up a very impressive rookie season, hitting .255/.334/.466 with 26 home runs.
The Pirates suffered through losing multiple big pieces to their team for at least huge chunks of 2017 when Jung-Ho Kang was unable to return into the united states after charges in his home country invalidated his work visa and he was not approved for a new one. He very well may not be granted a new one for 2018, either. Starling Marte missed 80 games during the season due to a PED suspension.
The Pirates did see reasonable health from their starting rotation, with only Jameson Taillon among their top 5 starters failing to throw 150 innings, and he missed time due to cancer treatment. While they were all healthy, none were particularly impressive statistically.
Ace Gerrit Cole led the team with 33 starts and 203 innings pitched, posting a 4.26 ERA, 1.25 WHIP, and a 55/196 BB/K ratio. Righty Trevor Williams had the lowest ERA on staff with a 4.07 ERA over 150 1/3 innings, with a 1.31 WHIP, and a 52/117 BB/K ratio.
Two Pirate relievers had excellent seasons before being traded away. Tony Watson's ERA didn't show the excellent season he had due to BABIP irregularities during his time with the Pirates, but it corrected after he was traded to the Dodgers. He posted a 3.66 ERA even with the BABIP struggles over 46 2/3 innings, saving 10 games, and posting a 14/35 BB/K.
Juan Nicasio was one of the more odd transactions of August as he was allowed to leave on a waiver claim to the Phillies before the Phillies then flipped him to the Cardinals, where he proved to be an effective closer the last month of the season in St. Louis. He pitched 60 innings in Pittsburgh in 2017, with a 2.85 ERA, 1.12 WHIP, and a 18/60 BB/K.
Felipe Rivero had an elite season, posting a 1.67 ERA over 75 1/3 innings, taking over as the Pirates' closer mid-season and saving 21 games, with a 0.89 WHIP, and a 20/88 BB/K ratio.
Possible Trade Interest
Pirates may want: Long-term infield help in prospects, top velocity arms. While the Pirates in recent history have focused on high-velocity arms that they have molded into premium pitchers, they will also likely be seeking infield help as they look toward 2019 if they choose to trade off big pieces.
Twins may want: A power bat for the DH position, starting pitching, relief pitching
More from Puckett's Pond
Trade proposals
With those needs how could the Twins and Pirates match up? Here are three ideas:
Trade proposal #1: Minnesota Twins trade IF Nick Gordon, OF Max Kepler, and RHP Jake Reed to the Pittsburgh Pirates for OF Andrew McCutchen. This would be a steep price for a one-year rental, and it may be only that as McCutchen is a free agent after the season, but McCutchen is a premium hitter that could provide the Twins with an elite player in the outfield alongside Byron Buxton and Eddie Rosario.
Trade proposal #2: Minnesota Twins trade IF Nick Gordon, RHP Fernando Romero, LHP Tyler Jay, and RHP Kohl Stewart to the Pittsburgh Pirates for RHP Gerrit Cole. Rumors on Cole have the Pirates asking for Gordon, another top 5 prospect, and other pieces as well in order to move Cole. This would be a package of arms that would certainly entice the Pirates, and while the price would be steep, it could bring back an elite arm for the rotation.
Trade proposal #3: Minnesota Twins trade IF Travis Blankenhorn, RHP Felix Jorge, and LHP Mason Melotakis to the Pittsburgh Pirates for RHP Jameson Taillon. Taillon had about the worst luck possible in his return from Tommy John surgery, missing two full seasons before returning last season. He's shown to be a tremendous starter since returning, and he'll have plenty of time remaining, which could bump up the price. Taillon generates a tremendous ground ball rate with his heavy sinker and hard curve.