Minnesota Twins Daily Morning Dip: Missing Denard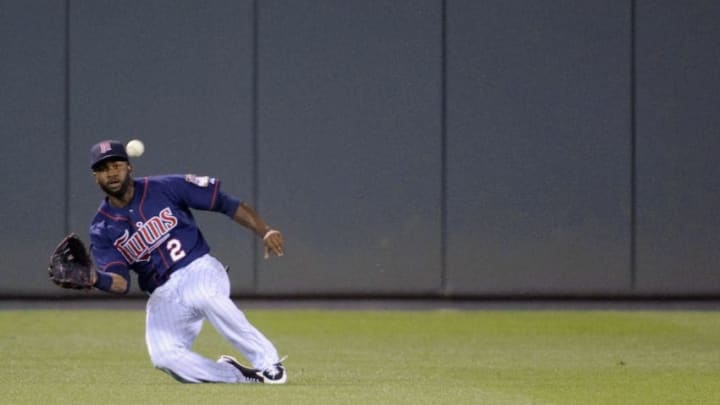 MINNEAPOLIS, MN - JULY 30: Denard Span /
Minnesota Twins Daily Dip, November 29th, 2017
Welcome to the November 29th edition of the Daily Dip, your daily piece of news and notes here on Puckett's Pond, offseason edition. You'll find the most recent news of the Minnesota Twins organization, stories from around the game, and links to any information you may want to know about the Minnesota Twins or baseball as we work our way through the hot stove season!
Minnesota Twins Scores, News and Notes
Australian Baseball League Update
No games scheduled until Thursday.
Dominican Winter League Update
Former Twin Danny Santana made the start in left field for Aguilas Cibaenas on Tuesday, going 1-3 with an RBI, a walk, and a strikeout.
Venezuelan Winter League Update
Leonardo Reginatto was part of the Twins organization last year but is currently a minor league free agent. He started at DH for Bravos de Margarita on Tuesday and went 1-4 with a strikeout.
More from Puckett's Pond
Bollinger inbox – how Twins upgrade pitching
Twins MLB.com writer Rhett Bollinger answers questions from Twins fans about a number of topics, including Twins upgrading the pitching.
Where Dozier ranks among the 2019 free agents
Most know that the 2018-2019 free agent class is going to be a loaded one, to include current Minnesota Twins second baseman Brian Dozier. ESPN's David Schoenfield ranks the players available in the class and has Dozier as one of the top players available.
Notes from around baseball
Next: How Twins should spend international money
One Last Thing
Five years ago today, the Minnesota Twins traded away center fielder Denard Span to the Washington Nationals for pitching prospect Alex Meyer. It was the first of two moves the Twins would make with outfielders on the offseason, and it was in response to the previous day's signing that the deal was made.
The Twins were in negotiations with the Braves and Nationals on Span, with the Braves weighing either signing a free agent or trading for Span. The Braves wanted to trade J.R. Graham and another piece for Span while the Twins insisted on Julio Teheran. The Braves left the table on the deal, and on the 28th of the month, the Braves announced a contract with B.J. Upton. The Twins struck quickly with the Nationals.
Span's defense has been replicated in center field, but his ability to set the table at the top of the lineup has been something the Twins haven't had since he left in the same way – not that Brian Dozier didn't do a good job as leadoff man in his own right, but he is a different kind of leadoff man than Denard was.
Span is currently signed with the San Francisco Giants for 2018 with a 2019 option.