Minnesota Twins offseason trade profile: Houston Astros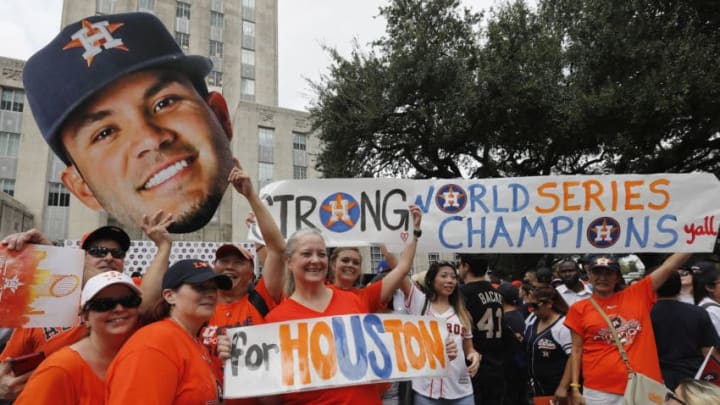 HOUSTON, TX - NOVEMBER 03: Houston Astros fans celebrate before the Houston Astros Victory Parade on November 3, 2017 in Houston, Texas. The Astros defeated the Los Angeles Dodgers 5-1 in Game 7 to win the 2017 World Series. (Photo by Tim Warner/Getty Images) /
The 2017-2018 offseason is here for the Minnesota Twins. Who could be their trade partners this offseason?
Now that the Minnesota Twins have entered the offseason, they are looking to improve the roster through trades and through free agent signings. In this series, we'll look at how the Twins match up with teams in trade scenarios.
We will first cover the team's 2017 and what they may be looking for this offseason and then look at whether the Twins could be a good fit for a possible trade this offseason. If there's a fit, we'll try to put together a feasible trade that would work for both sides. We will go alphabetically through the league, and today we will look at the 2017 World Series champion, the Houston Astros.
Astros 2017
Houston won the first World Series in franchise history in 2017, so there's not a lot that could have gone better for the team over the season as they won 101 games with one of the best offenses the game has seen in recent years.
The offense was led by MVP Jose Altuve, who hit .346/.410/.547 with 24 home runs and 32 stolen bases. His middle infield partner Carlos Correa missed a chunk in the middle of the season, or he'd have been high in the MVP consideration as well, as he hit .315/.391/.550 with 24 home runs in 109 games.
Overall, the Astros had 11 players hit at least 10 home runs for the team, including 4 with at least 20. With players who had at least 50 plate appearances for the team, 5 had a slugging percentage of at least .500.
On the mound, the team struggled to have a consistent pitching staff with injuries preventing any single pitcher from making 30 starts. The Astros did get excellent performances from Charlie Morton, Dallas Keuchel, and Brad Peacock, but they sought out a "big-time" starter for the playoffs.
At the August 31st deadline, they secured Justin Verlander, who went 5-0 in 5 regular season starts for the Astros, throwing 34 innings with a 1.06 ERA, 0.65 WHIP, and a 5/43 BB/K ratio.
The bullpen saw elite regular season performances from Ken Giles (2.30 ERA, 1.04 WHIP, 83 K in 62 2/3 IP, 34 SV) and Chris Devenski (2.68 ERA, 0.94 WHIP, and struck out 100 over 80 2/3 innings), but both struggled in the playoffs. Will Harris was also dominant during the season with elite control, posting a 2.98 ERA, 0.97 WHIP, and a 7/52 BB/K over 45 1/3 innings.
Possible Trade Interest
Astros may want: Relief pitching, Top starting pitching. The Twins may struggle to offer those things, but the Astros really don't offer perfect fits for Twins needs, however, there are some interesting mixes that could fit a Twins need and an Astros need in their respective organizations.
Twins may want: A power bat for the DH position, starting pitching, relief pitching
More from Puckett's Pond
Trade proposals
With those needs how could the Twins and Astros match up? Here are three ideas:
Trade proposal #1: Minnesota Twins trade Tyler Jay and Jordan Balazovic to the Astros for C/DH Evan Gattis. Gattis has just one year left of team control, but his powerful right-handed bat would look nice in the middle of the Twins lineup, and he could fill in at catcher once in a while, giving the Twins a trio of catchers and the option to use Mitch Garver and Gattis most days at DH.
Trade proposal #2: Minnesota Twins trade Felix Jorge and Lean Marrero to the Astros for 3B Colin Moran. Moran doesn't have a spot in Houston, and as a corner infield guy, he would offer depth behind Joe Mauer and Miguel Sano.
Trade proposal #3 Minnesota Twins trade Kohl Stewart and Sean Poppen to the Astros for 3B J.D. Davis. Davis is known for his power bat and power arm, and he's stuck behind Moran on the depth chart in Houston where Moran isn't even on the radar for MLB time, but Davis has shown the ability to hit upper minors pitching well, hitting 49 home runs in the upper minors over the last two seasons. Stewart could get a fresh start in his home state.