Minnesota Twins Daily Morning Dip: Harmon finally wins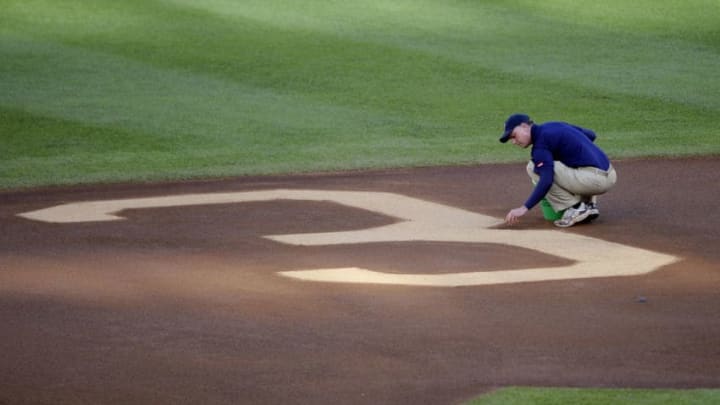 MINNEAPOLIS, MN - MAY 23: Heads groundskeeper Larry DiVito for the Minnesota Twins puts finishing touches to Hall of Famer Harmon Killebrew's number behind second base prior to a game between the Seattle Mariners and the Minnesota Twins on May 23, 2011 at Target Field in Minneapolis, Minnesota. Harmon Killebrew passed away on May 17, 2011 after a battle with esophageal cancer. (Photo by Hannah Foslien/Getty Images) /
Minnesota Twins Daily Dip, November 11th, 2017
Welcome to the November 11th edition of the Daily Dip, your daily piece of news and notes here on Puckett's Pond, offseason edition. You'll find the most recent news of the Minnesota Twins organization, stories from around the game, and links to any information you may want to know about the Minnesota Twins or baseball as we work our way through the hot stove season!
Minnesota Twins Scores, News and Notes
Arizona Fall League Update
Surprise played Peoria in the Military Appreciation Game on Saturday. After Peoria jumped out to a 6-0 lead, the Saguaros scored 10 unanswered runs before the Javelinas finished the game with 5 runs over the final two innings to win the game 11-10.
LaMonte Wade turned into the story of the game, but not in the way he wanted. In a 2nd inning defensive play, Wade collided with center fielder Oscar Mercado and was carted off with a protective halo around his head and neck.
Chris Paul started at first base, going 2-4, scoring 2 runs, with a triple, driving in 4 runs, striking out once. Andrew Vasquez went 1/3 inning, walking one and striking out 1.
Surprise will have the traditional Sunday off today.
Twins players totals in the AFL:
Chris Paul, 15 games, 61 AB, .279/.323/.459, 12 R, 3 2B, 3B, 2 HR, 10 RBI, 3/17 BB/K
Sean Miller, 12 games, 45 AB, .289/.333/.311, 7 R, 2B, 7 RBI, 2/1 SB, 3/9 BB/K
LaMonte Wade, 19 games, 63 AB, .238/.351/.413, 8 R, 3 2B, 3B, 2 HR, 8 RBI, 1/2 SB, 9/10 BB/K
Andrew Vasquez, 10 games, 0-0, 11 2/3 IP, 0.77 ERA, 0.94 WHIP, 4/13 BB/K
Thomas Hackimer, 8 games, 0-1, 9 2/3 IP, 2.79 ERA, 1.45 WHIP, 7/9 BB/K
Tyler Jay, 8 games, 0-0, 7 2/3 IP, 5.87 ERA, 1.96 WHIP, 5/9 BB/K
Ryan Eades, 9 games, 1 GS, 2-0, 11 2/3 IP, 0.77 ERA, 1.29 WHIP, 3/10 BB/K
More from Puckett's Pond
The previously mentioned collision by LaMonte Wade led to him being diagnosed with a concussion. He will certainly miss some time on the field, but how much time is yet to be determined.
Notes from around baseball
Next: Twins Early Offseason Moves
One Last Thing
On this date in 1969, Harmon Killebrew was awarded the one and only MVP that he won in his major league career after hitting .276/.427/.584 with 49 home runs and 140 RBI. Killebrew led the league in on base percentage, home runs, RBI, walks, and he played all 162 games.
The crazy part is that by this point in his career, Killebrew already had built up a Hall of Fame career. He hit .262/.380/.536 with 446 home runs over his first 16 years. Over the last 6 years, he'd add another 127 home runs, but hurt all of his rate stats along the way.
Killebrew actually had a higher bWAR in 1967, but Carl Yastrzemski tied Killebrew for the league lead in home runs and led the other Triple Crown stats, making his MVP pretty assured.
Killebrew came with the Senators when they moved to Minnesota, being the first superstar in Minnesota Twins history. In his time just wearing a Twins uniform, he hit .260/.383/.518 with 475 home runs, 1,325 RBI, and a 148 OPS+.