Minnesota Twins Daily Morning Dip: Welcome to November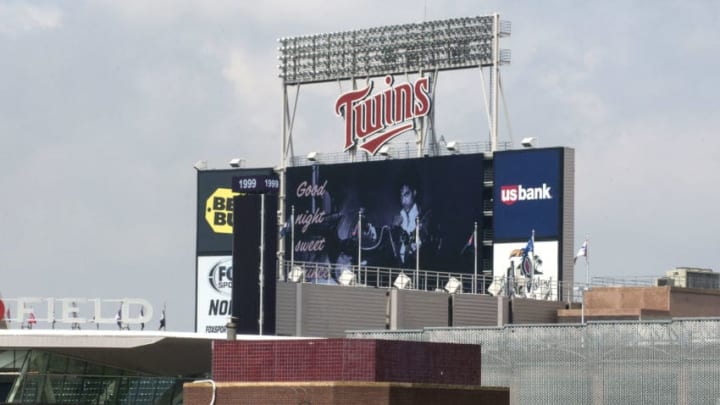 MINNEAPOLIS, MN - APRIL 21: A memorial for Prince on the scoreboard inside Target Field on April 21, 2016 in Minneapolis, Minnesota. Prince died earlier today at his Paisley Park compound at the age of 57. (Photo by Stephen Maturen/Getty Images) /
Minnesota Twins Daily Dip, November 1st, 2017
Welcome to the November 1st edition of the Daily Dip, your daily piece of news and notes here on Puckett's Pond, offseason edition. You'll find the most recent news of the Minnesota Twins organization, stories from around the game, and links to any information you may want to know about the Minnesota Twins or baseball as we work our way through the hot stove season!
Minnesota Twins Scores, News and Notes
Arizona Fall League Update
Peoria took down surprise with a big offensive display 9-2. Chris Paul played left field for the first time in the AFL, going 0-4 with a strikeout. Tom Hackimer bounced back from a rough outing to post 1 2/3 scoreless innings, allowing a hit and striking out 1. Tyler Jay had the blow up game on the day, as he allowed 3 runs over an inning on 2 hits and 2 walks. Andrew Vasquez went 2 scoreless innings, allowing 3 hits and striking out 3.
Surprise will play a 2:30PM CT game against Mesa today.
Twins players totals in the AFL:
Chris Paul, 11 games, 44 AB, .275/.326/.400, 2 2B, HR, 2/12 BB/K
Sean Miller, 8 games, 30 AB, .333/.375/.367, 2B, 2 SB, 2/7 BB/K
LaMonte Wade, 12 games, 44 AB, .250/.365/.409, 2 2B, 3B, HR, SB, 6/5 BB/K
Andrew Vasquez, 7 games, 9 1/3 IP, 0.96 ERA, 0.75 WHIP, 1/10 BB/K
Thomas Hackimer, 6 games, 7 2/3 IP, 3.52 ERA, 1.57 WHIP, 5/7 BB/K
Tyler Jay, 7 games, 6 2/3 IP, 6.75 ERA, 1.95 WHIP, 3/7 BB/K
Ryan Eades, 7 games, 8 1/3 IP, 0.00 ERA, 1.08 WHIP, 2/8 BB/K
Bench coach Joe Vavra left to join Ron Gardenhire's staff in Detroit, so now the Twins will be in the market for a new bench coach.
World Series game 6: Los Angeles Dodgers 3, Houston Astros 1
Justin Verlander was dominant until the 6th inning, when the Dodgers were able to get 2 runs. They added another in the 7th. Verlander went 6 innings, allowing 2 runs on 3 hits and no walks, striking out 9. Rich Hill was pulled fairly early, going 4 2/3 IP, allowing just a solo home run as part of 4 hits and a walk, striking out 5. George Springer had a home run, single, and a walk. Joc Pederson had a home run.
The decisive game 7 will be tonight!
More from Puckett's Pond
Next World Series game
Houston Astros at Los Angeles Dodgers, 7:00PM CT, Wednesday
Starting Pitchers: Lance McCullers, Jr. vs. Yu Darvish
Television: Fox
Series Standing: Series tied at 3
Notes from around baseball
Next: Possible Twins bullpen moves
One Last Thing
Looking at the birthday list for today brings up Vic Power. The Twins acquired Power ahead of the 1962 season. At that point, he was a 4-time All Star, and he had established himself as a quality hitter. After 2 seasons with the Twins, he was traded early in the 1964 season. And that's where things get interesting.
Power was traded from the Twins to the Angels in a three-team deal that also involved the Cleveland Indians. Later that season, he was moved in another 3-team deal that sent him from the Angels to the Phillies. While 3-team deals are rare, one player being part of two in the same season is very interesting, though there are some oddities in the second deal, but that's for another blog.
Over his career, Power collected 1,716 hits and 126 home runs with a 279/247 BB/K.
Happy birthday, Vic!