Minnesota Twins pitching prospect turning heads, flying under the radar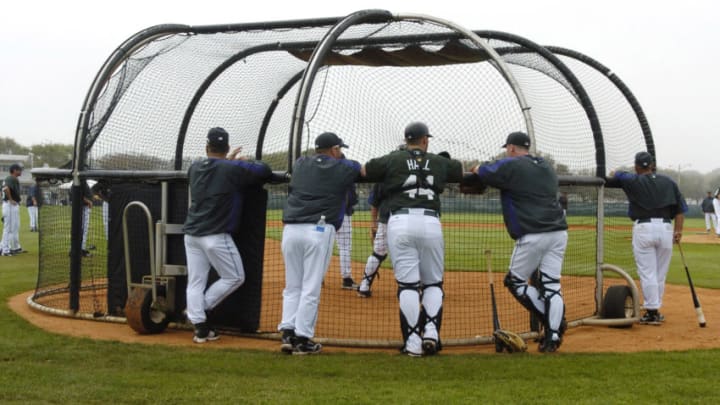 Tampa Bay Devil Rays surround the battling cage during a pitching drill at Raymond A. Naimoli baseball complex in St. Petersburg, Florida on February 23, 2006. (Photo by A. Messerschmidt/Getty Images) *** Local Caption *** /
As Minnesota Twins prospects perform well at the Arizona Fall League and in winter leagues, one prospect is gaining national notice
The Minnesota Twins had a ton of success in their minor league system in 2017, with the best record across their system in all of minor league baseball. It's also followed that some of the team's prospects are getting more notice. One of those beginning to really climb up the charts on a national level is righty Brusdar Graterol.
As they highlighted the Minnesota Twins organization this week, Baseball America had an article (subscription required) from Phil Miller about Graterol, and it's becoming yet another in a line of notice that the young power arm is receiving so far this offseason.
Background
Graterol was signed in 2014 out of Venezuela, a country the Twins have done well in recruiting, especially arms. He made a splash in his first exposure to pro ball in 2015, making just 4 appearances, but they were electric, as he threw 11 innings, with a 2.45 ERA, 1.18 WHIP, and a 1/17 BB/K ratio.
Then came the dreaded former pitcher's name that no one wants to hear: Tommy John. Graterol had surgery, and he lost the rest of 2015 and all of 2016 doing rehab and getting healthy.
In fall instructs, Graterol began to make noise as he came out an lit up radar guns. His feel wasn't fully back for his stuff, but he was topping triple digits at times, and that was very exciting!
More from Puckett's Pond
2017 performance
Graterol opened the 2017 season with the Gulf Coast League. The Twins attempted to manage his innings, as he made 5 appearances, but only 2 of them starts, throwing 19 1/3 innings. However, in that short time, he posted a 1.40 ERA, 0.72 WHIP, walked 5.6% of hitters and struck out 29.2%.
The Twins moved Graterol up to their advanced rookie level, where the 18 year old was facing mostly guys who were coming out of college in the 2017 draft or high school picks in 2016 in their second professional season.
He still put up very solid numbers, making 5 starts, throwing 20 2/3 innings, but he did attempt too much at times to overpower guys rather than pitching by them, leading to more walks and a flatter, more hittable fastball, not an uncommon thing for a hard-throwing teenager. Still, he posted a 3.92 ERA, 1.21 WHIP, 10.6% walk rate, and a still extraordinary 28.2% strikeout rate.
Graterol will be 19 for nearly all of the 2018 minor league season. The Twins will handle his power arm carefully, likely opening him back in Elizabethton and easing him to Cedar Rapids at some point during the season if he throws well. However, if you're looking for the guy in the system that has true "ace" potential, this is it!
Next: Twins top 100 prospects complete list
Our Benjamin Chase had Graterol ranked #6 overall in his recent ranking of the top 100 prospects in the Minnesota Twins system (link above). From his write up:
"When I called or reached out to people in the GCL or Appy League about a Twins guy, it was nearly unanimous that, unprompted, I would get an opinion on Graterol."
Others around the game are starting to notice this guy, perhaps it's time for Twins fans to as well!