Minnesota Twins Daily Morning Dip: Fien Moments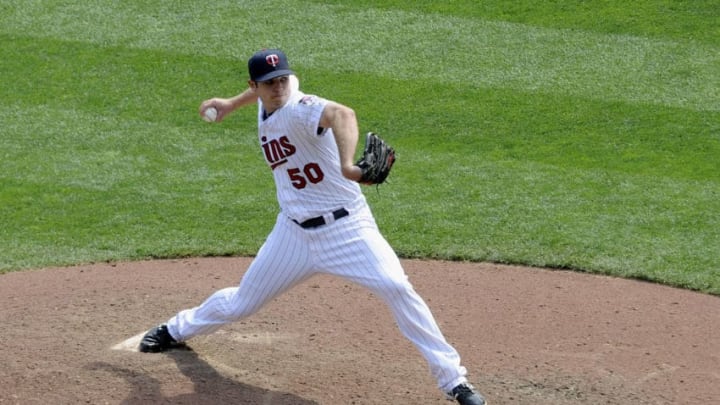 MINNEAPOLIS, MN - AUGUST 30: Casey Fien /
Minnesota Twins Daily Dip, October 21st, 2017
Welcome to the October 21st edition of the Daily Dip, your daily piece of news and notes here on Puckett's Pond, offseason edition. You'll find the most recent news of the Minnesota Twins organization, stories from around the game, and links to any information you may want to know about the Minnesota Twins or baseball as we work our way through the hot stove season!
Minnesota Twins Scores, News and Notes
Arizona Fall League Update
Surprise had a win secured going into the bottom of the 9th, when Mesa scored 4 runs to walk off with the 7-6 win. LaMonte Wade broke out of his slump in style, going 3-4 with a home run and double, driving in two runs. Chris Paul made the start at first base, going 1-4, scoring a run, but also striking out 3 times. Tyler Jay had a rough outing, giving up his first runs of the AFL, going 2/3 of an inning, allowing 2 runs on 3 hits and a walk. Ryan Eades came in for 1 1/3 innings, allowing no runs, but allowing 2 hits.
Twins players totals in the AFL:
Chris Paul, 6 games, 26 AB, .308/.333/.348, 2B, 1/6 BB/K
Sean Miller, 5 games, 19 AB, .211/.250/.263, 2B, 1/4 BB/K
LaMonte Wade, 7 games, 26 AB, .231/.333/.423, 2 2B, HR, 3/2 BB/K
Andrew Vasquez, 4 games, 4 2/3 IP, 1.93 ERA, 0.64 WHIP, 0/6 BB/K
Thomas Hackimer, 3 games, 4 IP, 2.25 ERA, 1.25 WHIP, 1/3 BB/K
Tyler Jay, 4 games, 3 2/3 IP, 4.91 ERA, 1.91 WHIP, 1/4 BB/K
Ryan Eades, 4 games, 4 1/3 IP, 0.00 ERA, 1.38 WHIP, 1/2 BB/K
Today will be the Bowman Hitting Challenge at 8:35PM CT. Each major league team will have one representative in the competition.
Playoff games yesterday
Houston Astros 7, New York Yankees 1
The Astros bats came alive, and Justin Verlander gave another impressive performance in an elimination game. Verlander went 7 scoreless innings, allowing 5 hits and a walk, striking out 8. Aaron Judge hit a solo home run off of reliever Brad Peacock for the Yankees' only run. Jose Altuve drove in 3 runs on a home run and a single.
Game 7 will be tonight at 7:00PM CT.
More from Puckett's Pond
Playoff games today
New York Yankees @ Houston Astros, 7PM CT
Starting Pitchers: CC Sabathia vs. Charlie Morton
Television: FS1
Series Standing: Series tied 3-3
Notes from around baseball
Next: Twins 2017 review: outfield
One Last Thing
Today is the 34th birthday of one of the most interesting pitchers to follow with the Twins in the early 2010s, Casey Fien. Fien was drafted in the 20th round in 2006 by the Detroit Tigers, working out of the bullpen and working his way to the major leagues in 2009 and 2010 with the Tigers for a total of 11 appearances. He signed as a minor league free agent with the Astros in 2011 but was dinged up most of the year.
The Twins took a chance on the 28 year-old Fien in 2012. What is incredible is that he "earned" a promotion to the major leagues with a 4.30 ERA in AAA, which says something about the quality of the bullpen in play at the time. Regardless, Fien threw very well once he got to the major leagues, making 35 appearances with a 2.06 ERA and a 0.97 WHIP.
For the next three seasons, Fien was a solid right-handed specialist, posting a 3.82 ERA and 1.09 WHIP out of the bullpen, averaging 69 appearances and 63 innings with a 10/55 BB/K ratio. Then things fell apart after Fien was injured in the 2015 season with an injury to his shoulder, and he was never the same, leading the Twins to designate him for assignment in May 2016. He's been on three teams since, most recently released by the Philadelphia Phillies on September first of this season, likely done at just age 33.
When Fien came up with the Twins, he had tremendous success due to the combination of his moving low-90s fastball, upper-80s cutter, and upper-70s/low-80s hard curve/slider. As his shoulder issues progressed, his fastball lost the effectiveness and movement it once had down in the zone, and he he began throwing more and more of his curve and cutter, which also had lost their same level of bite due to the shoulder issues.
Happy birthday to Fien, an underdog who made it!