Scouting Report on Minnesota Twins OF LaMonte Wade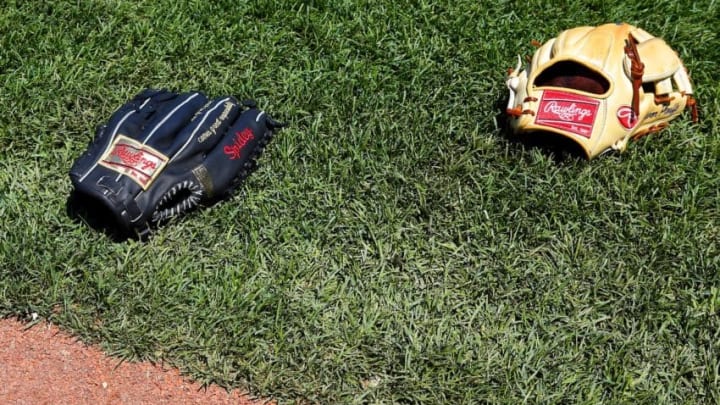 BOSTON, MA - June 4: Two Rawlings baseball gloves are seen on the field before the game between the Boston Red Sox and the Minnesota Twins at Fenway Park on June 4, 2015 in Boston, Massachusetts. (Photo by Winslow Townson/Getty Images) /
The Minnesota Twins have a number of outfielders on the way. Could one in AA surprise as a future fixture?
Player Profile
The Minnesota Twins drafted LaMonte Wade in the 9th round of the 2015 draft from the University of Maryland.
Wade opened his draft season at advanced rookie Elizabethton in the Pioneer League. After hitting well, he was promoted to Cedar Rapids for the last week of the season. His final numbers on the year were .302/.418/.486 with 8 doubles, 5 triples, 9 home runs, and 12 stolen bases, posting a 47/36 BB/K ratio.
Wade opened 2016 with Cedar Rapids in the low-A Midwest League. He spent 56 games with Cedar Rapids before moving up to high-A Fort Myers in the Florida State League. Combined between the two levels, he hit .293/.402/.438 with 14 doubles, 4 triples, 8 home runs, 6 stolen bases, and a 54/44 BB/K ratio.
The Twins opened Wade at AA Chattanooga in 2017. He's hit .288/.406/.403 with 16 doubles, a triple, 6 home runs, and 8 stolen bases, with a 62/49 BB/K ratio on the season thus far.
Scouting Report
Size/Build
– Wade is listed at 6'1″ tall and 190 pounds. I'd say both of those numbers are quite accurate. The weight is perhaps a hair low, as he could be more like 200 pounds. He carries his weight in his legs, with notable size in his thighs in his build.
Hitting
Contact (50) – Wade has a quick swing through the zone from the left side, making excellent contact with minimal load into the zone and a light leg left as the ball comes to the plate. He is able to get into excellent lower body position and zip his bat through the zone from the set position with his feet.
Power (40) – While Wade can spray the ball throughout the field, his power is primarily gap power, not over-the-fence power. He does have the speed in his swing that he could develop more power further, but he's unlikely to ever be a 50-grade power hitter.
Eye (60) – Wade truly has excellent zone recognition, but what is most impressive is his pitch recognition. Due to his speed and his wrist strength, he is able to respond to pitches in the zone and foul them off to get the pitch he would like. Wade's eye at the plate is by far his best tool on the field at this point.
Base Running/Fielding
Speed (50) – Wade is an excellent athlete and has 55-60 grade top end speed, but he takes a few steps to get to that speed, meaning he's likely not ever going to be a great base stealer, but he does very well on the bases taking an extra base once he's at full speed.
Defense (55) – Wade has tremendous instincts in the outfield. That has allowed him to handle center field to this point in his minor league career, but he would likely be better suited in a corner spot, probably left field to suit his arm, and he could be an elite defender at that position with his instincts.
Arm (45) – While Wade's arm is below-average in strength, his instincts on defense are not limited to just getting in position on the ball to make a catch. He also has great instincts at getting himself in position to be behind the ball and able to make an accurate throw, so while his arm isn't the best, he does get himself into good position for throwing, which helps to cover it somewhat.
More from Puckett's Pond
MLB Player Comp
Wade's left-handed swing and build immediately reminded me of a player, and I went back to watch him, but found his build has changed significantly, though the swing and set up are still such that Wade is a very good comparable.
Melky Cabrera came up as a platoon/part-time outfielder with the Yankees before he spent a year struggling with the Braves. He broke out the next season in 2011 with the Royals, hitting .305/.339/.470 with 18 home runs and 20 stolen bases. In 2012, he was leading the league in hitting at .346/.390/.516 with 11 home runs and 13 stolen bases when he was suspended for using PEDs.
Cabrera in his youth had a very similar build to Wade, and his lack of strikeouts in his career is very similar to Wade's, though Wade does tend to take walks more than Cabrera ever has at any level.
Cabrera has also lived with below-average arm strength and decent instincts in the outfield for a career that allowed him to play over 1600 games in the major leagues, hitting .286/.337/.419 with 127 home runs and 97 steals. That sort of gap hitting with good contact is a profile I could see Wade following.
Next: Trade rumor profile: Brad Brach
Wade is likely going to spend all of 2017 with AA Chattanooga, and he could make a push for a bench spot in 2018, but will likely play 2018 in Rochester with some time in the big leagues. Coming up at 24-25 years old is not an uncommon thing with his profile, but he also has a profile that typically ages well and could have a long career even if he reaches the majors "late".