Scouting Report on Minnesota Twins RHP Fernando Romero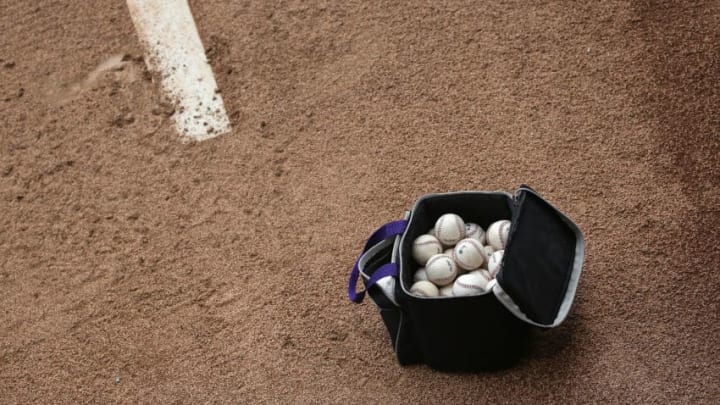 DENVER, CO - APRIL 25: A bag of baseballs sits on the mound in the bullpen as the Pittsburgh Pirates prepare to face the Colorado Rockies at Coors Field on April 25, 2016 in Denver, Colorado. (Photo by Doug Pensinger/Getty Images) /
Scouting Report on Minnesota Twins pitching prospect Fernando Romero
Player Profile
The Minnesota Twins signed Fernando Ernesto (Peralta) Romero out of the Dominican Republic in November of 2011 for $260,000 after an impressive performance at a Perfect Game international event where he made a big impression with his fastball.
Romero was a lean 165-170 pounds when he was drafted on a 6′-6'1″ frame, and he looked the part of a kid growing into his body in his first professional experience with the Dominican Summer League in 2012, making 14 appearance, 6 of them starts, throwing 31 innings with a 4.65 ERA, 1.29 WHIP, 10.4% walk rate and 20.7% strikeout rate.
The Twins brought him stateside in 2013, and he showed tremendous growth in his control of his fastball, though the feel of his secondary offerings was still a work in progress. He made 12 appearances for the Gulf Coast League team, six of them starts, throwing 45 innings with a 1.60 ERA, 1.00 WHIP, 7.2% walk rate, and 26% strikeout rate.
That excellent performance encouraged the Twins to push Romero beyond Elizabethton straight to Cedar Rapids in the low-A Midwest League. However, in 2014, Romero threw 3 quality starts before disaster happened. He had posted a 3.00 ERA over 3 starts and 12 innings, with a 1.50 WHIP, 10% walk rate, and 18% strikeout rate when his elbow gave out and he had Tommy John surgery.
The Twins took Romero's recovery very carefully, and he sat out the rest of the 2014 season and the entire 2015 season as well. He even spent a good amount of time in extended spring before he made his first start of 2016.
He opened last season with Cedar Rapids, but he quickly showed that he was beyond that league and was moved up to high-A Fort Myers in the Florida State League. His innings were managed, not throwing on a true 5-day rotation schedule the entire season, sometimes having an entire week between starts to let his arm rest.
Combined between the two levels in 2016, Romero made 16 starts, throwing 90 1/3 innings, with a 1.89 ERA, 0.90 WHIP, 4.3% walk rate, and 26.1% strikeout rate. He was mentioned as "honorable mention" in a number of top 100 lists, and FanSided's Call To The Pen blog rated Romero #111 in their offseason Top 125 prospects list.
The Twins took off the reins on Romero this season with AA Chattanooga, and he's already surpassed his 2016 innings total with 90 2/3 innings this season, with a 2.78 ERA, 1.25 WHIP, 8.8% walk rate, and a 23.6% strikeout rate in his first taste of the upper minors.
Scouting Report
Size/Delivery/Control
Size – Romero is listed at either 6′ or 6'1″ in height and 215 pounds. He's certainly filled out his frame, with a heavy amount of that weight sitting in his upper legs, which is a good spot for a power pitcher to carry weight, but it can be something to watch for future possible weight issues.
Delivery – Romero comes to the plate from a true 3/4 arm slot in his delivery. He has a fairly easy delivery, repeatable throughout his pace, with a powerful drive off his back leg to the plate being where he generates his velocity, and he's able to keep repeatable landing spots with his front foot from that top point of his delivery.
From the stretch, he varies the pace of his delivery to the plate, though he seems to always end up with his knee just a hair above his belt line at the peak of his stretch motion, regardless of whether he's taking a more deliberate, longer set before starting toward the plate or basically coming immediately to the plate once he gets on the rubber.
Control (55) – Romero has shown much better control and command since his return from surgery, beyond what most pitchers typically experience in their first year or two after surgery, which bears well for going forward. I truly believe he could see this work to a true plus "60" grade.
Pitches
Fastball (75) – Romero's increased control has taken his fastball from a 70-grade velocity to a pitch that I'd tag with just that touch extra half-grade because of the way he can spot the pitch and get excellent late break on the pitch.
Romero can sit 94-97 with his fastball deep into a game, and he uses primarily a two-seam fastball that really has excellent late movement down in the zone, missing the heart of the bat.
Change Up (55) – Romero's time away allowed his change to take a big step forward, and the pitch has tremendous pairing with his two-seam fastball, looking nearly the same until it has just a hair more direct sink rather than some of the ride and tail that the fastball shows. In my views, the most swing and miss came on his change when it was on, but it was also the pitch that got hit fairly hard when he wasn't getting quite the same sink at the end.
Slider (55) – Romero has the velocity of a power slider, one that can peak into the low-90s but typically sits more in the mid-80s in velocity, but from my viewings, it really didn't have the type of hard bite you'd like, getting more of a gentle movement on the pitch, making it tough to square up, but not the swing and miss pitch you'd like.
I have had reports on the slider of it breaking harder, with a wipeout action to the pitch. I saw that sort of action very rarely on his slider, but when it was there, it was incredible to watch. I'd say the pitch has a 65 ceiling still if he can consistently get that wipeout movement.
More from Puckett's Pond
MLB Player Comp
The first looks I had at Romero this season in how he's built up his legs and the shape he was in reminded very strongly of Carlos Martinez of the St. Louis Cardinals. While he's added more to his frame than Martinez has since both were skinny 6′-ish Latin righty A-ball kids, both have similar overall builds.
I was pleased to look into the numbers and see that the pitches held up pretty well after that for the comparison as well as Martinez's pitch mix and velocity mix nearly perfectly mirrors Romero's, though Romero uses his two-seam fastball a bit more than Martinez, a very minor thing in the scope of the comparison.
I think Twins fans in general would be overjoyed if Romero could become what Martinez has become, but it should be noted that there were a couple rough years breaking into the big leagues for Martines as the Cardinals struggled to get him into the rotation, but he seemed to get hit hard each time he was put there, so Twins fans will need to be patient with his profile.
Next: Zack Granite goes big time
Romero is already showing out well with the Lookouts in AA, but it was mentioned earlier that he has already surpassed his career high in innings pitched. I'd be surprised if the Twins allow him to add more than 50 more innings to his ledger, so he could begin to get skipped in starts and held down in innings as well.
What that could mean for promotions in this season is a good question, though he likely could be worthy of a look in AAA and even a September call up if his arm still has the bullets available by then. Regardless, this is a guy that Twins fans should be very, very excited about and expect to start getting some national love very soon.