Minnesota Twins Ups and Downs After Week 5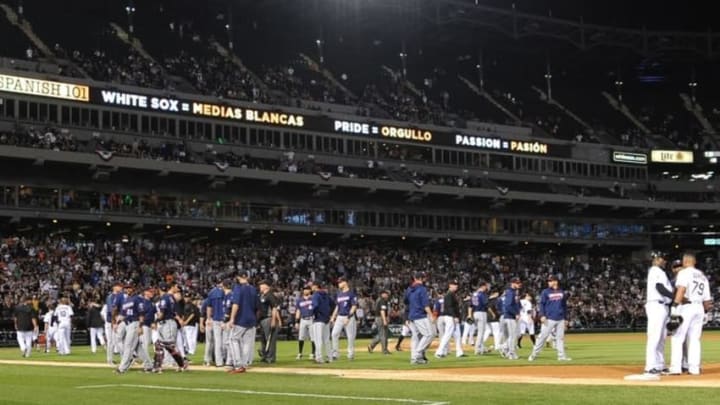 May 6, 2016; Chicago, IL, USA; Benches clear after Chicago White Sox first baseman Jose Abreu (79) is hit by a pitch from Minnesota Twins relief pitcher Trevor May (65) during the eighth inning at U.S. Cellular Field. White Sox won 10-4. Mandatory Credit: Patrick Gorski-USA TODAY Sports /
Minnesota Twins Trends: All Aboard the Rochester Express!
There's been some good news for the Twins this week. Pretty sure they have earned enough frequent flyer miles that their next promotion from AAA Rochester will fly free. In fact, after last night's game against the Chicago White Sox, they had to call up Jorge Polanco to take Eduardo Escobar's place after a strained groin landed Escobar on the disabled list.
Two more relief pitchers joined Polanco from Rochester to Chicago O'Hare, Brandon Kintzler and Pat Dean. Kintzler (15.1 IP, 3.52 ERA, 11 K/3 BB, 1.17 WHIP) is a right-handed reliever who made his major league debut in 2010 with the Milwaukee Brewers. He has battled injuries throughout his career, but his MLB numbers (10-9, 3.38 ERA, 0.8 HR/9 IP) show that he should be an upgrade over Casey Fien.
Kintzler is a ground ball pitcher (2.68 GB/FB), who has lost a little off his fastball after all his surgeries (92-93 mph), but still gets his outs with his slider. With his MLB experience (spent all of 2013 with the Brewers), and his propensity to induce ground balls, he should be a good arm in the bullpen for 2016.
More from Puckett's Pond
Pat Dean is a lefty starter who was drafted in the 3rd round of the 2010 MLB Draft. He is a throwback to the mid-2000 Twins, a "pitch to contact" starter who relies on location and his control to get batters out. In 814.1 innings pitched for the Twins' minor league teams, Dean averages 1.71 walks/9 IP.
While not a strikeout guy, (5.28/9 IP), his ERA has been solid. Dean has started 39 games in AAA, with an ERA at 2.72 and only allowing 11 home runs in 255 innings. With Tommy Milone no longer on the team, Dean could see some time as the lone lefty starter. As of now, the Twins have not commented on Dean's role.
UP: New faces. Most teams wait until the end of May to clean house. With high expectations and so many players under-performing, the front office didn't want to wait that long and began house-cleaning this past week. Cutting Fien (picked up by Dodgers, his $1.8 million off the books), and Milone (unclaimed, his $3.6 million still on Twins' books), and demoting John Ryan Murphy to AAA speaks volumes about what will be expected of everyone moving forward.
The Twins welcomed Darin Mastroianni, Juan Centeno, Brandon Kintzler, and Pat Dean to the roster in the past few days. They also designated Ryan O'Rourke and J.R. Graham for assignment.
DOWN: Pitching. After starting the week with Jose Berrios' win over an almost impossible-to-beat-at-home Dallas Keuchel, Twins have given up 32 runs in the past 3 games (all road losses). including 6 home runs and 14 walks in 24 innings (home team never had to bat in 9th inning).
UP: Byung-ho Park. Park entered this past Sunday's game against Detroit hitting .227 with 8 RBI. Over his past 7 games, Park has hit .400 with 2 HRs and a triple among his 8 hits, driving in 5 runs. He's lifted his batting average to .268, and that includes getting robbed of extra bases by Austin Jackson in Friday night's game. With all the changes throughout the lineup, and with Trevor Plouffe still hitless since his return, Park may have earned a spot higher up in the batting order.
DOWN/UP: Bases reached streak by Joe Mauer. Mauer had reached base in all 28 games this year, and in 78 of his past 80 games played in (including pinch-hit apearances). Last night's 0-4 with no walks, HBP, or error by the White Sox, broke Mauer's streak. His on-base percentage of .433 currently leads the American League. His teammate, Eduardo Nunez, falls just short of enough plate appearances to qualify, but his .417 OBP would place him second. His .371 batting average would also be second, behind Nick Castellano's .374 for Detroit.
DOWN, WAY DOWN: How the Twins are looking in the field. Not just errors (Escobar's error in 1st inning was only one of night), but their overall play in the field. After Escobar's error, starter Ricky Nolasco failed to cover first on a ground-out which led to two unearned runs for the White Sox. Later in the 7th, Fernando Abad induced a hard grounder back to the mound with two outs and bases loaded.
Unfortunately for Abad, it hit him in the gut and fell next to his feet. Abad looked up, right, and left, but never spied the baseball. Three more runs (including the first run against Abad) scored. Those five runs were the difference in a 10-5 loss. All the Twins had to do was look at how Chicago played in the field last night. Every outfielder made an outstanding play to deny the Twins from scoring 10+ runs themselves.
UP: Togetherness. After Park was hit by a 96 mph fastball by Nate Jones on a pitch way up and in, Trevor May plunked Jose Abreu the next inning. May insisted he always pitches Abreu inside (his home run off Nolasco on a pitch away one reason why), but was quoted after the game that the support he got from teammates will translate into wins. One player who came to his rescue, Park, was visible during the bench-clearing incident after Abreu approached May. Park said bench-clearings happen "everywhere there is baseball." It only takes a spark…
NOTES: Brian Dozier said his hamstring felt better after tweaking it during Wednesday's game. He said he would be ready for tonight's game, but manager Paul Molitor held him out as a precaution, starting Jorge Polanco instead.
Park will indeed move up in the order, hitting in the 5 hole against White Sox ace Chris Sale. He will play 1B, and Miguel Sano will DH. Mauer has more strikeouts than hits against Sale (9/8), and is only .216 lifetime against Sale. Meanwhile, Sano is batting .800 (4-5) against the Chicago left-hander.
Darin Mastroianni will make his return to the Twins official tonight by batting lead-off and playing right field. Oswaldo Arcia will get another start. He's batting .500 in the last seven days (5-10), with a homer and 4 RBI.
STAT TO WATCH TONIGHT: The Twins have allowed 16 runs in the past 3 losses in just the first 3 innings of each game. Twins will look put a stop to that trend and get a strong start from Ervin Santana as he returns from the DL.