Minnesota Twins: A Look Back at Our Opening Day Roster Prediction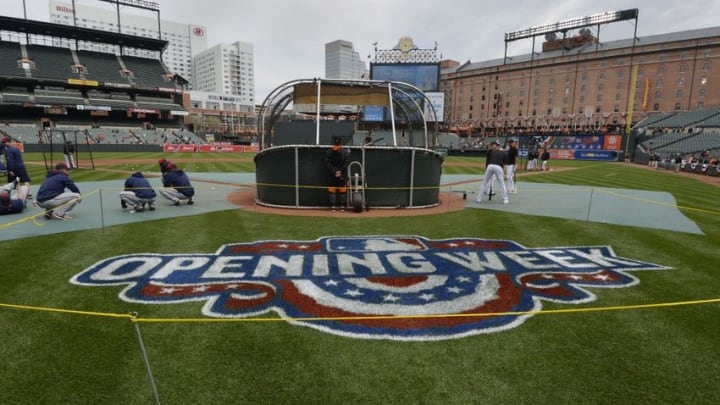 Apr 4, 2016; Baltimore, MD, USA; Baltimore Orioles take batting practice before the game against the Minnesota Twins at Oriole Park at Camden Yards. Mandatory Credit: Tommy Gilligan-USA TODAY Sports /
How close were we on our Minnesota Twins opening day roster prediction?
With the Minnesota Twins first game of the 2016 season in the books, how accurate was our opening day 25 man roster prediction? We take a look at how close was it was compared to what was actually written on the game card on Monday.
Here's what we predicted on February 25:
More from Puckett's Pond
"C: Kurt Suzuki
1B: Joe Mauer
2B: Brian Dozier
SS: Eduardo Escobar
3B: Trevor Plouffe
LF: Eddie Rosario
CF: Byron Buxton
RF: Miguel Sano
DH: Byung Ho Park
Starting Pitchers:
Relievers:
Bench:
INF/OF Eduardo Nunez
OF/INF Danny Santana
OF Oswaldo Arcia"
We'll take 24/25 any day of the week but that one mistake shifted a few other players around. We did fail to fathom the possibility that Tyler Duffey might not be completely safe as the 4th starter. Although who wouldn't have included him on an opening day roster prediction before spring training began? Giant kudos if you had the miraculous foresight not to.
The Nolasco over Duffey decision meant Nolasco shifted to the rotation and a spot opened up for Ryan Pressly. We weren't thinking there would be room for Pressly with Tonkin being out of options.
We were predicting the main battle in camp would be between Nolasco and Milone for the 5th starter's role with the loser heading to the bullpen. With that assumption in mind, we picked Milone to win but we had reservations: "Nolasco was actually one of the tougher players to assign. The Twins could easily choose to try and rebuild his value by having him start. He's the pick I feel the least confident about."
As we assumed, the Twins chose to protect their waiver risks: Arcia, Santana, Nunez and Tonkin all made the team. As it turned out, it was an easy choice to protect Santana; he was white hot at the close of spring training.
Next: 2016 Puckett's Staff Predictions
At the time, we were also concerned about potential injuries but thankfully the Twins enjoyed excellent health. Our fingers are crossed that it continues.
Let's see how long the roster remains in it's present form. Not long probably.