It's time for the Twins to start thinking about addition by subtraction
After squandering a hot start to the season, it's time for the Minnesota Twins to start thinking about addition by subtraction in order to fix an underperforming offense.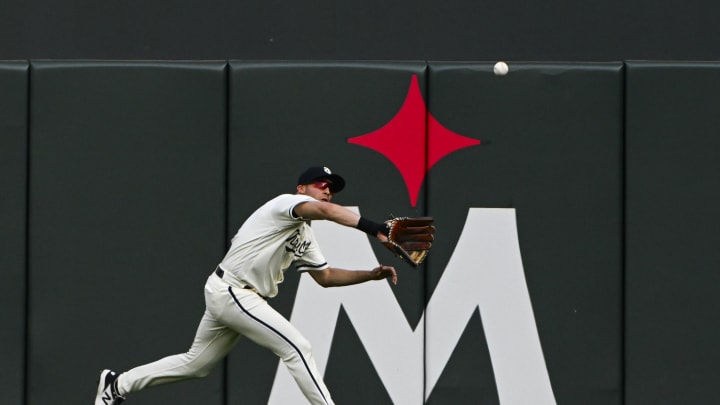 Boston Red Sox v Minnesota Twins / Stephen Maturen/GettyImages

Despite being a first place team, it doesn't take a baseball genius to figure out the Minnesota Twins need to seriously improve.
Manager Rocco Baldelli has admitted as much.
The starting pitching is the only thing barely holding the Twins onto a top spot in the AL Central -- which isn't a great metric for success. My concern at the beginning of the season was the Twins had no true offensive identity.
Unfortunately the prophecy of this statement is beginning to manifest.

Things started to move back in the right direction with a series win over the Red Sox, but it's still time to consider addition by subtraction with the Twins.
The Max Kepler saga has likely played itself out. The power production has dipped to a point that doesn't justify the low average and OBP. His contract expires at the end of the season with a $1 million buy out. At this point he's a glaring hole in the line up. He has to get going or his days will be numbered -- more than it already seems they are. Perhaps the Twins brass has seen enough of the 4-3 putouts?

Following closely behind Kepler is Christian Vazquez. Vazquez was signed as veteran insurance. His production at the plate has been insignificant. He brings a veteran presence, but with a .220 average and an OBP under .300 is he giving anything to the club offensively?

With comparable and likely better options available in Matt Wallner in the outfield and Chris Williams at catcher amongst others available. Kepler's and Vazquez's time in a Twins uniform seems limited. The ? we're all asking is now the time to cut ties or wait til season end.

Joey Gallo is a curious case. He's basically come as advertised with hitting for power, but extremely strike out prone while hitting for very low average, currently .192. He's tied to the Twins until the end of the season with his $11 million salary. With he and Kepler being clones of each other do we need "strike out twins" in the Twins line up? Is Christian Vazquez worth keeping around?
The Twins simply have to get an offensive identity going before it's too late to form one that matters. They're not really a home run hitting team, though they try to be. They don't hit for enough average to be considered a small ball team.
For a team searching for runs some changes may have to take place.