Watch: Rocco Baldelli gets ejected after fiery argument over Domingo German possibly cheating (Video)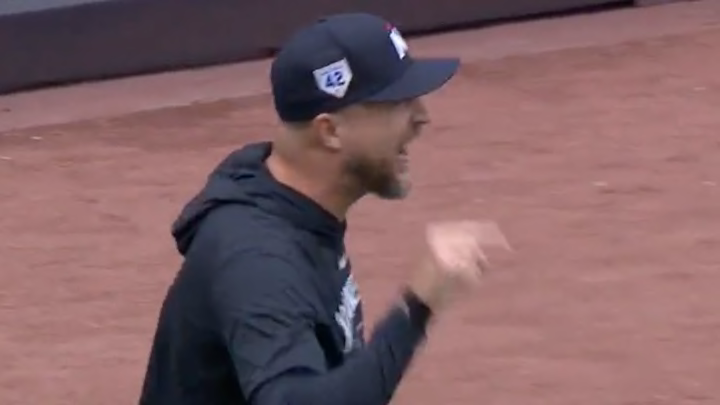 The Minnesota Twins series in the Bronx this weekend has been full of unusual plot twists, most of them breaking against the New York Yankees.
Saturday afternoon saw that trend slightly reversed.
New York jumped out to a 3-0 lead, with starter Domingo German shutting down Minnesota at the plate. Everything seemed to be going a little too well, and Twins manager Rocco Baldelli figured something might be up in terms of a foreign substance being used to help aid German.
Rocco called for German to be checked ahead of the fourth inning, and he was indeed stopped by the entire umpire crew on his way out. This led to Aaron Boone to come out and argue his case, and feign frustration, but whatever happened was good enough for the crew chief to let German head back out to the mound.
Needless to say, Rocco took notable exception to this and left the Twins dugout steps likely never intending to return. He was tossed moments later by home plate umpire Nate Tomlinson.
It was a pretty ridiculous sequence of events, one that seemed to indicate pretty much that something was up with German. It wasn't the first time he had been checked in the game, and the umpire crew took a significant amount of time to check him after Rocco raised some concerns.
So to see German allowed back on the mound after all of the hullabaloo was a bit strange, and obviously frustrating.
Rocco getting tossed was not how anyone probably thought that whole situation would end but it was yet another plot twist in a weekend full of them. Luckily for the Twins, most of the breaks in this series have gone their way so it was only a matter of time before the Yankees caught a break too.
However, having your pitcher who may likely be using some sticky stuff to help you get an edge on the Twins -- after how much the Yankees have made them a punching bag -- is hilariously desperate stuff that fans can't help but laugh at.