Watch: Christian Vazquez gets hit in head with foul ball while standing on deck (Video)
Thankfully it ended up looking much scarier than it actually was.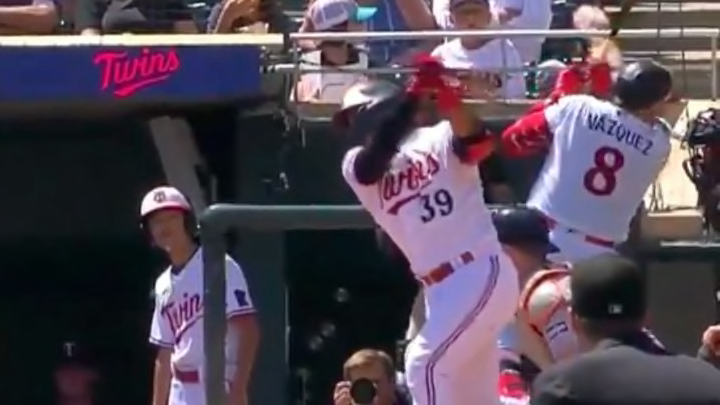 We're approaching the home stretch of the MLB season, and the Minnesota Twins continue to cling to a small division lead in the AL Central.
While Minnesota has only won five of its last ten games, the upside is the Cleveland Guardians haven't been able to take advantage and remain 4.5 games back. That's pretty bleak as far as sliver lining goes, but the Twins remain in control of the division -- take that however you'd like.
Looking at the division standings wasn't the only scary thing that happened on Wednesday afternoon. In fact, not even the final score gave Twins fans quite the kind of scare that Christian Vázquez gave everyone when he was almost taken out by a rogue foul ball.
Watch: Christian Vazquez gets hit in head with foul ball (Video)
While standing in the on deck circle, Vázquez was struck in the head by a Donovan Solano foul ball. Thankfully the ball merely grazed the brim of his helmet and he avoided a more serious situation.
It was still a bit scary to watch.
Who knew someone would have to turn in a head's up play in the on deck circle -- literally.
Losing Vázquez, who has effectively served as the Twins starting catcher all season, would present a less than ideal situation, regardless of how it happened.
So far this season Vázquez is slashing .222/.283/.296, which isn't exactly lighting the world on fire but he's served as a viable option behind the plate. The Twins have been splitting catching duties between Vázquez and Ryan Jeffers, with the former having played in 77 games which is six more than his teammate.
After not making any moves at the trade deadline, the Twins will need to continue to hope that the injury bug doesn't start chewing on the roster anymore than it already has. This apparently includes keeping your head on a swivel in the on deck circle.