Watch: Kyle Farmer exits game after taking Lucas Giolito pitch to his face (Video)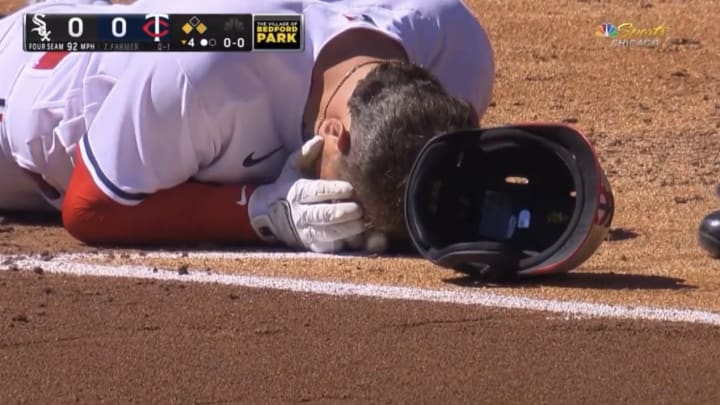 A normal and sunny day game between the Minnesota Twins and Chicago White Sox took a sudden and terrifying turn on Wednesday when Kyle Farmer was forced to exit the contest after being hit by a pitch.
Farmer came to bat after a Ryan Jeffers triple, hoping to bat home the first run of the day. That's when a Lucas Giolito fastball came high and inside, hitting him directly in the face.
He remained on the ground for several minutes as trainers from both dugouts rushed to assist him. Paramedics were initially being called out as well but were quickly waved off -- the first good sign in an otherwise concerning situation.
Miracuously, Farmer was able to walk off under his own power although needed the assistance of trainers to guide him as he held a towel to his face.
Willi Castro came into pinch run for Farmer after he exited the game, and replaced him at shortstop when the defense took the field in the top of the fifth.
Having Farmer leave after getting struck in the face is yet another bad break for a Twins team plagued by injuries early in the year.
The reason Farmer was in the lineup at shortstop was due to Carlos Correa being held out with back tightness. Joey Gallo hit the IL on Tuesday with right side soreness and Max Kepler went to the IL on Saturday after injuring his knee last Monday against the Marlins. Both Alex Kirilloff and Jorge Polanco began the year on the IL and have yet to officially make their debuts this season.
Obviously, Farmer's injury is the most serious of the year to this point. The Twins announced during the next inning that Farmer had a jaw injury, but didn't elaborate any further other than to say he was out for the game.