Minnesota Twins: Biggest Hall of Fame Snubs at Each Position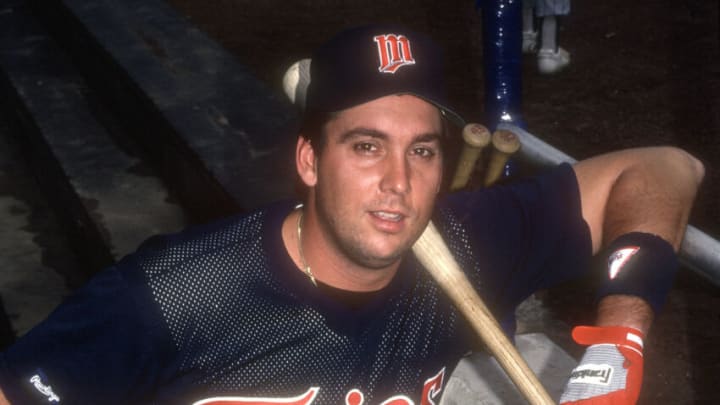 Kent Hrbek of the Minnesota Twins poses for this portrait in the dugout. (Photo by Focus on Sport/Getty Images) /
Johan Santana of the Minnesota Twins pitches in a game against the Texas Rangers. (Photo by Bruce Kluckhohn/MLB Photos via Getty Images) /
Minnesota Twins Hall of Fame Snubs: Outfielders and Pitchers
Left Fielder: Larry Hisle (1973-1977)
This one feels a little bit like cheating, but there really weren't any left fielders that didn't get a fair decision about the Hall of Fame. He didn't receive a single vote in his one and only year on the ballot, but given his career numbers were merely good. it's probably for the best.
Center Fielder: Cesar Tovar (1965-1972)
Cesar Tovar was ahead of his time as a utilityman, and his one appearance on the ballot where he received zero votes showed that. Sure, he didn't hit as well as some other players in the hall, but his speed on the basepaths and remarkable defensive ability and versatility should have earned him at least a vote.
Right Fielder: Bob Allison (1958-1970)
Bob Allison is a Twins Hall of Famer and had a stellar career as a lineup fixture for thirteen years in Washington and Minnesota jerseys. He won Rookie of the Year in 1959, mashed 256 homers and appeared in three All-Star games.
He produced a 34.1 career WAR over those years and if injuries hadn't slowed him down, he could have even produced more had injuries not taken their toll. Regardless of if he's a Hall of Famer or not, he should have at least been included on the ballot.
Starting Pitcher: Johan Santana
Easily the best pitcher of the late 2000s, Johan Santana won two Cy Youngs and finished no lower than fifth in Cy Young voting from 2004-2008. His dominant five year stretch was bookended by stellar seasons in 2002, 2003, 2009, and 2010 where he produced four years with a sub-3.15 ERA and over 130 strikeouts, even when injuries prevented him from throwing 200 innings.
Santana's seven year stretch was better than the almost half of the pitchers in the Hall of Fame currently, and his career numbers including a 51.7 bWAR, 3.22 ERA, 130 Wins, and 1,988 strikeouts in just 360 starts was truly incredible. That's why it was all the more puzzling when he received just 2.4% of the Hall of Fame vote in his one and only appearance on the ballot.
Santana has received a lot of support since then, as most fans, players, and even a lot of writer recognize that he belongs in the hall. Here's to hoping that he follows the same path Jim Kaat and Tony Oliva did: through a Veteran's Committee and into his rightful spot in the Hall of Fame.
Relief Pitcher: Joe Nathan
Jeff Reardon gets a shoutout here, as he was a truly great closer for a large chunk of time, but Joe Nathan was a six time All-Star who finished a season with 35+ saves nine times and has a sparkling 2.87 ERA.
He's eighth all-time in saves, and that number could have been higher had the Giants not forced him to be a starter at the beginning of his career or if injuries had not slowed him down. The Hall of Fame is notoriously tough on closers, but Nathan deserved a second chance at the ballot.