Minnesota Twins: Biggest Hall of Fame Snubs at Each Position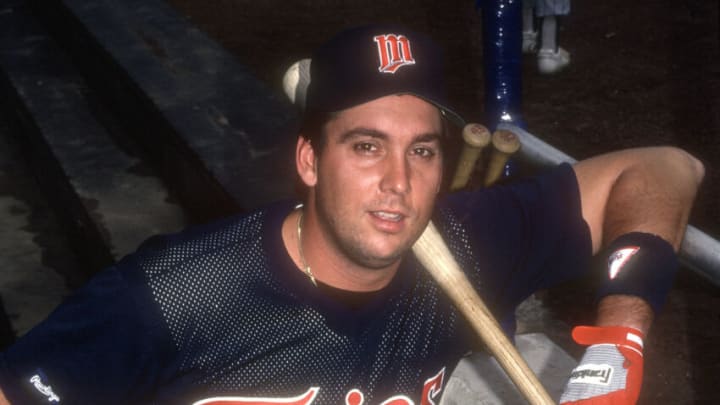 Kent Hrbek of the Minnesota Twins poses for this portrait in the dugout. (Photo by Focus on Sport/Getty Images) /
Gary Gaetti of the Minnesota Twins throws to first base against the Baltimore Orioles. (Photo by Focus on Sport/Getty Images) /
Minnesota Twins Hall of Fame Snubs: Infielders
Catcher: Earl Battey (1960-1967)
Of the Twins' Top 5 Catchers in Franchise History, Butch Wynegar and Brian Harper were never on the ballot, Joe Mauer won't appear on it until 2024, and Muddy Ruel of the Washington Senators lasted all 10 years on the ballot but didn't make it in (that was the right call). That leaves Earl Battey.
Despite making five All-Star teams and winning three Gold Glove awards in twelve years, Battey didn't even make the ballot when his time came in 1972. Three Top 10 MVP finishes and a stretch as a Top 3 catcher in baseball should have earned him more respect than that.
First Base: Kent Hrbek (1981-1984)
This was arguably the biggest snub in Minnesota Twins history, and fans probably still shouldn't be over it. In 2000, hometown hero and Minnesota Twins legend Kent Hrbek had already had his jersey retired by the Twins and was on the Hall of Fame ballot for the first time. He probably didn't expect to make it, but he also would've thought he'd do better than one percent.
Sure, Hrbek didn't win a lot of awards due to East Coast bias (Don Mattingly got in the way, even when Hrbek had better years.), but 38.6 career WAR, 293 homers, and two World Series rings where he was a key piece should have earned him at least one more year on the ballot.
Second Base: Buddy Myer (1925-1927, 1929-1941)
There are two choices here, with Chuck Knoblauch being the other one. Knoblauch and Buddy Myer each finished with career WARs in the 40s. Knoblauch's awful post-Twins career hurt his numbers here, but Myer was actually even better.
Neither player managed more than 0.7% in their first and only appearance on the ballot, so they land as our choice here (Myer's WAR is slightly higher, so we give him the edge). They deserved at least a second look.
Shortstop: Roy Smalley (1977-1982, 1985-1987)
Zoilo Versalles wasn't very good outside of his one MVP season, but Roy Smalley never made it on the ballot despite a very solid career. For whatever reason, Michael Cuddyer got to make an appearance, so it's disappointing Smalley didn't get to join him.
Third Base: Gary Gaetti (1981-1990)
The best third baseman to ever put on a Twins uniform, Gary Gaetti's 42.1 WAR and 360 homers are enough to earn consideration, but his two All-Star appearances, four Gold Gloves, Silver Slugger and playoff success form a pretty impressive resume.
Gaetti's defense was extremely underrated, so all of his talent combined should have allowed him to at least get a second look at the Hall, so it's extremely disappointing that he didn't get the chance for a second look.