Minnesota Twins: Gabriel Maciel taken in the MiLB Rule 5 Draft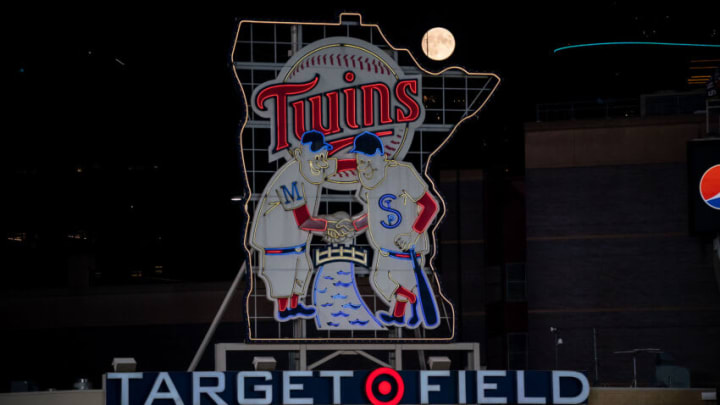 A full moon rises over the Minnesota Twins logo at Target Field. (Brad Rempel-USA TODAY Sports) /
The Minnesota Twins might not get to see any picks in the MLB Rule 5 Draft due to the lockout, but the MiLB Rule 5 Draft was still held this week. Despite the Twins not having the ability to participate in picking (their Triple-AAA roster is full), they did end up losing a player in the draft.
With the 14th pick in the Rule 5 Draft, the Oakland Athletics selected Gabriel Maciel, an outfielder in the Twins organization. At first glance, losing Maciel doesn't seem like a big deal considering he's never been a top prospect for the Twins (though he's made several appearances in the team's Top 30 list).
The Minnesota Twins lost Gabriel Maciel in the MiLB Rule 5 Draft.
At first glance, Maciel doesn't look like much. He's nearly 23, never made it past High-A, and had an awful 2021. It's easy to see why the Twins didn't protect him. Why on earth did the Athletics take him?
Well, let's start with the pedigree. Maciel may never have moved higher than the mid-20s on the Minnesota Twins' prospect list, but he was the No. 10 prospect in 2018 for the Diamondbacks after hitting .323 with an .827 OPS and nine steals over 52 games. Really great stuff for an 18-year old.
He was shipped to the Twins with Jhoan Duran and Ernie de La Trinidad in the Eduardo Escobar deal and was seen as the clear headliner (though we now know Duran was a bigger get). It's likely the Athletics are hopeful that they can recover some of that shine, as Maciel is still just 22.
He's shown some bright spots in his Twins tenure, stealing 41 bases in 203 games and getting on base a lot in his time in Minnesota system, but the he simply had a very bad year in 2020 and the Twins didn't feel the need to protect him.
While the move probably won't amount to much given the MiLB Rule 5 Draft's history of not producing a lot of elite talent, Twins fans have to hope that Maciel doesn't turn out like on of their other Rule 5 stingers.