Minnesota Twins: Grading the Signing of Andrelton Simmons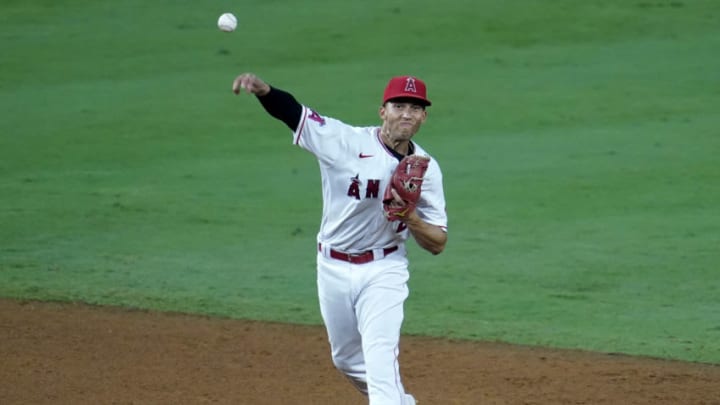 Andrelton Simmons of the Los Angeles Angels makes a throw to first base while playing the Arizona Diamondbacks. (Photo by John McCoy/Getty Images) /
There it is. The big deal for Minnesota Twins fans has finally rolled around, as the team inked former Los Angeles Angels shortstop Andrelton Simmons. This is huge news for the team, and a far bigger signing when compared against the likes of Hansel Robles and J.A. Happ.
Simmons is a four-time Gold Glove winner and is known across the league for his defensive strengths. He'll slot in as the starting shortstop and immediately give the Minnesota Twins the best left side of the infield in all of baseball.
This has led to a lot of questions, and rightly so, as the Twins already had a very good infield pairing in Jorge Polanco and Luis Arraez. Where would each go? Who would play where? Thankfully, Jeff Passan exists:
This is an important deal for the Minnesota Twins, as signing Simmons gives the team a MASSIVE upgrade in two ways:
The team gets better at shortstop: Jorge Polanco is a better offensive option than Andrelton Simmons, but Simmons is a WAY better defender and more solid overall player. While Simmons won't play every game up the middle, this team is a lot better with him on it.
Luis Arraez has a role better suited for him: I love Arraez, but he is best suited as a Ben Zobrist-type super-utility role, allowing him to fill in at different spots and be excellent injury insurance. He'll likely play as much as Marwin did last year, but he'll for sure do a better job. This is a major upgrade.
The Twins had a big need for shortstop help and a depth upgrade, and got both for only $10.5 million in 2021. He won't be an all-star, but he'll play well, win a Glove Glove (especially playing with Donaldson and Buxton), and make the Twins the division favorite again. This is a great signing.
Minnesota Twins Grade for Signing Andrelton Simmons: A