Minnesota Twins: One Player the Twins should sign at each Position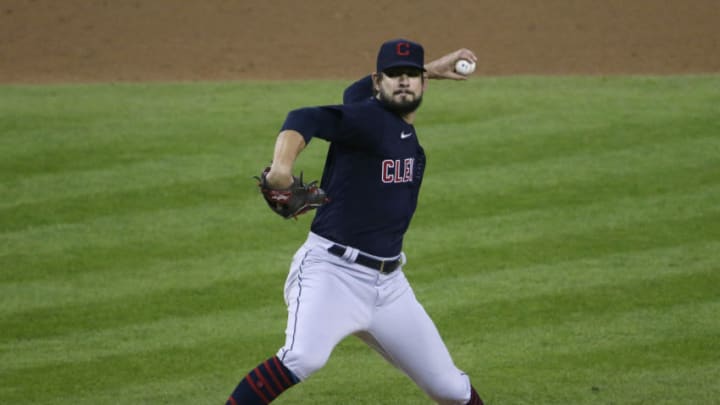 Brad Hand of the Cleveland Indians pitches against the Detroit Tigers. (Photo by Duane Burleson/Getty Images) /
The Minnesota Twins enter Free Agency with several holes to fill. We pick one at every single position and explain how they fit.
The Minnesota Twins enter a pivotal offseason this year. After a second straight playoff sweep, the team is looking to shake things up. In addition to this, the Twins have had several players enter free agency and are now looking to fill those holes.
With that in mind, we're going to look over players who the team should bring in at every position. Granted, the team doesn't need to bring in players at several positions (first base, second base, third base, catcher), but for this experiment we'll pick one from every spot.
In addition, we will only be including players who the Twins can actually bring in. For example, the Minnesota Twins are out on the J.T. Realmuto sweepstakes, as Realmuto would rather be in a big market as the only option. Let's get into it.
Alex Avila of the Minnesota Twins hits a double during the third inning of a game against the Chicago Cubs. (Photo by Nuccio DiNuzzo/Getty Images) /
Minnesota Twins Free Agent No. 1: Catcher Alex Avila
Let me start this off by saying this: the Twins should NOT bring in a new catcher in 2021. The duo of Mitch Garver and Ryan Jeffers should be what the team goes with. With that being said, too much catcher depth isn't a bad thing.
The team can never have too much depth behind the dish, so a reunion with Alex Avila is a pretty good plan. If the Twins do feel the need to bring on another catcher, Avila would be in a system he's comfortable with and the Twins would get a reliable defender for cheap. That's not a bad deal.
Jedd Gyorko of the Milwaukee Brewers bats during a game against the Cincinnati Reds. (Photo by Joe Robbins/Getty Images) /
Minnesota Twins Free Agent No. 2: First Baseman Jedd Gyorko
Again, similar to catcher, the Twins should NOT sign a new first baseman this offseason. For better or worse, Miguel Sano is the starting first baseman for the Minnesota Twins. That's why we went with Jedd Gyorko here.
After an injury-plagued year, Josh Donaldson missed a lot of time at third base. Gyorko would be a perfect back-up at first, second, and third in 2020, filling the utility role that Marwin Gonzalez had last year. He put up very solid numbers for the Brewers and shouldn't be very expensive.
Enrique Hernandez of the Los Angeles Dodgers hits an RBI double against the Tampa Bay Rays during the sixth inning in Game Four of the 2020 MLB World Series. (Photo by Ronald Martinez/Getty Images) /
Minnesota Twins Free Agent No. 3: Second Baseman Kike Hernandez
This is a pretty popular pick by Twins fans and with good reason. Fresh off a World Series win, the play of Kike Hernandez has declined in recent years. Believe it or not, this is a good thing for Twins fans, as it means he'll be a little cheaper.
Hernandez would slot in perfectly to the Marwin Gonzalez role (with better performance). He'd offer power, playoff experience, and lots of versatility. He'll be a hot commodity on the open market, but if the Twins can get him, that'd be a huge victory.
Ehire Adrianza of the Minnesota Twins throws against the Cincinnati Reds. (Photo by Brace Hemmelgarn/Minnesota Twins/Getty Images) /
Minnesota Twins Free Agent No. 4: Shortstop/Third Baseman Ehire Adrianza
Once again, I find myself saying. DO NOT SPEND MONEY ON AN INFIELDER. The Twins starting five (catcher, first base, second base, shortstop (sorry Polanco haters), and third base) are all set. With Ehire Adrianza and Marwin Gonzalez now free agents though, utility players are needed.
I personally want to see Nick Gordon and/or Travis Blankenhorn get their shot (along with Kike), but if the Twins don't believe they are ready, then there's one clear path: bring back Adrianza. The market isn't very deep at shortstop and third base, and Adrianza would be a cheap signing so the Twins could spend money elsewhere. It makes sense.
Robbie Grossman of the Oakland Athletics bats against the Chicago White Sox. (Photo by Thearon W. Henderson/Getty Images) /
Minnesota Twins Free Agent No. 5 and 6: Outfielders Robbie Grossman and Jarrod Dyson
DO NOT SPEND MONEY HERE! I feel like I'm a broken record saying don't spend money, but the Twins shouldn't spend money here either. The Minnesota Twins have two very solid outfielders (Byron Buxton and Max Kepler) locked in, and three young prospects ready to take over in the corners (Brent Rooker, Alex Kirilloff, and Trevor Larnach).
Jake Cave and LaMonte Wade Jr. exist as possible sixth guys. With depth like this, (Kepler is the backup center fielder here) the Twins have no reason to spend a cent on their outfield. If they were to spend though, Robbie Grossman and Jarrod Dyson would add depth to an already deep group.
For Grossman, the Twins would be reuniting with a former player who offers power, on-base percentage and solid defense (though he may cost too much). For Dyson, you're getting veteran leadership and desperately needed speed (as well as some center field depth). Though both are unlikely, each would help.
Nelson Cruz of the Minnesota Twins bats and hits a double. (Photo by Brace Hemmelgarn/Minnesota Twins/Getty Images) /
Minnesota Twins Free Agent No. 7: Designated Hitter Nelson Cruz
This should come as a surprise to no one. The Twins need Nelson Cruz back as the main source of their offense. It's going to be a tough negotiation. The Twins shouldn't fold on a two year deal for the almost 41-year-old, but they should be able to bring him back. It's what's best for both teams.
James Paxton of the New York Yankees pitches during the fourth inning. (Photo by Sarah Stier/Getty Images) /
Minnesota Twins Free Agents No. 8 and 9: Starting Pitchers James Paxton and Jake Odorizzi
This is the No. 1 position that the Twins need to upgrade in the offseason. With Rich Hill, Jake Odorizzi, and Homer Bailey all free agents, this leaves two spots wide open in the rotation. With Jordan Balazovic and Jhoan Duran still not ready to take over rotation spots, the team will have to turn to free agency to fill the spots.
Hopefully they choose to spend money. For James Paxton, you're looking at a pitcher with postseason experience, a very, very good career numbers, and is a left-hander. He's coming off an injury-marred season, so he'd be a little cheaper. Plus, with no qualifying offer attached, he wouldn't cost compensation (like Trevor Bauer and Marcus Stroman).
For Jake Odorizzi, this one makes too much sense. The 2019 All-Star  had a bad year in 2020, but would be a very cheap option as the fifth starter. A one-year, $8.75 million deal to come in and be the fifth starter would be a great option for both sides.
Brad Hand of the Cleveland Indians pitches in the ninth inning. (Photo by Justin K. Aller/Getty Images) /
Minnesota Twins Free Agents No. 10 and No. 11: Relief Pitchers Trevor May and Brad Hand
Once again, this is where the Twins need to spend some money. In an offseason where the Twins are seeing Tyler Clippard, Sergio Romo, Zack Littell, and most importantly Trevor May hitting free agency, the team needs to add more to the position than just waiver claims Ian Gibault and Brandon Waddell (though I like those moves).
The Twins have an opportunity to go after a legitimate closer and allow Taylor Rogers to work in his ideal position as a set-up man. With a market including Liam Hendriks, Kirby Yates, Ken Giles, and Roberto Osuna, there are lots of options. Brad Hand is the most likely of the bunch.
Born in Minneapolis, Hand is a three-time All-Star, left-handed pitcher who is coming off his best season as a pro. The Twins would have to open the bank for him, but to have a true lockdown closer would be worth it. A two-year, $20 million deal should be enough to bring Hand home.
For Trevor May, it's obvious why the Twins should want him back. May is young for a reliever at 30 years old and has one of the best fastballs on the Twins roster. He led the team in strikeouts per 9 innings and had more strikeouts than any other reliever. He gets outs.
A three year, $16 million dollar deal should keep him in a Minnesota Twins uniform. A bullpen led by May, Taylor Rogers, Tyler Duffey, and Hand would be one of the best in the game. Whoever the Minnesota Twins decide to bring in has a lot of work to do.