Minnesota Twins: Handing out Grades for the Outfield and DH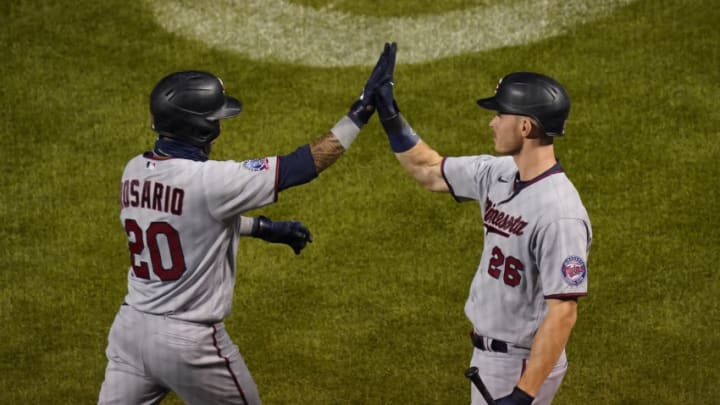 Eddie Rosario of the Minnesota Twins is congratulated by Max Kepler following his home run during the first inning. (Photo by Nuccio DiNuzzo/Getty Images) /
The 2020 Minnesota Twins season is now complete, so it's time to pass out grades to an outfield that was banged up for most of the year.
Right after midseason, I passed out grades to the Minnesota Twins, starting with their rotation and going through every single position group, finishing up with the outfield. After another crushing playoff loss in the playoffs, it's time to regrade those groups.
We started last week with the rotation, and we continued with the bullpen, and the third grouping includes the outfield and the designated hitter (because he has no where else to be put), and this one wasn't easy to grade.
The group as a whole dealt with a lot of injuries, with only one outfielder staying healthy the entire season, but they still had a solid year. The group also got to see a couple new faces, and though Brent Rooker, Aaron Whitefield, and Alex Kirilloff won't get graded (due to a lack of games), it was fun to see them play. It's time to jump into those grades.
Byron Buxton of the Minnesota Twins fields during game one of the Wild Card Series (Photo by Brace Hemmelgarn/Minnesota Twins/Getty Images) /
Minnesota Twins Outfielder Grades
Byron Buxton
Midseason Grade: B
Final 2020 Stats: 39 G, .254 BA/.267 OBP/.577 SLG, 19 R, 16 XBH, 13 HR, 27 RBI, 2 SB, 2-36 BB-K, 1.9 WAR
First the good: Byron Buxton had just begun heating up at Midseason and ended up with some of his best batting and slugging numbers as a pro, all while playing his usually elite defense. He was the driving force behind a bad offense, and he finally showed some of his elite potential.
Now the bad: Buxton was just okay hitting for average, but his speed on the bases never really made an appearance all year and he struggled greatly with getting on base and struck out a lot. On top of all that, he also missed 21 games due to injury (in addition to not being healthy for the playoffs).
His defense and hot bat towards the end of the season mean he earns the highest grade of the outfielders, but his inability to stay healthy (especially come playoff time) keeps his grade lower than an A. He should still earn a decent chunk of MVP votes. Grade: B+.
Eddie Rosario
Midseason Grade: B+
Final 2020 Stats: 57 G, .257/.316/.492, 31 R, 20 XBH, 13 HR, 42 RBI, 3 SB, 19-34 BB-K, 0.9 WAR
Similar to Buxton, their was both good and bad in the 2020 season for Eddie Rosario. Rosario was one of the Twins' best hitters, as he finished in the Twins' top 5 in batting average, homers, stolen bases, and led the team in RBI.
He also looked foolish on the base path and while his defense was much better than last year and made some incredible plays, he also cost the team several times (including being a now show in the playoffs).
His price tag may be too high to pay next year, and despite some MVP votes, we may have seen the last of Rosario as a Twin. That said, his grade stays relatively good for a very good season. Grade: B.
Max Kepler
Midseason Grade: B
Final 2020 Stats: 48 G, .228/.321/.439, 27 R, 18 XBH, 9 HR, 23 RBI, 3 SB, 22-36 BB-K, 0.8 WAR
Raise your hand if you thought Max Kepler would take this big of a step back in 2020, because I sure didn't. I thought there might be a little regression, but Kepler really looked like a different player offensively. Here's a slash line comparison:
2019: .252 BA/.336 OBP/.519 SLG%/.855 OPS
2020: .228 BA/.321 OBP/.439 SLG%/.760 OPS
Yikes. He did still put up OBP and OPS numbers, and his defense in right was as good as usual, but he struggled almost everywhere else, including Game 2 of the Playoffs. If he doesn't step up in 2021, Trevor Larnach will be waiting in the wings to take over. Hopefully he turns it around. Grade: C.
Jake Cave
Midseason Grade: D
Final 2020 Stats: 42 G, .221/.285/.389, 17 R, 9 XBH, 4 HR, 15 RBI,  5-44 BB-K, 0.3 WAR
If you follow us on Twitter, you know Jake Cave is a player I love to hate, and this year Cave gave me lots of reasons. His career worst slash line in his first chance as a primary outfielder. His lack of pop in plenty of games. His 3rd-worst-on-the-team strikeout numbers.
To make it worse, he's not even arbitration eligible, so it looks like he'll be back in 2020. That being said, he improved in the second half from his even-worse first half, and his defense was a lot better in 2020. That bumps his grade up to one that isn't as bad. Grade: D+.
LaMonte Wade Jr.
Midseason Grade: N/A
Final 2020 Stats: 16 G, .231/.318/.308, 3 R, 3 XBH, 0 HR, 1 RBI, 4-9 BB, 0.1 WAR
Playing both first base and outfield in 2020, LaMonte Wade Jr. provided his usual abilities to the Twins through his sixteen games with the team: unspectacular, steady, backup play. He wasn't good offensively, but he was versatile and good on defense, earning him the grade you would expect from a nondescript backup. Grade: C.
Nelson Cruz of the Minnesota Twins bats and hits a double during game one of the Wild Card Series. (Photo by Brace Hemmelgarn/Minnesota Twins/Getty Images) /
Minnesota Twins Designated Hitter
Nelson Cruz
Midseason Grade: A+
Final 2020 Stats: 53 G, .303/.397/.595, 33 R, 22 XBH, 16 HR, 33 RBI, 25-58 BB-K, 1.6 WAR
No, he wasn't able to keep up the MVP caliber numbers he had going for him, but Nelson Cruz turned in the best offensive season that any Minnesota player offered in 2020. He hit for average, got on base, and led the team in homers.
He also was the only Twins player to produce any offense in their sweep at the hands of the Astros, earning him the team Postseason MVP award. He had a very good season, but the Twins now face a tough decision. Do they bring back the slugger at a very high price or turn it over to the new guys? That remains to be seen. Grade: A.