Minnesota Twins: What Could Have Been in a Shortened Season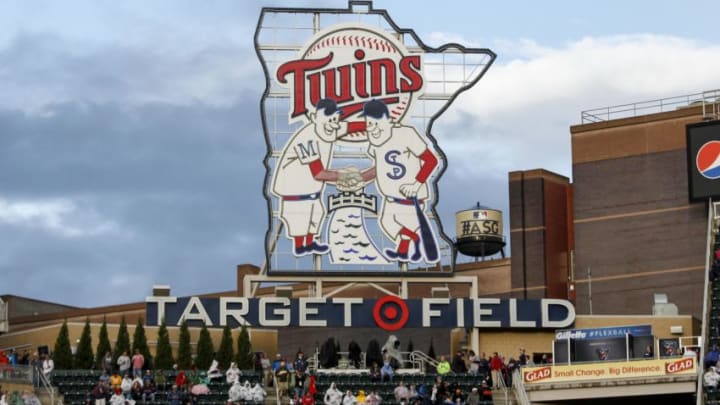 The Target Field sign stands in front of a water tower with the All-Star Game logo on it. (Photo by Bruce Kluckhohn/Minnesota Twins/Getty Images) /
The Minnesota Twins had everything in front of them but inconsistent hitting led to a two-game home sweep and many questions going into 2021.
Well, that didn't go like we all thought it would. After the 2-0 Wild Card sweep to the Houston Astros, the Minnesota Twins are left asking, "what could have been" and, probably, "what happens next"? Let's look at these two questions in depth.
What could have been for the Minnesota Twins?
What could have been for this Minnesota Twins team? At the very least, a place in the American League Championship Series. On paper, everything was there: hitting, improved defense and pitching, plus depth. Coming off a 100 win season, expectations couldn't have been higher.
The front office signed guys that seemed to fill the holes in the bullpen and in the rotation with Tyler Clippard, Rich Hill, and Homer Bailey, while trading for a potential stud in Kenta Maeda. The offense and defense, on paper, improved with the Josh Donaldson signing for four years. Alex Avila was signed as a durable back up to Mitch Garver.
The front office did what they needed to do in order to give the Minnesota Twins an opportunity to win in 2020, and it looked like the most complete team we've seen since that 1991 team brought home the last Minnesota title.
Instead, it all came tumbling down. You can argue however you want as to what was the biggest reason why the Minnesota Twins weren't able to get over the preverbal hump this year. There are lots of good arguments in a season that was limited to 60 games.
Was it the fact Donaldson only played in 28 games and was left off the Wild Card roster? Was it the fact Byron Buxton didn't make it through an entire season yet again when he showed flashes, again, as to why he is such a highly touted player? Was it the fact we didn't have a full rotation all year?
With Hill missing a couple of starts, Bailey missing almost all of the season, and Jake Odorizzi's lacking outings as well, you end up with a lot of "bullpen games". On top of all that, the Twins were missing Michael Pineda back from the remaining 36 games of his suspension.
What Happens Next for the Minnesota Twins?
As a high school baseball coach, I always tell my players that they need to be where their feet are right now: in the moment. Looking back at the past and looking towards the future doesn't mean a whole lot if we don't learn from the past and don't prepare for the future. With that being said, I do think this will end. It has to, doesn't it?
If this is to end sooner rather than later, there need to be some changes made. The first thing I would do is trade Eddie Rosario. Rosario is a polarizing figure. For every great throw he makes from left field, there is a throw that allows runners to move up a base; more times than not taking the defense out of a double play situation.
For every home run that is hit, there is a bad base running mistake that usually runs the offense out of an inning. Jake Cave is not the answer either, but I'm not sure if moving Alex Kirilloff to left field is an option right now.
The Twins need more consistency in the all-around game of the current or future left fielder. The Twins should be able to get some value out of him as he has one more year of team control before free agency.
In addition, don't resign Marwin Gonzalez. Gonzalez was a huge help for the Twins last year and again this year. His ability to play multiple positions at a high level bailed out the defense on numerous cases due to injuries.
With that being said, I just don't think resigning Gonzalez is the right move when you have a Gonzalez 2.0 in Ehrie Adrianza for one/eighth of the price (although Adrianza is a free agent this year as well). Use that money on pitching.
The staff next year won't be too bad as Kenta Maeda, Jose Berrios, and Pineda make up 3/5 of the rotation. As mentioned before, Hill, Bailey, and Odorizzi are all free agents and aren't unlikely to be resigned.
For the bullpen, Trevor May will be an unrestricted free agent but I think the Twins have enough power arms to make up for his loss if he were to go elsewhere. With the majority of the bullpen back (assuming Taylor Rogers can bounce back from what was a disappointing 2020), the 'pen' should still be a strength moving into 2021.
The Twins also need to resign Nelson Cruz. Cruz is winning the war against father time, but last time I checked, father time was undefeated. Cruz started the season on fire and continued that hot streak for the majority of the year, but nagging soreness and, in my opinion, trying to pull the baseball more brought some of his numbers back down to earth.
Still, he is as productive of a DH as there is in the game and what maybe even more important than that is his relationship with Miguel Sano which brings up another conversation: What to do with Sano? Sano just signed an extension this offseason, so it's pretty unlikely that they move him right now at least now.
I still don't know what you do with him. He did an admirable job in his first year at first base but those strikeouts are out of hand. When you have 186 at-bats and strike out 90 times, that's just awful. Are the home runs worth it even with the high amount of strikeouts Sano has? This is why Derek Falvey and Thad Levine make the big bucks.
Overall, the Twins aren't in that bad of shape on paper once again in 2021. They have three quality starters coming back to a rotation that needs to be filled by a couple of arms (ideally a lefty). Their defense, the playoff games withstanding, is in pretty decent shape; especially in centerfield, right field, third base, and behind the plate.
The offense looks to be in decent shape moving forward so all the parts are still there for a run in 2021. However, the Chicago White Sox are a year older and their lineup is reminiscent of the 2019 Twins. Cleveland can run Shane Bieber, Carlos Carrasco, and Zach Plesac out there which gives them the best starting trio in the division while the Detroit Tigers will continue to improve.
WAY too Early Minnesota Twins 2021 Roster:
I mentioned in the beginning that if we aren't preparing for the future, we haven't learned from the past. Here is my way to early lineup, including possible additions, for next year:
Lineup:
Max Kepler (RF)
Josh Donaldson (3B)
Nelson Cruz (DH) *resigns with club*
Alex Kirillof (LF)
Miguel Sano (1B)
Luis Arráez (2B)
Mitch Garver (C)
Jorge Polanco (SS)
Byron Buxton (CF)
Starting Rotation:
Kenta Maeda (RHP)
Jose Berrios (RHP)
Michael Pineda (RHP)
Robbie Ray (LHP) *free agent signing*
Jake Odorizzi (RHP) *re-signs with club*
Bullpen:
Bench:
Ehrie Adrianza
Jake Cave