Redrafting every Minnesota Twins First Round Pick from the 1990s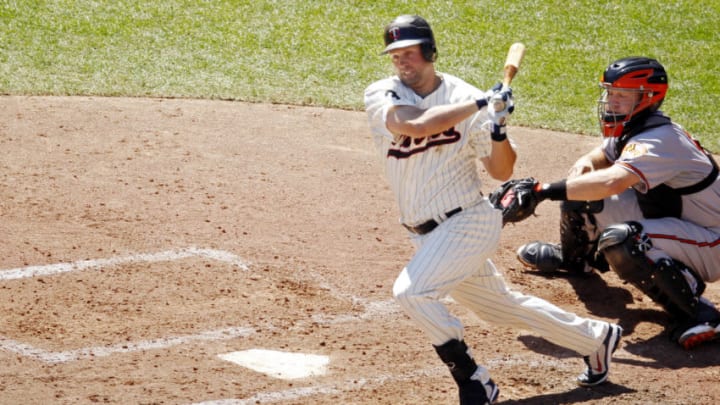 Michael Cuddyer of the Minnesota Twins bats against the Baltimore Orioles. (Photo by Bruce Kluckhohn/Minnesota Twins/Getty Images) /
We continue to move through redrafting the Minnesota Twins series going into the 1990s, the decade where they finally turned their drafting woes around.
Throughout the Minnesota Twins' years of first round picks, the 1960s, 1970s, and 1980s all turned out really poorly. Through the first 24 years, the Twins were awful, only picking up one truly great player in 1989 (Chuck Knoblauch).
We've done our best to change that, and we continue today. As always, there's only one rule: the player needs to have been available and signed in that draft year. We're going to keep it moving through the '90s, so let's get back in.
1990: Minnesota Twins select Todd Ritchie, RHP, Duncanville High School,12th Overall and Midre Cummings, OF, Edison High School, 29th Overall
Todd Ritchie had a couple good years…in Pittsburgh. Ritchie had two bad years as a reliever in Minnesota. That was it. Once cut by the Twins in 1998, the Pirates turned him into a starter and he wasn't as bad. He was for sure not worth the 12th overall pick.
We've also reached our first supplemental round pick. With the 29th selection, the Twins grabbed Midre Cummings, who coincidentally played for Pittsburgh after he was out of Minnesota. He never played an inning for the Twins, but he would have been worth a late first round pick because of his moderately successful eleven year career.
1990 Redraft: Mike Mussina, RHP, Stanford University (Real Pick: Round 1, Pick 20) and Andy Pettitte, LHP, San Jacinto College, North Campus (Houston, TX) (Real Pick: Round 22, Pick 594)
We stick with a righty here, as outside of Chipper Jones (who went first overall), there isn't another Hall of Famer in this class. Mike Mussina never won a Cy Young Award, but he finished in the top six of voting nine times and won seven Gold Gloves. That's a huge upgrade over Ritchie.
The Twins get another pitcher when redrafting that 29th pick, but this time it's a lefty. Twins fans know Andy Pettitte as the Yankees stud and part of their fearsome foursome, but picture him atop a Twins rotation with Mussina. Talk about a 1-2 punch.
1991: Minnesota Twins select Dave McCarty, 1B, Stanford University, 3rd Overall and Scott Stahoviak, 3B, Creighton University, 27th Overall
I've gone over Dave McCarty and his status as one of the biggest draft busts in Twins history, but we'll bring it up again. McCarty managed to play 11 seasons in the league, but he only played in 630 games (57 games per season). On top of that, he only 167 in Minnesota, hitting just .226.
Scott Stahoviak was much better than than McCarty, lasting 5 seasons in Minnesota, even having a really decent season in 1996. That being said, he was nowhere near worthy of a first round pick, so we head back to the redraft to find something better.
1991 Redraft: Manny Ramirez, OF, George Washington HS (Real Pick: Round 1, Pick 13) and Brad Radke, RHP, Jesuit HS (Real Pick: Round 8, Pick 206)
The best player in this draft, suspected steroids or not is Manny Ramirez. Ramirez was twelve-time All-Star and World Series MVP. He would be in the Hall of Fame already if there weren't steroid questions, and he still has a chance someday. Regardless of personal opinions, he's the pick here.
The Twins had an overall decent draft in 1991, drafting All-Stars Matt Lawton and Brad Radke, as well as LaTroy Hawkins, but this wasn't a good draft. We take Radke again here because Radke's reliability and endearing skills make him an excellent pick at the end of the round.
1992: Minnesota Twins select Dan Serafini, LHP, Junipero Serra HS, 26th Overall
Quick: tell me something you know about Dan Serafini…you can't? Not a surprise. Serafini was a bad pitcher, going 9-6 with a 5.88 ERA and a 1.618 WHIP over 35 games, lasting just three seasons here. He played seven MLB seasons over the years, lasting until 2007, but his numbers never got any better.
1992 Redraft: Johnny Damon, OF, Dr. Phillips HS, (Real Pick: Round 1, Pick 35)
This was another bad draft, with the best players coming off the board before the Twins drafted at 26th. We're going to avoid drafting a second steroid user in Jason Giambi, who had the best career of anyone in this class, instead choosing between Johnny Damon and Charles Johnson.
We'll stick with Damon here as a player who finished his career with a 56.3 WAR over his career (higher than Kirby Puckett (51.1), though Kirby's career was cut short). That's a good get this late in a overall bad draft.
1993: Minnesota Twins select Torii Hunter, OF, Pine Bluff HS, 20th Overall, Jason Varitek, C, Georgia Institute of Technology, 21st Overall, Marc Barcelo, RHP, Arizona State University, 33rd Overall, and Kelcey Mucker, OF, Lawrenceburg High School, 38th Overall
There's a lot to unpack here. The 1993 draft was a good one, but at this point there were no better players available over Torii Hunter and Jason Varitek. If Varitek signed, this would have been one hell of a start to that great young core of the late '90s.
Despite the two good picks, neither Marc Barcelo nor Kelcey Mucker even made the majors, so outside of Hunter, the other three players will not be picked when we redo this four pick draft.
1993 Redraft: Hunter, Scott Rolen, 3B, Jasper HS (Real Pick: Round 2, Pick 46), Kevin Millwood, RHP, Bessemer City HS (Real Pick: Round 11, Pick 320), and Jermaine Dye, OF, Will C. Wood HS (Real Pick: Round 17, Pick 488).
This was a really top-heavy draft, so when the Twins came up to pick at 20th, the best two players on the board were Torii Hunter and Scott Rolen. We know how good Hunter ended up, but Scott Rolen honestly might have had an even better career. If his Hall of Fame voters keep going up like they are, we'll end up seeing him in Cooperstown.
For the other two picks, Kevin Millwood and Jermaine Dye had a combined 50.1 WAR over their 30 total years of playing baseball. They didn't have great careers, but they were very solid and without a lot of options this is a good combo.
1994: Minnesota Twins select Todd Walker, 2B, Louisiana State University, 8th Overall and Travis Miller, LHP, Kent State University, 34th Overall
Despite any personal feelings some fans have about Todd Walker, he was a good player while here. He should have been better for the eighth overall pick, but in the time before he was traded he was very good. As for Travis Miller, he carved out a decent seven-year career as a reliever for the Twins, so this really wasn't a bad first round, but we'll still redraft here.
1994 Redraft: Nomar Garciaparra, SS, Georgia Institute of Technology (Real Pick: Round 1, Pick 12) and Placido Polanco, 2B, Miami-Dade College, Wolfson Campus (Real Pick: Round 19, Pick 530)
Nomar Garciaparra and Paul Konerko were the two options at 8, and we'll give Garciaparra the edge as the overall better player. Even with that, this was another good draft for the Twins, landing A.J. Pierzynski and Corey Koskie in later rounds, but we found someone else to grab over Miller.
Placido Polanco was an expert with the glove, offering a good partner for Garciaparra up the middle. We haven't given a lot of love to infielders in this redrafting, so we scoop up two here to make up for that.
1995: Minnesota Twins select Mark Redman, LHP, University of Oklahoma, 13th Overall
Mark Redman had some pretty good seasons over his 10-year career, even making an All-Star team in 2006. Redman only lasted three years before being traded to the Detroit Tigers. Redman was an overall decent pitcher, but definitely not worth the 13th pick.
1995 Redraft: Roy Halladay, RHP, Arvada West HS (Real Pick: Round 1, Pick 17)
The Twins swap out a one-time All-Star for an eight-time All-Star and two-time Cy Young winner in Roy Halladay. Halladay is ranked 43rd all-time in pitcher WAR and led the league in complete games seven times. Scooping up a Hall of Famer in the middle of the '90s is a good get.
1996: Minnesota Twins select Travis Lee, 1B, San Diego State University, 2nd Overall
When you have the No. 2 pick in the MLB Draft, you expect the player to sign. The Twins on the other hand, didn't even offer Travis Lee a contract, and he was granted free agency to sign a $10 million dollar deal with the Diamondbacks.
Lee turned into a good player, hitting 115 homers and lasting nine years in the MLB, but the Twins' decision to not even offer Lee was a confusing move, All the same, he definitely doesn't go second overall in our redraft.
1996 Redraft: Jimmy Rollins, SS, Encinal HS (Real Pick: Round 2, Pick 46)
I talked earlier about how I don't give enough love to infielders, so how about a three-time All-Star, four-time Gold Glover, 2007 MVP and 2008 World Champion. Jimmy Rollins was a stellar shortstop who finished his career with a 47.6 WAR. When he becomes eligible in 2021, look for him to get some votes for the Hall.
1997: Minnesota Twins select Michael Cuddyer, SS, Great Bridge High School, 9th Overall and Matt LeCroy, C, 50th Overall
Michael Cuddyer put together an excellent 15 year career and was beloved in Twins territory. Matt LeCroy was a decent backup catcher before injuries took their toll. Both players were pretty close to their actual pick value, but we partially switch it up in the redraft.
1997 Redraft: Cuddyer and Michael Young, SS, University of California, Santa Barbara (Real Pick: Round 5, Pick 149)
Lance Berkman and Jayson Werth both had better careers than Cuddyer, but in this case, it's close enough to not matter. Cuddyer's talent may not have been recognized as widely, but he was stellar and he meant way to much to the Twins teams of the 2000s for us to go in any other direction.
With their second first round pick, the Twins get another stellar shortstop in Michael Young. Young was a seven-time All-Star, a batting champ, and a Gold Glove winner. Pairing him with Jimmy Rollins would be incredible.
1998: Minnesota Twins select Ryan Mills, LHP, Arizona State University, 6th Overall
The 5th first round pick used on an Arizona State player and the fifth bust from the school. Ryan Mills is our No. 3 biggest bust of all-time. Mills was supposed to become an ace for the Twins, but instead became a part of one of the worst stretches of first round picks by any team ever, never making the majors.
1998 Redraft: C.C. Sabathia, LHP, Vallejo HS (Real Pick: Round 1, Pick 20)
Matt Holiday is arguably more decorated, but we get C.C. Sabathia here to be a true left-handed ace that Mills was expected to be. The Twins also get the opportunity to steal a Cy Young winner from a division rival and maybe even prevent him from going to the dreaded New York Yankees.
1999: Minnesota Twins select B.J. Garbe, OF, Moses Lake High School, 5th Overall
We wrap up the decade with the second worst bust in team history, B.J Garbe. Just like Mills, Garbe never made the majors, having just one good season over the eight years. This is yet another pick Twins fans would like to forget, but he was especially disastrous.
1999 Redraft: Albert Pujols, 1B, Maple Woods Community College (Real Pick: Round 13, Pick 402)
Before Albert Pujols turned into an overpriced, glorified home run hitter in Los Angeles, he was a three-time MVP, nine-time All-Star, and first ballot Hall of Famer. The Twins picked Justin Morneau in the third round here, but there's no question who to take.