The Minnesota Twins remove statue of former owner over racist remarks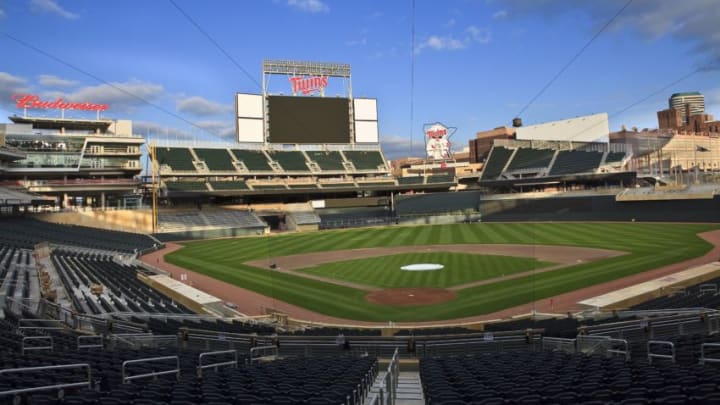 An interior general view of Target Field looking out from behind home plate Photo by Wayne Kryduba/Getty Images) /
The Minnesota Twins removed a statue of former Twins owner Calvin Griffith from outside of Target Field.
The Minnesota Twins announced Friday morning that they have removed the statue of former-team owner Calvin Griffith from outside of Target Field. Griffith's statue was one of several installed when the team opened the ballpark in 2010.
The team said in a statement, "While we acknowledge the prominent role Calvin Griffith played in our history, we cannot remain silent and continue ignoring the racist comments he made in Waseca in 1978," the Twins said in a statement Friday. "His disparaging words displayed a blatant intolerance and disregard for the black community that are the antithesis of what the Minnesota Twins stand for and value."
Griffith moved the team to Minnesota in 1961 from Washington D.C. In 1978, in a speech to a Waseca Lions Club, he said he decided to do so "when I found out you only had 15,000 blacks here," the Minneapolis Tribune reported.
Rod Carew of the Minnesota Twins (Photo by Focus on Sport/Getty Images) /
Former Twins all-star Rod Carew, now 74 and a ubiquitous presence with the club, left the Twins for the California Angels shortly after Griffith made his comments, saying, "I'm not going to be another (n-word) on his plantation."
In a statement released Friday morning, Carew said he respected the Twins' decision and also believed Griffith's views on race changed over time, and that Griffith was the first person he called after Carew was inducted into the Baseball Hall of Fame in 1991.
The Senators/Twins franchise was owned by the Griffith family from 1920-1984. The team was owned by Calvin's uncle and later adopted father, Clark Griffith, from 1920 until his death in 1955.
Calvin assumed control of the team at that time, subsequently moving the franchise to Minnesota. Calvin sold the team to the Pohlad Family in 1984, ending the Griffith ownership tenure after 55 years.
Statues of figures with racist pasts, or deemed to be racist, have been torn down around the U.S. in recent weeks following George Floyd's death in May after a Minneapolis police officer held his knee on Floyd's neck for nearly 8 minutes.
The removal of the statue comes after the Pohlad family, which currently owns the team, pledged to spend $25 million to push for racial justice in the Twin Cities in the wake of George Floyd's death.
This action occurred on the same day as Juneteenth, which celebrates the official end of slavery in the United States, the day Union army general Gordon Granger announced federal orders in Galveston, Texas, on June 19, 1865, proclaiming that all people held as slaves in Texas were free.