2010 Minnesota Twins Series: New Beginnings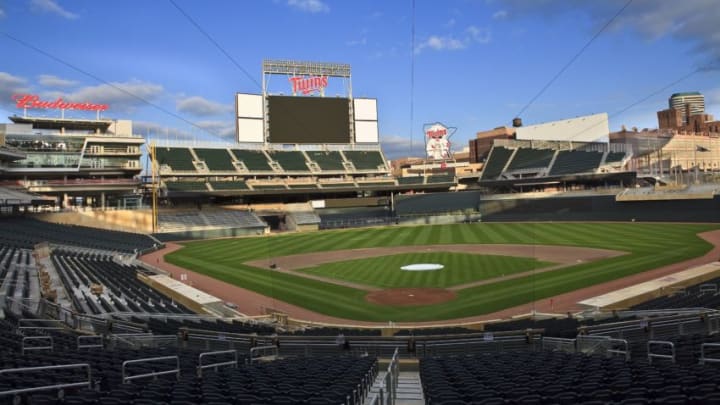 An interior general view of Target Field looking out from behind home plate Photo by Wayne Kryduba/Getty Images) /
Since the 2020 MLB season is growing more and more unlikely, we decided to start a series looking back at the 2010 Minnesota Twins.
In this series, we plan to cover important players, coaches, games, and any other moments that made the 2010 Minnesota Twins AL Central Champions. To start the series off, let's go back before a single game was even played.
Going into the 2010 season, the Minnesota Twins had two major changes coming to their franchise, and neither of them involved players, coaches, or staff.
From 1982 until 2009, the Twins called the Hubert H. Humphrey Metrodome their home, and in those 28 seasons, Minnesota Twins fans were treated to some incredible moments.
Inside the Dome, the Twins won seven division titles, and most notably the 1987 and 1991 World Series. Twins fans were also treated to two no-hitters inside the dome, Scott Erickson in 1994, and Eric Milton in 1999. And who could forget the play Kirby made on Ron Gant in game six of the 1991 World Series, or the game seven walkoff? 
However, after all the great memories, it was time for a change. The Twins moved into their brand new 435 million-dollar stadium after their AL Central winning 2009 season. And the stadium was very impressive.
On April 12th, 2010, nearly three years after ground was first broken, the Minnesota Twins opened Target Field. The stadium opened with a capacity of 39,504, and the Twins won the first ever MLB game in Target Field 5-2 over the Red Sox.
Since that day, Target Field has been the home to the Twins, as well as many other major events. In 2014, Target Field played host to the 2014 MLB All-Star Game, which will famously be remembered as Derek Jeter's last All-Star Game.
Besides baseball, Target Field has hosted numerous concerts including The Eagles, Billy Joel, and Sir Paul McCartney Target Field has also been selected to hold the 2021 NHL Winter Classic on January 1st, 2021.
As the Minnesota Twins prepared to open their new stadium in 2010, they realized the only thing better than opening a new stadium was getting some sharp new uniforms to go with it.
The Twins announced they would be altering their uniforms for the 2010 season, during the 2009 season. Although the team colors would not change, the nameplate did. The Twins also added a blue border around their famous baseball logo, with words "Baseball Club" inside it, under the baseball. They also took the word "Minnesota" out of the main part of the baseball and put it inside the blue border, above the baseball.
So, with a brand-new ballpark, and beautiful new jerseys, the Minnesota Twins were ready to get the 2010 season started with a bang!
We hope you follow along with our 2010 Minnesota Twins series throughout the summer, and hopefully by the time we finish the series, we will have an MLB season!