Minnesota Twins: All-Active Former Twins Roster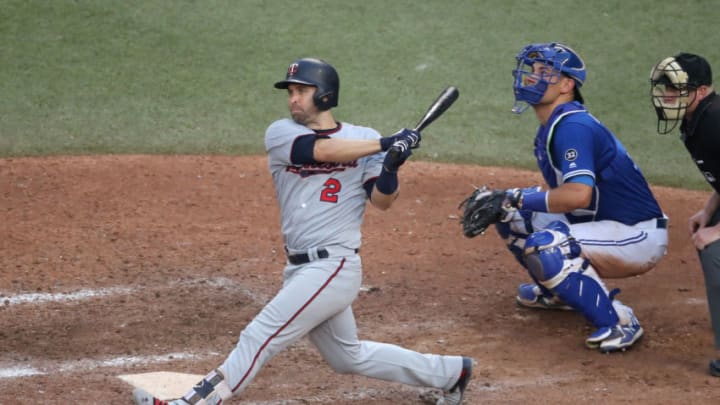 Brian Dozier of the Minnesota Twins (Photo by Tom Szczerbowski/Getty Images) /
I took a look at some of the former Minnesota Twins who have found success elsewhere and built a team of some of the best former Twins.
I recently read an article on a fan site that comprised a 26-man roster of current and former Minnesota Twins. I decided to take that a little further and create a 26-man roster of only former Twins.
The only rule is that they must have worn a Minnesota Twins uniform at the major league level. No player who only played in the minors or those that were drafted by the Twin, but never saw any major league service time. I only took a couple of indulgences and added a little humor to my picks. What do you think?
Catcher: Wilson Ramos-The one that got away. I will be forever mad about this trade. Still has some pop in his bat, but just an average fielder. More pop than Jason Castro and better at throwing out runners than Kurt Suzuki.
First Base: C. J. Cron-Had a nice offensive year going until the injuries. Better defensively than I expected. I think he will really help the Tigers this year.
Second Base: Jonathan Schoop-Had some clutch hits for us last year. Could not hold off the rise of Arraez. Solid player
Third Base: Eduardo Escobar-Still mad about this trade. I guess it worked out for Eduardo and the Twins. Excellent all around versatile ballplayer.
Shortstop: Danny Santana– Late bloomer. Nice offensive season last year. Oh, but where to play him. Had a great offensive season last year for the Rangers.
Left Field: Eduardo Nunez-Really enjoyed his play when he was here. Nice position flexibility.
Center Field: Carlos Gomez-My biggest indulgence. I know he just retired, but who can forget the adventures and misadventures of Go Go.
Right Field: Aaron Hicks-Still a valuable asset for the Yankees. When he was younger, I thought he played a nice center field.
DH: Brian Dozier-Better average hitting left-handed but more power from the right side. He was one of the best second baseman in baseball from 2014-17.
Bench: Jason Castro C, Logan Forsythe INF, Niko Goodrum INF/OF, Kurt Suzuki C/DH.
Not much of a bench but there you have it. Balanced catching though.
Francisco Liriano of the Minnesota Twins (Photo by Brace Hemmelgarn/Minnesota Twins/Getty Images) /
Starting Rotation:
Relief Pitchers: