Minnesota Twins: MLB Proposes Plan for Baseball Return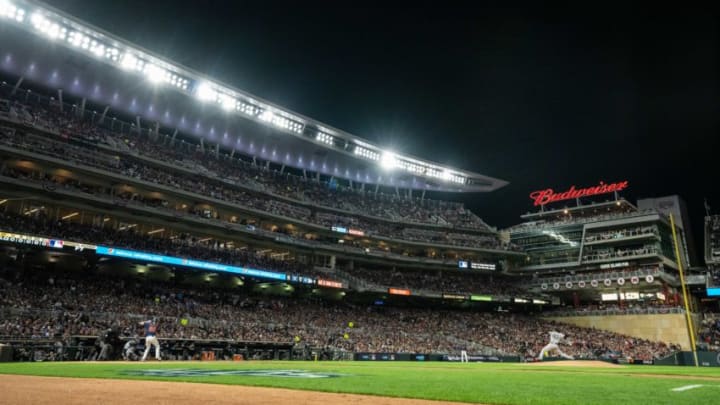 Target Field, home stadium of the Minnesota Twins (Photo by Brace Hemmelgarn/Minnesota Twins/Getty Images) /
Get ready Minnesota Twins fans: Major League Baseball could be returning, and as soon as the first week of July.
Minnesota Twins baseball could be back in July if the new Major League Proposal is accepted by the player's union. Though it's up in the air in terms of if the deal will be accepted by the players, who are upset over the five round draft and player decompensation.
If the season does resume in July, here's a look at what the MLB's proposal would include:
82-game regional schedule and universal DH
30-man active rosters with a 20-player taxi squad
14 teams in the postseason with games played in home cities in October
50/50 revenue split for players and owners
The 82 game regional schedule and universal DH isn't a huge deal and shouldn't be a sticking point combined with 30-man rosters and a 20-player taxi squad. The universal DH is something that is pretty universally agreed on and 82 games between July and October isn't too far off from the schedule.
In addition, having the schedule be regional will mean more divisional games and games against opponents near the Twins, something that could really help the team out. The essentially 50-man rosters will help with this schedule as well. Only thirty players can play in each game, but having twenty other players close by will help with the wear-and-tear.
The new playoff format of fourteen teams would be interesting, but there's no telling how this would impact baseball or how teams feel about this one (it's presumed this wouldn't be a huge deal). This format allows for more flexibility if the playoffs have to be moved around.
This is where it gets dicey. The MLB is requesting the players go to a 50/50 revenue share, after already pushing the players to accept lesser salaries in March. This will not go over well as the players already feel like they are being ripped off and are upset about draft and minor league cuts.
If there is any sticking point, the revenue share will be that point. Hopefully though, both sides can continue to work through their issues and help baseball return in 2020.