Minnesota Twins: 5 Hidden Gems in the Team's Farm System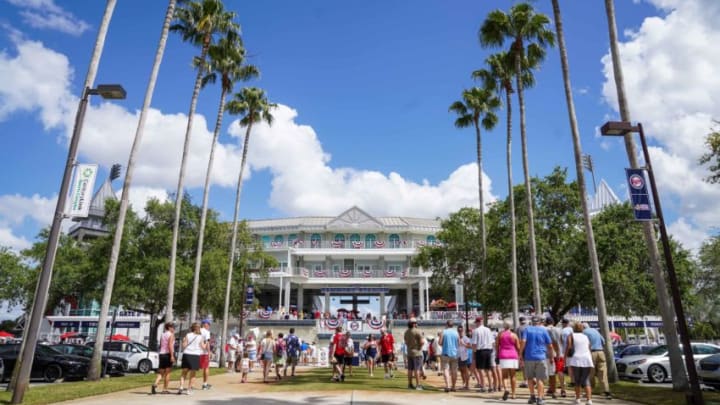 A general view of the exterior of Hammond Stadium. (Photo by Brace Hemmelgarn/Minnesota Twins/Getty Images) /
FORT MYERS, FL- MARCH 11: A general view of the exterior of Hammond Stadium prior to a spring training game between the Atlanta Braves and Minnesota Twins on March 11, 2020 in Fort Myers, Florida. (Photo by Brace Hemmelgarn/Minnesota Twins/Getty Images) /
We take a look at five hidden gem prospects from the Minnesota Twins' farm system that could make an impact on the Twins over the next several years.
The Minnesota Twins have a long history of having late round picks and lesser known prospects panning out (Kent Hrbek and Corey Koskie). With that in mind, we took a look at one prospect at each level of the system that's a hidden gem for the Twins.
In order to be considered a hidden gem, the player needs to have been a middle or late-round pick and not show up on this year's Top 30 Prospect list. In addition, most of these gems are pitchers, as most of the best hitters have already talked about and ranked, leaving room for some underrated pitchers. There are plenty of players to work through, so let's get it started.
Minnesota Twins Rookie Affiliates:
Donny Breek, P 
2019 Stat Line: 10 G, 7 GS, 36.1 IP, 0.74 ERA, 38 K
The Twins' rookie affiliates were a little harder to pick from, as a lot of players played for the teams over the shorter season. One player that especially stuck out was twenty-year-old Donny Breek, a starting pitcher from the Netherlands.
Breek started seven games and pitched a total of 36.1 innings and only allowed an ERA of 0.74 while striking out 38. He has a fastball that sits in the low 90s and a good change-up, and he has a projectable frame. Of all the players down there, Breek has the best shot of surprising some people.
Minnesota Twins Low Single-A Affiliate (Cedar Rapids Kernels):
Gabe Snyder, 1B/OF
2019 Stat Line: .259 BA, 19 HR, 58 RBI
There are several good players that could go here, as Zach Neff, Derek Molina, and Jose Martinez are three relievers who are continually improving and had an excellent 2019, but we'll go with a 21st round pick from 2018.
Gabe Snyder is a 6'5″ sweet-swinging lefty who is just beginning to grow into his massive frame. He is just beginning to flash elite power, finishing with the fourth most homers in the minors among Twins affiliates. Keep an eye on him as he keeps getting bigger.
Minnesota Twins High Single-A Affiliate (Fort Myers Mighty Mussels):
Hector Lujan, P
2019 Stat Line: 33 G, 58.2 IP, 2.76 ERA, 55 K
Pitchers Bailey Ober, Bryan Sammons, and Hector Lujan all had excellent seasons in Fort Myers before being promoted to Pensacola. Out of the three of them though, only Lujan played the majority of his season at high Single-A.
The now 25-year-old put up an excellent 2.18 ERA over 21 games before his promotion to AA. Though he wasn't as dominant in Pensacola, Lujan has the tools to become a very good reliever despite being just a 35th Round Pick from UC-Santa Barbara.
Minnesota Twins Double-A Affiliate (Pensacola Blue Wahoos):
Adam Bray, P
2019 Stat Line: 35 G, 9 GS 93 IP, 2.90 ERA, 83 K
Adam Bray is a little bit older by prospect standards, as he just turned 27 earlier this month, but a great comparison would be to current Twins swingman Randy Dobnak. The Minnesota native was sold to the Twins from the Dodgers after being a 33rd round pick from South Dakota State University in 2015.
Similar to Dobnak, he doesn't have any overpowering pitches, but he works the strike zone well and he knows his skills. He was promoted to AAA last year as well and started five of his eight games there, putting up an excellent 3.12 ERA. Don't be surprised if he pitches some innings for the Twins when the expanded roster season begins later in 2020.
Minnesota Twins Triple-A Affiliate (Rochester Red Wings):
Zander Wiel, 1B/OF
2019 Stat Line: .254 BA, 24 HR, 78 RBI
Zander Wiel is another prospect who is getting a little older, having turned 27 in January, but he has some of the best power in the Twins system. Wiel led all Twins prospects in homers (24) and came second in RBI (78) after a stellar season.
Wiel would really benefit from a shortened season and expanded rosters, as he would likely be called up to play a lot of the doubleheaders. Either way, the former 12th round pick has proven he's a player who is ready to make his MLB debut.