Minnesota Twins: The Top 5 Second Basemen in Franchise History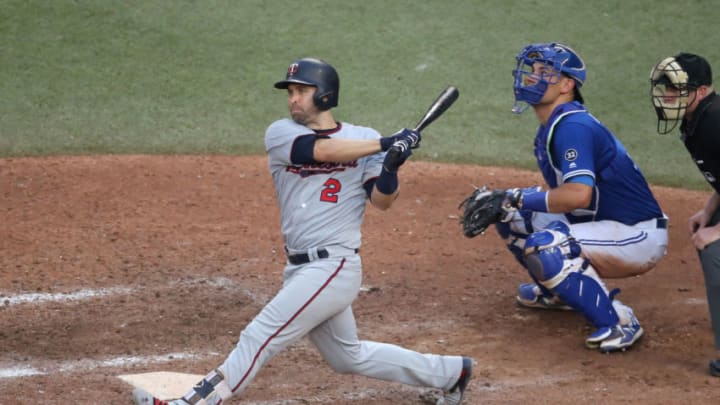 Brian Dozier of the Minnesota Twins (Photo by Tom Szczerbowski/Getty Images) /
Minnesota Twins' Chuck Knoblauch (Photo by STAN HONDA / AFP) (Photo by STAN HONDA/AFP via Getty Images) /
No. 2: Chuck Knoblauch
Years: 1991-1998 (8 Seasons)
Key Stats: 1013 G, 1197 Hits, 43 HR, 391 RBI, 276 SB, 513 BB, .304 BA, 38.0 WAR, 8.6 dWAR, Rookie of the Year, 4 Time All-Star, 3 Top 25 MVP, Two Silver Sluggers, One Gold Glove
Chuck Knoblauch broke into the MLB as a part of the best team in Twins history, winning Rookie of the Year to start his career the right way, stealing 25 bases and playing stellar defense, helping the Twins win their second World Series in five years.
Knoblauch may have soured his reputation in the eyes of Twins fans with a trade request in 1997, confirmed use of performance-enhancing drugs (with the Yankees), and a domestic assault case in 2012, but when he was with the team he was a star.
Knoblauch was excellent in the batter's box during his time with the Twins, hitting .304 and knocking in 391 RBI along with drawing 513 walks over seven seasons, an excellent number. He was named an All-Star four times during his seven seasons, earned two Silver Slugger awards, and finished in the Top-25 of MVP voting three times.
In addition to all those awards, Knoblauch was a terror on the base paths, stealing 276 bases over seven seasons and stealing over forty bases three times (he stole 62 in 1997, the third best season in team history). His speed also assisted his defense.
That defense may have been his strongest skill, as he built up a dWAR of 8.6 in only seven seasons, the eighth best mark in team history (and the best mark in under eight seasons). ESPN even nicknamed him "Fundamentally Sound Chuck Knoblauch" because his defense was so flawless.
Despite Chuck's flaws he was a star for the Twins, helping win a World Series and his trade to the New York Yankees brought two All-Stars into the organization. His career also began to fall apart soon after he left, making the Twins seem like winners. Chuck Knoblauch, despite all his faults was a really good second baseman for the Twins.