MLB Draft 2019: A Minnesota Twins guide to the MLB Draft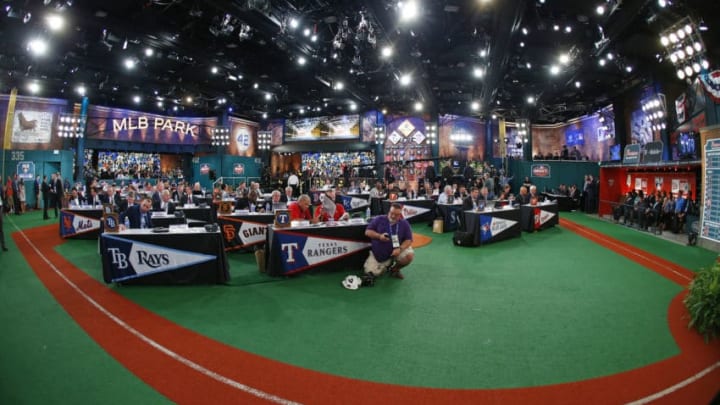 SECAUCUS, NJ - JUNE 5: Representatives from all 30 Major League Baseball teams fill Studio 42 during the MLB First-Year Player Draft at the MLB Network Studio on June 5, 2014 in Secacucus, New Jersey. (Photo by Rich Schultz/Getty Images) /
SECAUCUS, NJ – JUNE 5: Representatives from all 30 Major League Baseball teams fill Studio 42 during the MLB First-Year Player Draft at the MLB Network Studio on June 5, 2014 in Secacucus, New Jersey. (Photo by Rich Schultz/Getty Images) /
The Minnesota Twins will select 13th in this year's MLB Draft which will commence on Monday night. Here's what Twins fans should know heading into the annual June entry draft.
Back in 2001, the Minnesota Twins were on the clock with the first pick of the MLB Draft. With the Twins needing a franchise cornerstone, many were surprised when the team selected hometown prep star Joe Mauer over Mark Prior.
At the time, Prior had gained national notoriety as a can't miss pitching prospect while playing at the University of Southern California and Mauer was about to make a major decision between pursuing a pro baseball career and playing football at Florida State.
While it was an intriguing storyline to see which way the Twins and Mauer would go, it didn't get too much conversation on a national level. As a result, nobody threw a major celebration when the 18-year old signed with the Twins and embarked on a 15-year career in Minnesota.
Fast forward to today and the landscape of the MLB Draft has changed. With the first round of the event televised since 2007, baseball fans have kept their eyes to the future to see who their favorite team could select as a potential franchise savior. In addition, social media and other avenues have made it easier to track a prospect's journey from high school through the minor leagues and to the major leagues.
The beginning of that journey begins on Monday with the first round of the MLB Draft. The Twins' night will start with the 13th pick overall and there are several things to know as the Twins enter this year's draft.