Minnesota Twins select Dusten Knight in AAA portion of Rule 5 Draft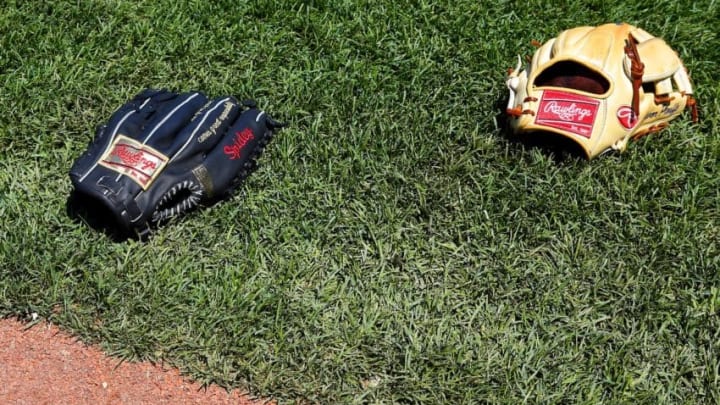 BOSTON, MA - June 4: Two Rawlings baseball gloves are seen on the field before the game between the Boston Red Sox and the Minnesota Twins at Fenway Park on June 4, 2015 in Boston, Massachusetts. (Photo by Winslow Townson/Getty Images) /
The Minnesota Twins had a fairly quiet day at the Rule 5 Draft, but they did walk away with a new relief pitcher in the Triple-A portion of the draft.
The Minnesota Twins joined the rest of major league baseball in participating in the Rule 5 draft Thursday, the last day of the Winter Meetings. The Rule 5 Draft has carried a special place in the history of baseball as it has been set up to try and free prospects from situations where they just are not getting a chance to be a major leaguer.
This draft has also brought some of the most beloved and very memorable players to Minnesota. Johan Santana and Shane Mack top that list of players. More recently, Ryan Pressly who the Twins traded away at the trade deadline was also once upon a time a Rule 5 selection out of the Boston Red Sox system.
This season the Twins walked into the Rule 5 draft with a full 40-man roster making it clear that the team would not be selecting any players in the MLB portion of the draft. After leaving players such as Lewin Diaz and former first round draft pick Tyler Jay exposed the Twins also didn't lose any players.
When it came to the Triple-A portion of the draft the Twins did make a selection as they called on the name of Dusten Knight who was a member of the San Fransisco Giants farm system. The 28-year-old right-handed pitcher was a 28th round selection by the Giants in 2013. Knight spent his college years pitching for the University of Texas Pan American.
Knight spent most of his college career as a starter but transitioned to the bullpen as a professional baseball player. In 2018 Knight spent time over three levels of minor league baseball (Rookie, Double-A, and Triple-A) where he appeared in 29 games, tossed 47.1 innings, held a 1.71 ERA, and a 48/12 strikeout to walk ratio.
Knight employs a low-90s fastball, low-80s changeup, but what makes scouts notice Knight is a very good curveball. As you can see in the video below it is the type of curveball that dives straight down and it clocks in the mid-70s.
So while a bullpen pitcher who tops out in the low 90s doesn't sound like it fits in today's game of high velocity power arms. A pitcher who can go from the 90s to something with break like Knight's curveball in the mid-70s has plenty in his arsenal to keep batters off-balance and produce outs.
There is a good chance that Knight figures into the Triple-A Rochester roster for the Twins. If his curveball is as good as advertised he will have a chance at being a major league call up at some point in 2019.