The Minnesota Twins need to shut several players down for the season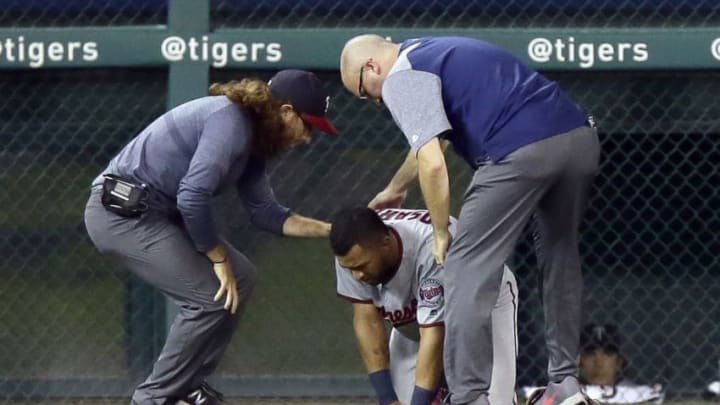 DETROIT, MI - SEPTEMBER 17: Eddie Rosario #20 of the Minnesota Twins is assisted by trainers after injuring his lower right leg while fielding a ball hit by Jim Adduci of the Detroit Tigers during the fourth inning at Comerica Park on September 17, 2018 in Detroit, Michigan. (Photo by Duane Burleson/Getty Images) /
DETROIT, MI – SEPTEMBER 17: Eddie Rosario #20 of the Minnesota Twins is assisted by trainers after injuring his lower right leg while fielding a ball hit by Jim Adduci of the Detroit Tigers during the fourth inning at Comerica Park on September 17, 2018 in Detroit, Michigan. (Photo by Duane Burleson/Getty Images) /
If the Minnesota Twins truly care about their players' health, several players need to be shut down for the rest of the 2018 season.
Early this month, the Minnesota Twins elected not to call up Byron Buxton for the remaining month of the season, instead deciding to shut him down. If the Twins want to maintain their claims that this was in part due to health concerns (though we all know the truth), the organization has no choice but to shut down some of their players for the rest of 2018. Several players have come up with injuries of varying severity lately, including Eddie Rosario, Mitch Garver, Tyler Austin, and Miguel Sano. There is simply no reason these players should be expected or given an opportunity to return to action in 2018.
Eddie Rosario
Eddie went down with a right quad strain on August 30th after legging out an infield single. He returned to action a little over a week later on September 8th. He was very clearly not 100% yet, as he did not appear to be able to run full speed to first base, and strictly DHed for over a week before once again appearing in left field. What happened just a few innings into his defensive return?
Anybody see that one coming? This is a baffling move by the Twins. Arguably their best player of the season, and someone they will absolutely need if they expect to be a quality team in the coming years, goes down with a quad injury with a month left in the season. What incentive is there to rush him back? It was abundantly clear he was not fully healthy upon returning. Yet, the Twins gave him several games barely a week after suffering the injury, and then inexplicably decide to put him back into the outfield. Just a few innings into the game, and boom, he re-injures himself.
Why, Twins? Why take that risk? There's now less than 15 games left in the season, nothing is at stake here, yet we're rushing Rosario back into the outfield for a meaningless appearance knowing full well he has not fully recovered yet. This latest injury likely will mark the end of 2018 for Rosario, simply because with so little time left, it would be hard for him to recover enough to make another appearance anyways. But why put Rosario into this situation in the first place? There was absolutely no reason to allow Rosario to play at any less than 100% after the original injury, and exactly what we should have expected to happen, happened. We are very lucky the latest injury isn't worse than it is.