Minnesota Twins: Projections suggest Logan Morrison is due for a breakout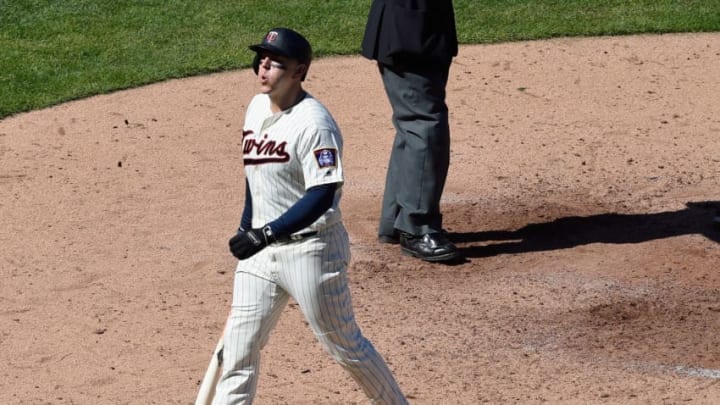 MINNEAPOLIS, MN - APRIL 7: Logan Morrison /
It's still early in the Minnesota Twins season but there is already worry about Logan Morrison's slow start. Projections suggest he's due to break out soon.
In February, the Minnesota Twins found its designated hitter for 2018. Yet, Logan Morrison hasn't produced in the opening week of the season.
Just as spring training began, the team signed Morrison to a 1-year $6.5 million deal with a team option for 2019 (meaning the Twins control his free agency status this coming winter). His contract is quite the team-friendly deal for a guy who hit 38 home runs last season.
Morrison, in nine games, owns an eye-catching .097/.200/.129 slash line. He has no home runs and only has one extra-base hit.
Simply put, it's not the start he wanted.
"I don't think I'm happy with the way I've started, for sure," Morrison said in an article by Dan Hayes of The Athletic. "Definitely frustrating, but this would be frustrating at any point in the season. Just happens to happen at the beginning."
With Morrison's slow start, it's easy to see why fans aren't pleased. Sure his start to the year hasn't gone as well as advertised. But let's remind ourselves it's too early to be worried about his lackluster stats.
Before the season began, ZIPS 2018 projections had Morrison with a 120 wRC+ (weighted runs created plus). This measures a player's overall offensive value while controlling other variables like park factors, etc. with 100 wRC+ being league average.
Morrison's projected wRC+ is higher than any Twins player with 100+ at-bats as a DH in 2017. Last year Robbie Grossman and Kennys Vargas each had 100+ at-bats as the DH with a 96 and 91 wRC+ respectively.
Morrison's projected wRC+ is higher than any Twins DH in 2016 as well; higher than Miguel Sano (79 wRC+), Joe Mauer (106 wRC+), and ByungHo Park (wRC+).
You have to go back to Sano's rookie season in 2015 to find a Twins DH with a higher wRC+.
Historically, the Twins haven't had a ton of DH success by comparison. Among the 15 American League teams the Twins ranked 13th in home runs (16), 10th in RBIs (72), 14th in slugging percentage (.379), and 14th in total bases (214) in 2017.
In 2016, it wasn't any better as you may guess. The Twins DH's ranked 13th in home runs (19), last in RBIs (60), 11th in slugging percentage (.421), and 11th in total bases (239) in the AL.
Clearly, the Twins needed to address the lack of offensive production from its DHs.
The Twins were projected at the beginning of the season to get a boost in those areas with Morrison in the lineup. ZIPS projections had Morrison hitting 25 home runs with 72 RBIs, along with 215 total bases and a .477 slugging percentage.
Despite the slow start, Morrison's rest-of-the-season ZIPS projections remain largely the same. The projections suggest that the Morrison at the plate now isn't the Morrison the Twins will see all season.
There are signs Morrison is on the verge of breaking out. His exit velocity on batted balls is currently 88.7 mph, fourth best on the team. He is also swinging at a whopping 85.3 percent of pitches in the strike zone while making contact with 84.5 percent of those swings.
Additionally, Morrison, who is a fly ball hitter due to his uppercut swing, has hit more fly balls than ground balls. This suggests Morrison isn't reading the pitches incorrectly and rolling over and hitting the ball on the ground.
Next: Is Ryan Pressly proving to be the "closer in waiting"?
Given the odd schedule of March/April for Morrison's struggles may last another week or so. However, the line drives he's scalding, including his only extra-base hit which had an exit velocity of 108.7 mph, will fall eventually. Once his hard-hit liners do fall, the Twins will have DH production that's been absent in past seasons.