Minnesota Twins Rumors: Sign Mike Napoli, then Yu Darvish?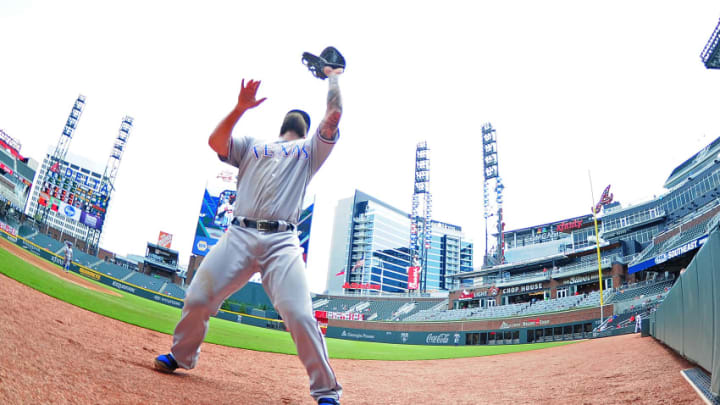 ATLANTA, GA - SEPTEMBER 6: Mike Napoli /
The Minnesota Twins are being diligent during free agent talks this off-season. They've stayed in contact with the top pitchers available on the market all Winter. Can signing a former Texas Ranger help the Twins land the top starting pitcher on the open market?
Mike Napoli is the player that has reportedly been out recruiting (credit to Darren Wolfson) for the Minnesota Twins. Who is the starting pitcher in question? That pitcher is Yu Darvish and bringing in Darvish would be a sign from the organization that this team is ready for a big push.
How Napoli can help land Darvish, maybe
The pressure is on everybody within the Twins organization to make the playoffs again this season. However, the front office hasn't done a lot to bolster this team and fans are getting anxious. Signing Napoli won't even move the needle for Twins fans. However, if Minnesota signs Darvish, it could be a game changer.
More from Puckett's Pond
Napoli is not the player he once was. He has 475 strikeouts in 404 games played over the last three seasons. Napoli did hit 81 home runs over those three seasons driving in 217 runs. However, he accomplished that with a meager .220/.317/.438 batting line, bottoming out at .193 in 2017 for the Texas Rangers.
That is where the connection comes in, from time spent playing together with the Rangers. Darvish will change everything for the Minnesota Twins if he signs and with Ervin Santana out, the Twins should do whatever it takes. The rotation has its flaws and Darvish would help fix some of that.
Napoli is a great clubhouse guy and one of those glue type players. Signing him as the 25th man on the Major League roster is a great idea. Playoff experience is not easy to come by in MLB, and Napoli is like a playoff encyclopedia at this point. The value in signing Napoli lies not in the stats but rather his presence in the clubhouse.
Next: Why should the Twins sign Yu Darvish?
The Minnesota Twins can always find a role for Napoli off the bench. He packs power and takes some walks. The best part about this is that Napoli hasn't even signed with the Twins yet. Maybe it's a package deal? Stay tuned to Puckett's Pond for the latest news and updates on the Minnesota Twins for more.