Minnesota Twins: Collaboration with Minnesota United is perfect chance to celebrate Target Field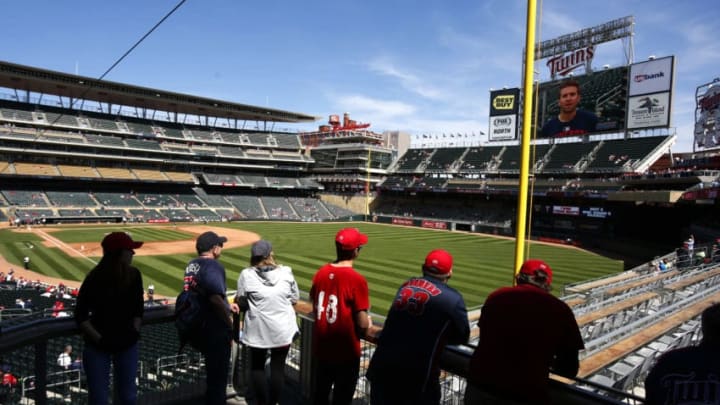 MINNEAPOLIS, MN - APRIL 22: Minnesota Twins fans take in the stadium view and the pleasant weather before a game between the Detroit Tigers and the Minnesota Twins on April 22, 2017 at Target Field in Minneapolis, Minnesota. Photo by Andy King/Getty Images) /
The Minnesota Twins and the Minnesota United FC have announced a collaboration in the area of field operation. Adding to Target Field's accolades.
The Minnesota Twins have been able to call one of the most beautiful ballparks home since 2010. Not only is Target Field a great place to take in a ballgame, but it has continued to receive awards and recognition for what goes on at the ballpark.
Tuesday, a different type of recognition was given to the Twins ballpark and the crew that takes care of it, respect from a fellow sports team in the area. Minnesota United FC, Minnesota's Major League Soccer Franchise, made a couple announcements Tuesday surrounding their new stadium. One of which is a collaboration with the Twins on all aspects of operations of their new field, Allianz Field.
Target Field has been recognized several times over the years for the strides made to make the ballpark environmentally friendly and self-sustainable. LEED, or Leadership in Energy and Environmental Design, has certified Target Field with three times since the stadium opened.
In 2010 the Twins and Target Field were awarded the LEED Silver certification for New Construction and in 2011 the Silver certification for Existing Buildings: Operations and Maintenance. This year, 2017, the Twins received the LEED Gold certification for Existing Buildings: O+M.
One of the cornerstones of Target Field's innovation that has led to its recognition as one of the most sustainable venues of its type has to be the ballparks Pentair Rain Water Recycle System. This system allows rainwater that falls on Target Field to be collected, treated, and used for field irrigation or the cleaning stadium seats.
Beyond all the certifications and awards, there is one man who is in charge of making the actual field look its beautiful glow of green grass. That man is Head Groundskeeper Larry DiVito and he is one of the individuals mentioned that are helping as Allianz Field establishes its own methods of operating their new stadium. If you want to know more about DiVito and how he goes about his job, I encourage you to go read this interview posted here on Puckett's Pond 3 years ago by Collin Kottke.
Next: Twins free agent profile: Yu Darvish
The recently built Minnesota stadiums have a history of being great places to take in sporting events but have also been recognized by LEED as sustainable stadiums. TCF Bank (Gopher Football), Xcel Energy Center (Wild), and CHS Field (St. Paul Saints) join Target Field as LEED-certified stadiums. Allianz Field now looks to use this partnership with the Twins to help them join this list of sustainable Minnesota sports venues.