Minnesota Twins release 2018 schedule – what's on tap for next season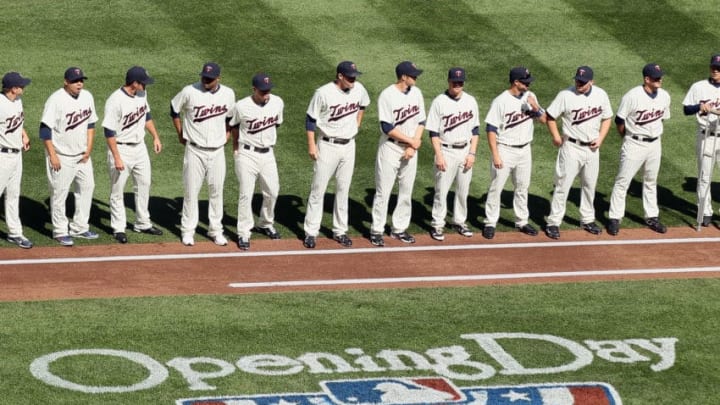 MINNEAPOLIS, MN - APRIL 08: The Minnesota Twins line up for player introductions before the game against the Oakland Athletics for Opening Day on April 8, 2011 at Target Field in Minneapolis, Minnesota. (Photo by Elsa/Getty Images) /
MINNEAPOLIS, MN – JUNE 18: Trevor Plouffe /
May 2018
The Minnesota Twins open the month finishing up a 3-game set with the Blue Jays on the 1st and 2nd. The team then heads on the road for a four-game set with the Chicago White Sox as the open of a 10-game road trip.
May will give Twins fans a chance to see the St. Louis Cardinals in a home-and-home 2-game set, playing the Cardinals in St. Louis on May 7-8 and at Target Field on May 15-16.
The Twins go from St. Louis to Los Angeles to play the Angels before returning to Minneapolis to play the Cardinals. The first set of the border battle is May 18-20 at Target Field as the Brewers come to town for a 3-game set. The Twins finish off their homestand with 3 games against the Tigers.
Minnesota then takes off to Seattle with likely a feature night game for both the Sunday night game with Seattle on the 27th and at Kansas City on Memorial Day.
As a personal aside, if anyone is a Twins fan and looking to catch a Twins road series, I would highly suggest Kansas City Memorial Day. The city does a tremendous job on the day with a concert, fireworks, and a great festival throughout the day. Then you can also take in a great ballpark in Kauffman Stadium in Kansas City, hopefully to see a Twins victory!
The 31st of the month, the Twins return home to open a homestand with the Cleveland Indians, this time actually at Target Field.
Next: June