Minnesota Twins release 2018 schedule – what's on tap for next season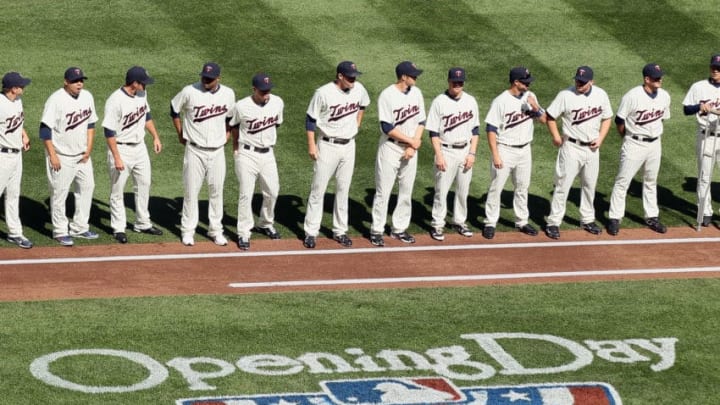 MINNEAPOLIS, MN - APRIL 08: The Minnesota Twins line up for player introductions before the game against the Oakland Athletics for Opening Day on April 8, 2011 at Target Field in Minneapolis, Minnesota. (Photo by Elsa/Getty Images) /
MINNEAPOLIS, MN – APRIL 08: The Minnesota Twins line up for player introductions before the game against the Oakland Athletics for Opening Day on April 8, 2011 at Target Field in Minneapolis, Minnesota. (Photo by Elsa/Getty Images) /
The Minnesota Twins released their 2018 schedule this week.
While the Minnesota Twins are still actively pursuing a playoff spot for 2017, but they released the schedule for 2018, so let's take a look at what's ahead for the hometown nine in 2018!
March/April 2018
The Twins open the season March 29th in Baltimore, playing a Thursday, Saturday, Sunday series to open the season. The Twins then have their first interleague matchup of the season, playing in beautiful PNC Park in Pittsburgh for a 2-game set on April 2nd and 4th.
The 5th of April begins a 12-game homestand where the Twins will play the Mariners, Astros, White Sox, and Indians. The White Sox series is a 4-game tilt and the Indians one is a quick 2-game series, but the special part of that is that it's technically not in Target Field, even though it's a home game.
The Twins and Indians will be a feature series for Major League Baseball in San Juan, Puerto Rico. Very fun to consider that Minnesota could be considered a team that MLB would want to feature, but also it should be noted that the Twins have a long-standing relationship with the island and take multiple players in the June draft each year from Puerto Rico, so the Twins are a good choice as an MLB representative for their San Juan series.
The Twins return from Puerto Rico to face the Rays in Tampa and the Yankees in New York for a 7-game, 2-team road trip before returning to Target Field. They'll close out the month by hosting their first home interleague series of the year against the Reds before finishing April with the first of a 3-game tilt against the Blue Jays.
Next: May